Ingrediënten voor 4 stuks:
4 Bao Buns (ik kocht de Lotus Leaf Buns van Happy Belly)
1/3 deel van een blok Tempeh
2 eetlepels Hoisin saus
1 theelepel honing
Paar druppels sesamolie
Zonnebloemolie
Kimchi
Geraspte wortel
Extra benodigdheden: stoommandje
Bereiding:
Verhit zonnebloemolie in een pan. Snij de tempeh in kleine repen. Bak de tempeh in de olie goudbruin en knapperig. Haal uit de pan met een schuimspaan en laat de tempeh uitlekken op een bord met wat keukenpapier.
Knip een stukje bakpapier groot genoeg om in het mandje te passen en leg op de bodem van het mandje. Zet het mandje in een pan met een klein laagje water. Doe de Bao Buns erin en stoom ze in 2 tot 3 minuten gaar. (ze zijn gaar als je ze makkelijk open te vouwen zijn en zacht zijn).
Verwarm de hoisin saus met de honing en sesamolie in een pannetje. Voeg de tempeh toe en meng zodat alle stukjes tempeh bedekt zijn.
Vul de broodjes met de kimchi, tempeh en geraspte wortel. Serveer direct.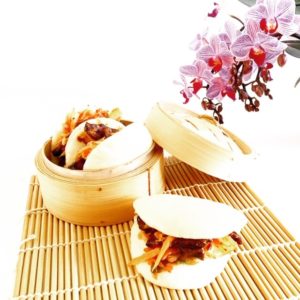 English version
Ingredients for 4 buns:
4 Bao Buns (i bought the Lotus Leaf Buns of Happy Belly)
1/3 part of a block Tempeh
2 spoons Hoisin sauce
1 tea spoons honey
Few drops sesame oil
Sunflower oil
Kimchi
Grated carrot
Extra: steam baskets
Direction:
Heat the sunflower oil in a pan. Cut the tempeh in small pieces. Bake the tempeh in oil untill golden brown and crispy. Take it out of the pan with a skimmer and let it rest on a plate with kitchen towel. Cut a nongrease paper big enough to fit the basket and lay on the bottom. Put the basket in a pan with a little layer of water. Put the bao buns in it and steam ready in 2 to 3 minutes. (the are done when you can open them easily and when they are soft).
Heat the hoisin sauce with honey and sesame oil in a pan. Add the tempeh and mix good so all the pieces are covered.
Fill the buns with the kimchi, tempeh and grated carrot. Serve immediately.