Oké oké, misschien niet helemaal "zoals het heurt", bezuinigen op een Moederdag cadeau na alles wat je moeder voor jou heeft gedaan, maar als je een beetje krap bij kas zit dan is toch fijn om je moeder te kunnen verwennen met iets wat je zelf hebt gemaakt. Persoonlijk en misschien nog wel leuker dan een kant & klaar cadeau uit de winkel.
Ontbijt "service"
Vorig jaar maakte ik een kratje vol met heerlijke gezonde ontbijtdingetje. Je kunt een leuk kratje of mandje kopen bij de Xenos of Action maar je groenteboer lief aankijken voor een kratje kan natuurlijk ook.
Nu voor de vulling: op mijn site een recept voor een heerlijk bananenbrood. Bak dit de avond ervoor (of sta heel vroeg op) en pak dit in bakpapier (wit is wel zo mooi) en doe er mooi lintje om. (of kijk online voor een andere heerlijke en gezonde ontbijtcakes). Ook leuk erbij is een potje met zelfgemaakte jam (met chiazaad en maplesyrup is dit zo gemaakt en nog gezond ook) of pindakaas. Bij de Xenos heb je leuke potjes, maar helemaal lowbudget is een leeg potje goed omspoelen en het etiket te verwijderen. Als laatste voegde ik nog een weckpot toe met zelfgemaakte granola. Veel basisrecepten vindt je online en kun je zelf aanpassen met smaken die je moeder heerlijk vindt. (of pas mijn Paas granola aan door de eitjes en marshmallows te vervangen door noten).
Maak de mand helemaal persoonlijk door een leuke foto van jullie samen uit te (laten) printen en in een lijstje erbij te doen.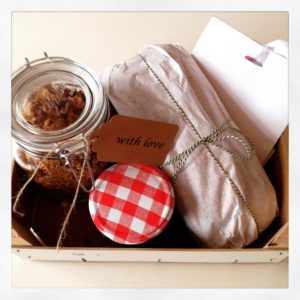 Gevulde weckpot
Iedereen wordt blij van bloemen. Maar om nu weer dit jaar met een bosje bloemen te komen is misschien een beetje saai. Bij Xenos en Ikea heb je hele goedkope weckpotten. Koop bij het tuincentrum, bloemenzaak of gewoon in de supermarkt een klein potje met bloembolletjes van bijvoorbeeld Narcissen of Blauwe druifjes. Plaats deze met een beetje aarde in de weckpot. Doe er eventueel nog een leuke strik om. Dit geeft een heel leuk effect wanneer de bloembolletjes uitkomen.
Ook leuk, koop wat vogelzand (tip: dierenwinkel maar volgens mij heeft Xenos ook decoratiezand). Koop een klein (glazen) waxinelichtjeshouder. Plaats de waxinelichthouder met waxinelichtje in de weckpot. Strooi het zand eromheen tot het bijna tot de rand van de waxinelichthouder is. Decoreer met (zelfgevonden) schelpjes. En hang eventueel nog met wat ruwer touw een grotere schelp aan de rand van de weckpot. Heel erg Riviera Maison maar dan voor een veel leuker prijsje ;)!
Zelfgemaakte bonbons of koekjes op een schaaltje
Nu hebben Xenos en Action best wel hele leuke dingen, maar bezoek ook eens je lokale tweedehandswinkel. Vooral voor die lekkere kitsche bonbonschaaltjes of oude koektrommels is dit de perfecte winkel. Of pimp een schaaltje door het bijvoorbeeld te verven of als er gaatjes in zitten een mooi lint door te rijgen. Op mijn site vindt je lekkere recepten onder cheats! Leg het leuk op een schaaltje of in de koektrommel. Cellofaan eromheen met een strik en geloof me, hier wordt je moeder heel blij van.
Thuis "uiteten"
Staat je moeder meestal in de keuken, dan is het met Moederdag extra leuk als ze dat niet hoeft te doen. Heb je broers of zussen, spreek dan af dat iedereen een gang maakt (scheelt in de kosten maar vooral ook in tijd en zo is het voor iedereen een leuk verrassingsdiner). Op mijn site of in mijn boek vindt je heerlijke recepten om een speciaal diner of brunch voor je moeder te maken. En uiteraard doen jullie ook even de afwas aan het eind! 😉 En in deze tijd kun je het natuurlijk ook voor de deur zetten, als je even niet binnen kan/mag komen.
Taart
Beetje een inkopper maar Moederdag zonder taart is natuurlijk wel erg saai. Verras je moeder met een eigen gemaakte taart, ook hiervoor vindt je lekkere recepten op mijn site of in mijn boek, zoals deze dadeltaart. Scoor bij de tweedehandswinkel een mooie schaal om de taart leuk op te presenteren.
Potje liefde
Koop een aardwerkbloempotje. Doe op de bodem wat piepschuim of oase (te krijgen bij de bloemenzaak). In geval van oase is het beter om dit in te pakken zodat het niet afgaat geven. Vul dit met (roze) jellybeans en steek er een grote hartvormige lolly in. Eventueel kun met wasitape nog het potje versieren. (dit is overigens ook een leuk cadeautje voor een bruiloft als je niet gewoon je geld in een envelop wil doen). Zie foto!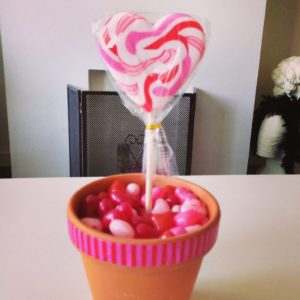 Relax momentje
Makkelijk maar ook leuk. Koop je moeders lievelingstijdschrift. Doe dit in een cellofaan samen met wat theezakjes, een lekker reep Handsoffmychocolate of zelfgemaakte koekjes. Doe daar nog een lieve kaart bij en tadaaa…en heerlijk relaxmomentje voor mams!
En het allergoedkoopste maar fijnste cadeau, geef je moeder een grote lange knuffel zodra dit weer mag!
Fijne Moederdag!
English version
Okay, okay, maybe not the way it should be, being a cheapass when it comes to Mothersday after everything your mum has done for you, but when money is tight, it still a great way to spoil mum with some homemade goodies. Personal and maybe even more appreciated than a storebought gift.
Breakfast "service"
Last year i made a crate full of delicious healthy breakfast stuff. You can buy a fun crate or basket at Wallmart but maybe your local veggie store also has cute free crates if you give the owner your biggest smile.
Now for the filling: you can find a recipe for a delicious bananabread on my site (or look online for other delicious and healthy breakfast cakes). Bake it the night before (or get up really early) and wrap it in nongrease paper (white if you can find it) and tie a nice bow around it. Also fun to add is a homemade jar of jam (with chiaseed and maple syrup you make a quick & healthier version) or peanutbutter. At Xenos they have really cute jars, but to keep it even more low budget, rinse a empty jar and remove the label. Last but not least, i added a weckpot with homemade granola. You can find a lot of basic recipes online and customize it to your mum's taste. (like this Easter granola on my site, just replace the eggs and marshmallows for nuts)
Make your breakfast basket a little more personal by printing a fun picture of the two of you and add in a frame.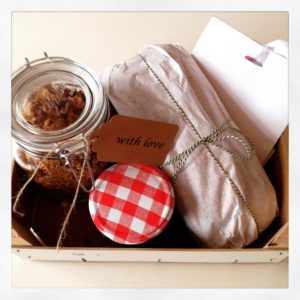 Filled weckpot
Everyone loves flowers. But to give another bouquet like last year, might get a bit boring. At Xenos and Ikea you have really cheap weckpots. Buy some flowerbulbs at the garden center, flowerstore or in your supermarket of Daffodils or tulips. Put this with a little soil in the weckpot. Maybe add a nice bow to the weckpot. When the bulbs start growning, it gives a little wow effect.
Or, also fun, buy some bird sand (tip: at the animal store, but i think Xenos also has decoration sand). Buy a little waxine holder. Place the waxineholder with a candle in the weckpot. Surround with the sand till you almost on the edge of the waxineholder. Decorate with (found) little shells. Hang a bigger shell with some rougher rope around the weckpot (optional). Very Riviera Maison (expensive interior store) but for a budget price ;)!
Homemade treats on a plate or cookie jar
Eventhough Xenos and Action have pretty cute stuff, take a little trip to your local second hand store. Especially for those very oldfashion chocolate plates or old cookiejars, this is the best place to be. Or pimp a plate by painting it or decorate it with a bow. You can find some yummie recipes on my site under cheats! Put it on the plate or in the cookie jar. Wrap in cellophane with a bow, and believe me, your mum will love it.
Dining out at home
If your mum does most of the cooking, surprise her on Mothersday with a kitchenfree day. If you have sibblings, divide the courses (making it budget proof, and it takes less time but also a fun surprise dinner for everyone). You can find delicious recipes on my site or in my book to make a special dinner or brunch for your mum. And ofcourse you will all help out with the dishes ;). And if you can't go visit it your mum due to the virus, you can also leave it at her doorstep.
Cake
Not very original but a Mothersday without cake is a bit boring. So suprise your mum with a homemade cake, you can find some delicious cakes on my site or book, like this date cake. Score a beautiful plate at the second hand store to present your cake on.
Plant some love
Buy a flowerpot. Put some styrofoam at the bottom (or the thing your flowerist used to make flower arrangements). If you use what the flowerist uses, do wrap it as it will transfer onto your candy. Fill the pot with (pink) jellybeans and put a big heart shape lolly in it. Decorate with wasitape (optional). (this is also a cute gift for a wedding if you don't just want to give and envelop with money).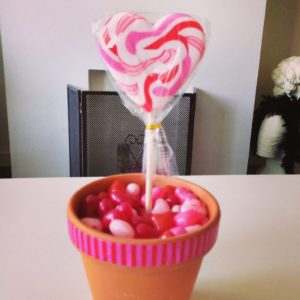 Relax moment
Easy but nice. Buy your mum's favorite magazine. Put it in cellophane together with some teabags, a chocolate bar (Handsoffmychocolate is so good) or homemade cookies. Add a sweet card and tadaaaa…a relax moment for mum!
And the cheapest but best present of all, when all this is over, give your mum a long big hug!
Happy Mothersday!