Ingrediënten:
75 gram gepofte rijst
75 gram marshmallows of spekjes
25 gram ongezouten roomboter
Snufje zout
60 gram oranje chocolade
Gouden eetbare pareltjes, ter decoratie
Bereiding:
Doe de gepofte rijst in een kom. Smelt 50 gram van de chocolade au bain marie. Smelt de boter in een pan en voeg de marshmallows toe en een snufje zout. Laat volledig smelten en voeg dan de gesmolten chocolade toe en roer goed. Schenk over de gepofte rijst. Meng goed door zodat elke rijstkorrel is bedekt met het marshmallow/chocolade mengsel. Spreid uit over een schaal bedekt met bakpapier. Druk goed aan tot het ongeveer 1 cm dik is. Zet in de koelkast om op te stijven. Smelt de overige 10 gram chocolade. Haal de rice crispies uit de koelkast en drup de chocolade erover en decoreer met de gouden eetbare parels. Snij in vierkantjes!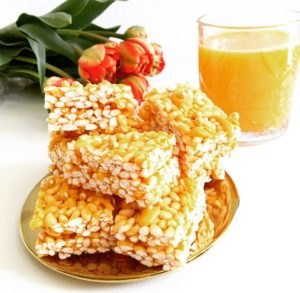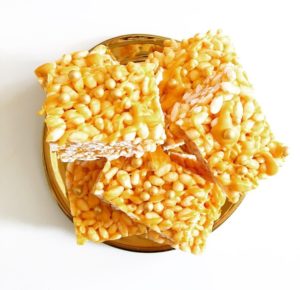 English version
Ingredients:
75 gram puffed rice
75 gram marshmallows
25 gram unsalted butter
Sprinkle of salt
60 gram orange chocolate
Golden eatable pearls, for decoration
Direction:
Put the puffed rice in a bowl. Melt 50 gram of the chocolate au bain marie. Melt the butter in a pan and add the marshmallows and a sprinkle of salt. Let it melt completely and than add the melted chocolate. Mix well. Pour over the puffed rice. Mix really well so that every rice grain is covered with the marshmallow/chocolate mixture. Spread out over a plate covered with non sticky paper. Press really well to about 1 cm thick. Put in the fridge to set. Melt the other 10 gram chocolate. Take the rice crispies out of the fridge and drizzle the chocolate over it and decorate with the golden eatable pearls. Cut in squares!