Ingredienten:
2 hele rijpe bananen
2 eieren
1 zakje bakpoeder (15 gram)
3 volle el havermout
3 volle el hazelnootmeel
3 el geroosterde geraspte kokos
2 el cacao
1 el kokosolie
1 el kokosbloesemsuiker (of maple syrup)
1 1/2 reepje pure chocolade (37,5 gram), grof gehakt
Voor topping:
2 reepjes pure chocolade (50 gram)
1 el kokosrasp
Bereiding:
Verwarm de oven voor op 200 graden. Rooster de kokosrasp in de pan en laat afkoelen. Doe alle ingredienten behalve de pure chocolade in de keukenmachine en mix tot een glad beslag. Vet een cakevorm in met wat kokosolie (of bekleed met wat bakpapier). Hak de pure chocolade grof en meng door het beslag. Giet het beslag in de cakevorm en zet in het midden van de oven. Bak in ongeveer 20 tot 30 minuten gaar (zodra je er een prikker in steekt en deze komt er schoon uit dan is het bananenbrood gaar). Laat volledig afkoelen. Voor de topping: verhit de pure chocolade au bain marie of in de magnetron en schenk over het bananenbrood, verdeel met de achterkant van een lepel. Strooi er vervolgens de kokosrasp over en laat het chocolade hard worden. Eerlijk: een dag later is het brood eigenlijk nog lekkerder.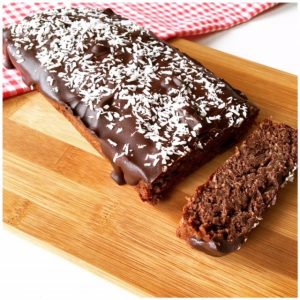 English version:
Ingredients:
2 very ripe bananas
2 eggs
1 package baking powder (15 gram)
3 full spoons oats
3 full spoons hazelnut flour
3 spoons roasted grated coconut
2 spoons cacao
1 spoon coconutoil
1 spoon coconut blossom sugar (or maple syrup)
1 1/2 small bar dark chocolate(37,5 gram), roughly chopped
For topping:
2 small bars dark chocolate (50 gram)
1 spoon coconut, grated
Direction:
Preheat the oven to 200 degrees. Roast the grated coconut in a pan and let it cool down. Put all the ingredients, apart from the dark chocolate in a kitchen machine and mix into a smooth batter. Grease a cake mold with some coconut oil (or cover with non grease paper). Chop the dark chocolate roughly and mix into the batter. Pour the batter in the cake mold and put in the middle of the oven. Bake in about 20 to 30 minutes. (when you put a skewer in it, and it comes out clean your bananabread is done). Let completely cool down. For the topping: melt the dark chocolate au bain marie or in the microwave and pour over the bananabread, divide with the back of the spoon. Sprinkle the grated coconut on top and let the chocolate set. Honestly: the bananabread taste even better a day later.