Ingrediënten:
Pizza bodem (ik gebruikte Magioni pompoenbodem)
6 el tomatensaus
3 el bbq saus
1 el Italiaanse kruidenmix
100 gram pittige (voorgebakken) kipstukjes
Ananasstukjes, naar smaak
1/2 rode ui, in ringen
Jalopeno's, naar smaak
Cheddar, geraspt, naar smaak
Bereiding:
Voorverwarm de oven op 220 graden. Meng de tomatensaus met 2 el bbqsaus en de italiaanse kruiden. Strijk de pizzabodem hiermee in. Roer vervolgens de overige bbq saus door de kip. Beleg de pizza met de kip en de rest van de ingredienten waarmee je eindigt met de cheddarkaas. Bak in de oven op 220 graden in 10 tot 15 minuten lekker knapperig.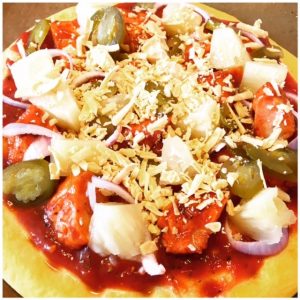 English version
Ingredients:
Pizza base (i used Magioni pumpkin base)
6 spoon tomato sauce
3 spoon bbq sauce
1 spoon Italian dried herb mix
100 gram spicy (precooked) chickenpieces
Pineapple pieces, to taste
1/2 red onion, in rings
Jalopenos, to taste
Cheddar, grated, to taste
Direction:
Preheat the oven to 220 degrees. Mix the tomato sauce with 2 spoons bbqsauce and the Italian herbmix. Put on the pizza base. Mix the rest of the bbq sauce with the chicken. Top the pizza with the chicken and the rest of the ingredients and end with the cheddar. Bake in an oven on 220 degrees in 10 to 15 minutes untill nice and crispy.