Ingredienten:
1e laag:
Half pakje Oreo's (7 stuks)
1 eetlepel gesmolten kokosolie
2e laag:
100 gr santen/kokoscreme
1 el kokosolie
1 el geraspte kokos
1 tl agave siroop
3e laag:
75 gram pure chocolade
Verder nodig:
Hakmolen
Vierkant bakje van ongeveer 13 x 13 cm
Bereiding:
Maal de oreo's fijn in de hakmolen van je keukenmachine/staafmixer. Smelt 1 eetlepel kokosolie in een pannetje en voeg bij de oreo's. Meng dit goed en verdeel het Oreokruim over de bodem van het vierkante bakje. Druk goed aan met de achterkant van een lepel. Zet in de koelkast om op te stijven.
Maak de hakmolen schoon en doe erna de santen/kokoscreme, kokosolie, geraspte kokos en agavesiroop in. Meng tot een romige massa. Haal het bakje met de bodem van Oreo kruim uit de koelkast en verdeel de kokosroom over de bodem. Verdeel goed met de achterkant van een lepel en zorg dat het een mooie gladde laag is. Zet minimaal een uur in de koelkast om volledig op te stijven.
Voor de laatste laag: smelt 75 gram pure chocolade au bain marie of in de magnetron en verdeel dit over de kokosroom. Laat opstijven in de koelkast.
Snij er vervolgens 4 vierkanten uit, meerdere kleinere vierkantjes (want het is best machtig) of repen en enjoy!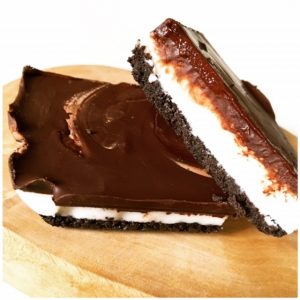 English version:
Ingredients:
1st layer:
Half a roll Oreo's (7 pieces)
1 spoon melted coconut oil
2nd layer:
100 gr coconut cream
1 spoon coconut oil
1 spoon grated coconut
1 teaspoon agave syrup
3rd layer:
75 gram dark chocolate
Further needed:
Kitchenmachine or choppingpart of the handheld blender
Square container of approximately 13 x 13 cm
Direction:
Chop the Oreos to a fine crumb in the kitchenmachine/handheldblenderpart. Melt the coconut oil in a pan and add to the Oreo crumb. Mix well and divide the Oreo crumb over the bottom of the square container. Press really well with the back of a spoon and put in the fridge to set.
Clean the kitchen machine and after that add the coconut cream, coconut oil, grated coconut and agave syrup. Mix to a creamy mass. Take the container with the base of Oreo crumb out of the fridge and divide the coconutcream over the bottom. Divide well weht the back of a spoon and make sure it's a nice smooth layer. Put in the fridge for minimal an hour to completely set.
For the last layer: melt 75 grams of dark chocolate au bain marie or in the microwave and divide over the coconut cream. Let it set in the fridge.
Cut into 4 squares, a few tiny squares (as the are pretty heavy) or bars and enjoy!