Ingrediënten:
150 ml bier
1 ei
100 gram bloem
Cajun kruiden (naar smaak)
Spruiten (ongeveer 20)
Bereiding:
Splits het ei. Doe het bier in een kom met het eigeel en de kruiden. Voeg de bloem toe en mix goed. Klop in een vetvrije schaal het eiwit luchtig en spatel door de rest van het beslag. Verwarm zonnebloemolie in een pan (of gebruik een frituurpan). Haal de spruiten 1 voor 1 door het beslag en frituur tot ze mooi goudgeel zijn. Serveer met bijvoorbeeld een spicy mayonaise (mix mayonaise met sriracha). De spruiten zijn nog vrij hard maar als je liever een zachtere bite hebt, blancheer ze dan even voor je ze door het beslag haalt (wel even drogen met keukenpapier anders "pakt" het beslag niet!).
Met het overgebleven beslag kun je ook andere groenten frituren en zo een "gezondere" borrelhapjes mix maken voor de vrijdagmiddagborrel. (denk aan champignons, groene asperges, bloemkoolroosjes etc).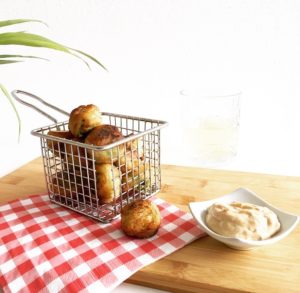 English version
Ingredients:
150 ml beer
1 egg
100 gram flour
Cajun spices (to taste)
Brussel sprouts (approx. 20)
Direction:
Split the egg. Put the beer in a bowl with the eggyolk and the spices. Add flour and mix wel. In a grease free bowl beat the eggwhite airy and mix with the rest of the batter. Heat some sunflower oil in a pan (or use a deepfryer). Put the sprouts one by one through the batter and fry till they are golden brown. Serve with a spicy mayonaise (mix mayonaise with sriracha). The brussel sprouts will be still a bit firm, if you like a softer bite, blanche them before putting them in the batter. (dry them well or else the batter won't "stick"!).
With the rest of the batter you can deepfry other veggies and make a more "healthier" snackplatter for the Friday night drinks. (for example mushrooms, green asperges, cauliflower, etc).