Ingrediënten voor 2 personen:
4 plakjes (Sunt) bananenbrood, geroosterd
2 bananen
50 gram boter of plantaardige boter
50 ml room
50 gram bruine suiker
Snufje kaneel
Snufje zout
Bereiding:
Rooster het bananenbrood kort in de broodrooster of pan. Verhit een koekenpan en laat daarin de boter smelten, voeg de suiker toe en roer goed door. Voeg vervolgens de slagroom toe. Breng aan de kook.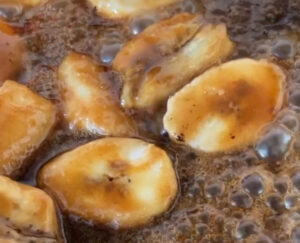 Snij de bananen in stukjes en voeg toe aan de saus en laat zacht worden. Serveer over het bananenbrood.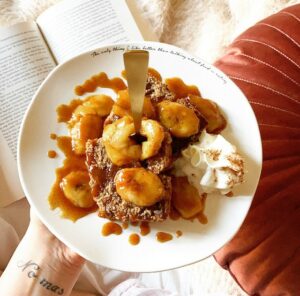 Tip: ook lekker als toetje over ijs! En met een klein beetje rum erdoorheen! 😉
English version
Ingredients for 2 persons:
4 slices (Sunt) banana bread, toasted
2 bananas
50 gram butter or plantbased butter
50 ml cream
50 gram brown sugar
Sprinkle cinnamon
Sprinkle salt
Directions:
Toast the banana bread in a toaster or pan. Heat a pan and let the butter melt in it, add the sugar and mix well. Add the cream. And bring to a boil.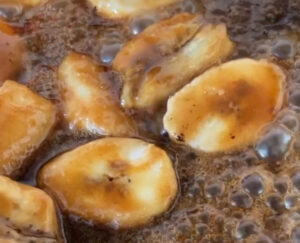 Cut the banana in slices and add to the sauce and let it soften. Serve over the banana bread.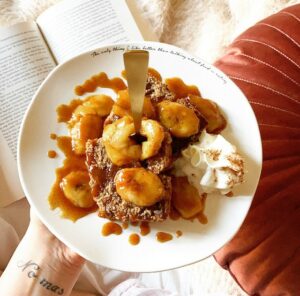 Tip: also good as dessert over icecream. And with a bit of rum in the sauce! 😉