Ingrediënten voor ongeveer 6 stukken:
100 gram amandelmeel
100 gram bloem
10 mazafati dadels
3 eetlepels speculaaskruiden
60 gram plantaardige boter (zoals bijv. van Floraplant) of gewone roomboter
4 eetlepels agavesiroop
2 theelepels bakpoeder
Snufje zout
Voor het spijs:
100 gram amandelmeel
100 gram agavesiroop
sap van een halve citroen
Eventueel amandelschaafsel voor decoratie.
Bereiding:
Het lekkerst is om het spijs 1 of 2 weken van tevoren te maken zodat het kan rijpen. Maak het spijs door de ingrediënten goed door elkaar te mengen en in een bakje in de koelkast te zetten.
Verwarm de oven voor op 170 graden.
Meng alle ingrediënten voor het deeg door elkaar met een keukenmachine en kneed goed door. Laat het rusten in de koelkast.
Bedek een bakvorm met bakpapier en deel het deeg in tweeën, verdeel 1 deel over de bodem. Verdeel het spijs erover en bedek met het andere deel deeg. Strooi er eventueel nog wat amandelschaafsel over. Bak af in de voorverwarmde oven in ongeveer 25 minuten. Laat afkoelen en snij het dan in 6 stukken.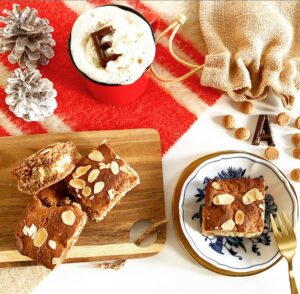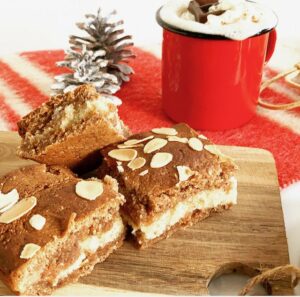 English version:
Ingredients for about 6 pieces:
100 gram almond flour
100 gram flour
10 mazafati dates
3 spoons speculaas spices (like gingerbread)
60 gram plantbased butter (for example Floraplant) or regular butter
4 spoons agave syrup
2 teaspoons bakingpowder
Sprinkle salt
For the inside:
100 gram almond flour
100 gram agave syrup
juice of half a lemon
Optional: almond shavings for decoration
Direction:
Making the inside 1 or 2 weeks earlier to let it ripe is even more delicious. Make the almond paste buy mixing all the ingredients for the inside and keep it in a container in the fridge.
Preheat the oven to 170 degrees.
Mix all the ingredients for the dough together in a kitchen machine and knead well. Let it rest in the fridge.
Cover a baking form with parchement paper and divide the dough in two parts, spread one of the parts on the bottom of the baking form. Divide the almondpaste (inside) over it and cover with the other part dough. Sprinkle some almond shavings on top. Bake in a preheated oven for about 25 minutes. Let it cool down and cut in 6 pieces.