Ingrediënten:
200 gram verse gnocchi
50 gram roomboter
handvol champignons, in plakjes gesneden
handvol (vega) baconreepjes
1 klein sjalotje, fijngesneden
snufje tijm
snufje zout
Eventueel klein scheutje witte wijn
Bereiding:
Begin met de botersaus. Snij de boter in gelijke stukjes. Verhit op medium vuur in een pan met lichte bodem (zodat je de kleur kan zien). Blijf roeren tijdens hele proces. De boter gaat op een gegeven moment splitsen en schuimen. Blijf roeren en kijk naar de kleur van de boter. Zodra deze lichtbruin wordt en nootachtig begint te ruiken (in het Frans heet het daarom Buerre Noisette), haal van het vuur en schenk over in een vuurvast schaaltje.
Verhit een klein beetje boter in een pan. Voeg het sjalotje toe en bak glazig. Voeg vervolgens de champignons en baconreepjes toe. Voeg de tijm, zout en eventueel witte wijn toe. Zodra de champignons zacht/bruin zijn, voeg dan de gnocchi toe en bak deze goudbruin. Serveer in een bowl en schenk de bruine botersaus erover.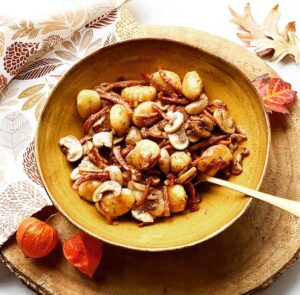 English version:
Ingredients:
200 gram fresh gnocchi
50 gram real butter
handfull mushroom, sliced
handfull (vega) bacon stripes
1 small shallot, finely sliced
sprinkle thyme
sprinkle salt
optional a little pour of white wine
Directions:
Start with the butter sauce. Cut the butter in equal pieces. Heat on medium in a pan with a light bottom (as you need to see the color). Keep stirring during the whole proces. The butter will split and foam and a certain time. Keep stirring and look at the color of the butter. When it's light brown and start smelling nutty (that's why the French call it Buerre Noisette), take of the heat and pour into a heat resitant bowl.
Heat a little butter in a pan. Add the shallot and bake glazy. Add the mushrooms and bacon bits. Add the thyme, salt and optional some white wine. When the mushrooms are soft/brown, than add the gnocchi and bake untill golden brown. Serve in a bowl and pour the brown butter sauce over it.