Ingredienten:
1/2 kipfilet
1/2 (ongeveer 100 gr) bakje roomkaas (light)
50 gram cheddar, geraspt
1 el boter (15 gram), gesmolten
1 el hete saus (sriracha bijvoorbeeld)
1 tl azijn
1 tl Worchestersaus
1 teentje knoflook, fijngesneden/geperst
Bereiding:
Kook de kipfilet in water gaar. Maak ondertussen de saus. Meng de gesmolten boter met de hete saus, azijn, Worchestersaus en knoflook. Doe in een kommetje de roomkaas en meng deze met de saus en cheddar. Pluis de kip (shred door met twee vorken de kipfilet in kleine stukjes te maken). Voeg bij de roomkaas en schenk in een ovenvaste schaal. Zet ongeveer 15 minuutjes in de oven op 200 graden, tot het goed heet is en de cheddar gesmolten is. Zet op een onderstel met een kaarsje en serveer met brood en bijvoorbeeld snack paprikaatjes of selderij. Of andere dingetjes die je lekker vindt om te dippen. Leuk als voorafje of als dip op een feestje.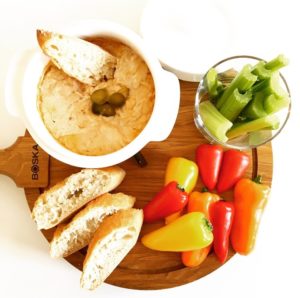 Win de plank en cheese baker van Boska op mijn Instagram pagina. De winactie is tot donderdag 2 juli 2020.
English version:
Ingredients:
1/2 chicken breast
1/2 (approximately 100 gr) creamcheese (light)
50 gram cheddar, grated
1 spoon butter (15 gram), melted
1 spoon hot sauce (Sriracha for example)
1 teaspoon vinegar
1 teaspoon Worchestersauce
1 glove garlic, grated
Directions:
Boil the chicken. In the meanwhile make the sauce. Mix the melted butter with the hot sauce, vinegar, Worchester sauce and garlic. Mix in a bowl the creamcheese with the sauce and cheddar. Shred the chicken with two forks. Add to the creamchees and pour in a ovendish. Put about 15 minutes in the ove on 200 degrees celcius, untill it's really hot and the cheddar melted. Put on a fondueset to keep it warm and serve with bread and for example small sweet peppers or celery. Or other things you love dipping in cheese. Fun as a starter or as partydip.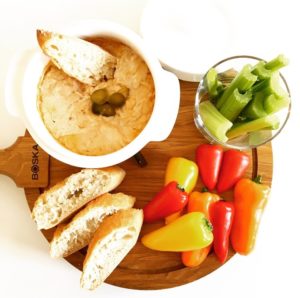 Win