Net voor het Corona virus toesloeg, nodigde Anne van Anne Travel Foodie mij uit voor een Budget Tour in haar stadje, Tilburg. Helaas moesten we dus even wachten, maar nu alles weer een beetje normaal wordt, was de timing eigenlijk nog beter. Met veel mensen die door de crisis minder te besteden hebben, of waarvan een vakantie nu niet door kan gaan, is een staycation in eigen land eigenlijk net zo leuk. En Tilburg is zeker een bezoekje waard!
Dat een staycation helemaal niet duur of saai hoeft te zijn, bewees Anne afgelopen week. We hadden afgesproken bij Hostel Roots waar we ons eerste nachtje door brachten. En oh, wat is dit een mooi hostel zeg, gevestigd in een oud bankgebouw met torentjes en balkonnetjes. Modern en gezellig ingericht met ruime kamers en veel instaperfect plekjes (voor de Instagrammers onder ons). We sliepen in een kamer met een tweepersoonsbed en 2 bedden die bereikbaar waren via een trap en de kamer heeft zelfs een eigen badkamer! Er is plaats voor 4 personen, dus superleuk voor een uitje met vriendinnen of een gezin. Deze kamer boek je al vanaf €30,50 pp. Very on a budget maar ook nog eens heel Fab, met een mooi behangetje en dakterras. Op donderdagavond kun je hier trouwens ook terecht voor een heerlijke budgetmaaltijd. Voor €7,50 kun je zelf je bord volscheppen en krijg je er nog een drankje bij ook. Ook heel fijn, het hostel ligt dicht bij het station én heeft een eigen parkeerplaats en ligt dichtbij het gezellige dwaalgebied van Tilburg met leuke winkeltjes en cafeetjes waar we s'avonds nog even een drankje deden.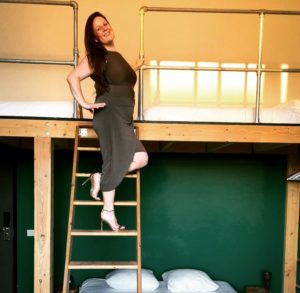 To do on a budget:
De volgende dag gingen we Tilburg ontdekken…nouja, ik dan, met Anne als gezellige tourguide. En dat deden we wel met heel leuk vervoer.
Mercure Tilburg verhuurt namelijk supergave elektrische stepjes voor maar 20 euro voor de hele dag. En als je voor het arrangement kiest (€37,50) krijg je er een rugzak bij met heerlijke hapjes en een flesje wijn voor een klein break onderweg.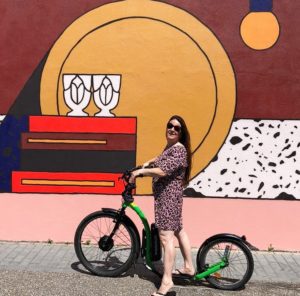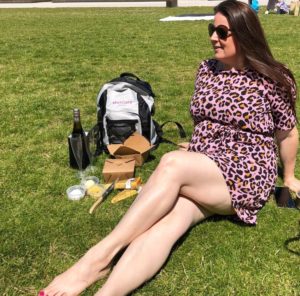 Next stop, ontbijt bij Anvers. Deze mooie brasserie op de markt van Tilburg heeft wel een hele leuke budget deal. Namelijk voor €2,- eet je hier in een heerlijke tosti (bij aankoop van een drankje) en de saus is waar je eigenlijk voor komt…lekker pittig. Deze deal is pas weer vanaf 31 augustus geldig. De overige menukaart ziet er ook heerlijk uit trouwens en ook zeker leuk voor een hapje en drankje s'avonds.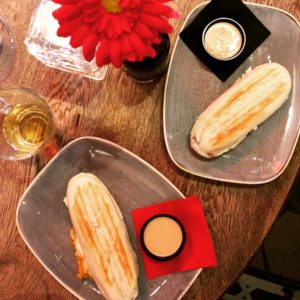 Hierna stepten we naar Museum De Pont. Dit museum met moderne kunst is normaal gesproken op donderdagavond gratis te bezoeken. Helaas is dat nu door het virus even niet mogelijk maar hebben ze wel een hele leuke deal. Koop een kaartje voor De Pont en ontvang een gratis kaartje voor het Textiel Museum van Tilburg. Behalve dat het museum veel kunst heeft van kunstenaars die door De Pont geïntroduceerd zijn in Nederland of hun eerste grote tentoonstelling hier als eerst hadden, heeft het ook nog eens een prachtige tuin met gezellige zitjes. En alleen het gebouw al (een oude wolfabriek) is het bezoek waard aangezien het veelal in de oude stijl behouden is, met kleine wolhokken en een grote hal. Dit museum is ook erg leuk om met kinderen te bezoeken.

Maar je hoeft niet naar een museum om kunst te bewonderen, overal waar je kijkt in Tilburg vindt je prachtige streetart. Op de site van Anne vindt je hier een graffiti route. Deze art is van Robin Nas (foto 1), op IG te vinden als Zenkone en foto 2 is van Sneak Art op IG te vinden als Sneakart1.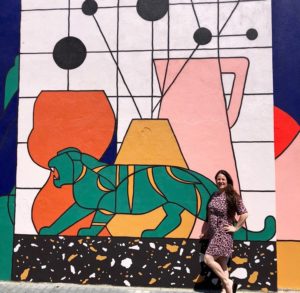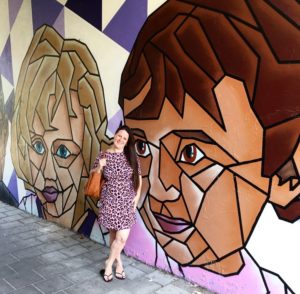 Is het mooi weer dan is een bezoek aan het Spoorpark de moeite. Dit park is het grootste burger initiatief van Nederland en is echt een heerlijk park voor zowel vriendengroepen of gezinnen. Met water waarin kinderen kunnen spelen of waar je aan de kant kunt liggen (de Rits), tot een torenhoge…uh Kempentoren waar je voor €1,50 een prachtig uitzicht hebt over Tilburg. Ook is er een basketbalveld, kiosk en zelfs een stadscamping. En met een Aldi en Albert Heijn om de hoek is het de perfecte (budgetproof) plek om te gaan picknicken. Het park is gratis te bezoeken.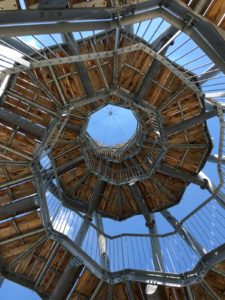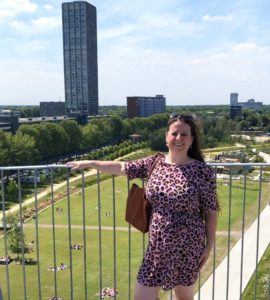 Na al het gestep was het tijd voor een heerlijk hapje on a budget. Niet dat je dat budget proeft hoor, want bij Dwars Hotdogbars hebben ze geweldige dogs onder een tientje en geloof me, dit wil je! En alle dogs zijn ook vegetarisch te krijgen. Doe je er nog een side bij dan heb je een heerlijk diner. Ik kan je de Eigenzinnige Edgar aanbevelen met een stroop van Schrobbeler (een echt Tilburgs drankje)!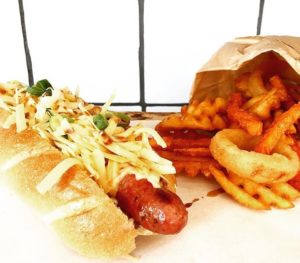 En we stepten na het bekijken van wat streetart om de hoek bij Dwars hotdogbar naar de Spoorzone van Tilburg. Eigenlijk een plek die je niet mag overslaan als je in Tilburg bent. Met een leuk wagonnetje om een taartje te eten en geweldige graffiti. In de zomer (en zonder corona) vinden hier leuke festivalletjes en marktjes plaats. En de plek voor al je instaperfectpictures…rauw en creatief!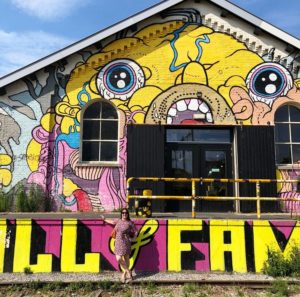 En na deze lange geweldige dag in het gezellige Tilburg (ondertussen deden we nog een drankje op een leuk terrasje en bezochten we ook even de Tilburgse kermis, want tja, daar staat Tilburg toch wel bekend om…zelfs nu ie iets kleiner is dan normaal), gingen we op zoek naar de B&B waar we die avond zouden slapen. Aangekomen bij een rijtjeshuis wisten we niet zo goed wat we moesten verwachten. En An Apple and an Egg is dan ook niet je doorsnee Bed & Breakfast. Begonnen met een matrasje op de grond om rondreizende bands een slaapplek te kunnen bieden, is het nu omgetoverd in 6 soort van bedstedes/bunkbeds in een kamer vol met bandposters, stickers en polsbandjes. Het gezellige stel Joy's en Co laten je helemaal op je gemak voelen met een volle koelkast met drankjes en een trommel met lekkers op je kamer. Festivalletje pakken of een dagje Efteling, dit is wel een hele leuke slaapbelevenis. En 's morgens wordt je verwend met een heerlijke ontbijt. Overnachten kost €25,- pp per nacht en voor €7,- boek je er een ontbijt bij!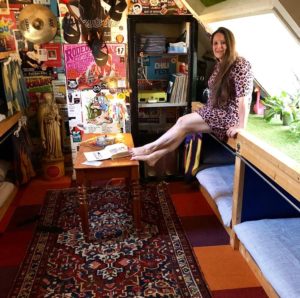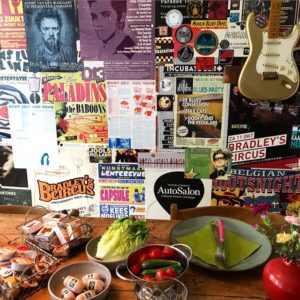 Joy's had trouwens nog een superleuke verrassing voor ons, ze stuurde ons s'avonds naar een van de oudste café van Tilburg voor een bierproeverij. Hier kun je elke donderdagavond 5 speciaal biertjes proeven voor €12,50. We durfde alleen bijna niet te zeggen dat we beide niet van bier hielden, maar hebben ons desalniettemin erg vermaakt en proefde ik het kruidenlikeurtje van Tilburg, een Schobbelèr!
Ook een dagje (en nachtje) naar Tilburg, kijk op Ticket to Tilburg wat er allemaal te doen is tijdens je bezoek en voor nog meer leuke tips.
To do on a budget:
Elektrische step huren: Mercure Tilburg: €20,- voor de hele dag
Museum de Pont: gratis op donderdagavond (zodra de coronacrisis voorbij is)
Picknicken in het Spoorpark: gratis op je eigen drankjes & hapjes na. Bezoeken toren: €1,50
Streetart/graffiti route: gratis
Spoorzone: gratis
Bierproeverij bij De Troubadour: €12,50
To eat on a budget:
Tostideal bij Anvers (vanaf 21 augustus): €2,- bij aankoop van een drankje
Hotdogs bij Dwars Hotdogbar: onder €10,-
Daghap bij Roots Hostel (elke donderdagavond): €7,50 incl. drankje
Sleep on a budget:
Hostel Roots: vanaf €22,50 pp
B&B an apple and an Egg (ook te vinden op Facebook & Instagram): €25,- pp
English version:
Just before Corona hit, Anne of Anne Travel Foodie invited me for a Budget Tour in her city, Tilburg. Unfortunately, we had to wait, but now that things are getting slowly back to normal, the timing is maybe even better. With a lot of people who are having less money due to the crisis, or have their vacation cancelled, a staycation in your own country is just as fun. And Tilburg is worth a visit! (so yes, if you are planning to visit Holland this summer, skip Amsterdam, but visit fab Tilburg instead)!!!!
That a staycation doesn't have to be expensive or boring, proofed Anne last week. We met at Hostel Roots where we spend our first night. And wow, this hostel looks amazing, it's in an old bank building with little towers and balconies. Modern and cozy designed with big rooms and a lot of instaperfect spots (for all the Instagrammers reading this). We stayed at room with a double bed and 2 beds you could reach with a ladder and the room even has it's on bathroom. It has enough space for 4 persons, so superfun for a night out with the girls or a family. This room can be booked from €30,50 pp. Very on a budget but also very Fab, with an great wallpaper and roof terrace. On thurday night you can also eat here on a budget. For €7,50 you can use the buffet and even get a drink. Also good to know, the hostel is close to the station and has it's own parking, plus it's close to the Dwaalgebied of Tilburg with cute stores and bars, where we had a nice drink at night.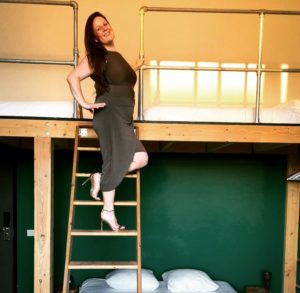 To do on a budget:
The next day we discovered Tilburg…well i did, with Anne as a great tourguide. And we used a very special means of transport.
Mercure Tilburg rents out these supercool electric steps for only 20 euro per day. And if you choose an arrangement (€37,50) you get a backpack filled with delicious bites and a bottle of wine for a little break during your tour.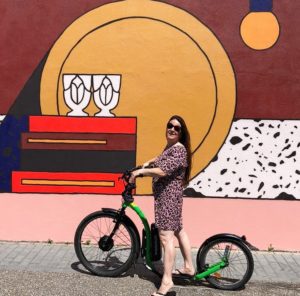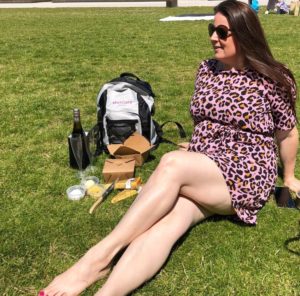 Next stop, breakfast at Anvers. This nice restaurant on the market of Tilburg has a really good budget deal. For only €2,- you get a delicious grilled cheese (when you buy a drink) and the sauce is wellknown and nice and spicy. The deal starts again on August 31. The rest of the menu is pretty goodlooking aswell and definetly nice to have a bite and drink here for dinner.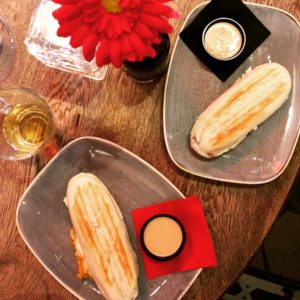 After this we stepped to Museum De Pont. This museum with modern art is ussually free on Thursday evening. However, due to the virus that's not possible now, but they do have a great deal. Buy a ticket and get a free ticket for the Textile museum in Tilburg. Apart from have a lot of art of artist that were introduced to Holland by De Pont or had their first big exhibition at the museum, they also have a beautiful garden with cozy seating area's. And just the building (an old wool factory) is worth the visit as it's kept mostly in it's old style, with small wool chambers and a big space. This museum is also fun for kids.

But you don't have to visit a museum to enjoy art, everywhere you look in Tilburg you can find amazing streetart. On the site of Anne you can find here a graffiti route. This art is of Robin Nas (Photo 1), on IG as Zenkone and photo 2 is of Sneak Art on IG as Sneakart1.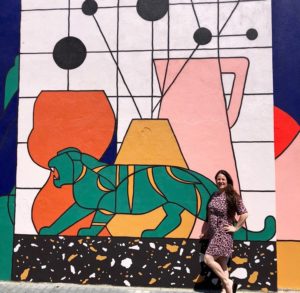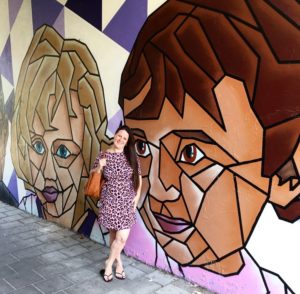 If the weather is great that a visit to Spoorpark is worthwhile. This park is the biggest citizen initiative of The Netherlands and a great park to spend time with friends and/or family. With water in which kids can play or you can lay by the waterside and a towerhigh…uh Kempentower on which you have for only €1,50 the best few over Tilburg. There's also a basket ball field, kiosk and even a city camping place. And with a Aldi and Albert Heijn around the corner it's the perfect (budgetproof) place for a picknick. Entrance of the park is free.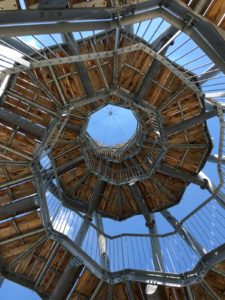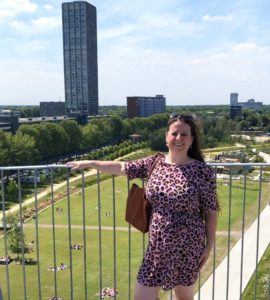 After all that stepping around it was time for a delicious bite on a budget. Not that you can taste the budgetness, as at Dwars Hotdogbars they have amazing dogs under €10 and believe me, you want this! And all dogs can be ordered as vegetarian aswell. Add a side and you have a great diner. I can recommend the
Eigenzinnige Edgar with a glaze of Schrobbeler (a real typical Tilburg drink)!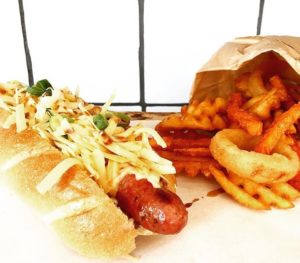 And after checking out some streetart around the corner of Dwars hotdogbar we went to Spoorzone of Tilburg. Which is actually a must-do when visiting Tilburg. With a great wagon to have a piece of cake and great graffiti. In the summer (and without corona) you find the cutest festivals and markets here. Plus it's the perfect place of instaperfectpictures…rauw and creative!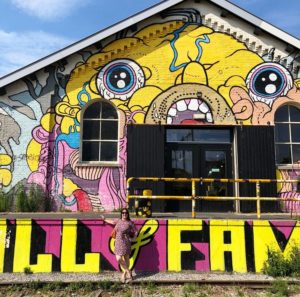 And after this long but fun day in cozy Tilburg (in the meantime we also had a drink on a terrace and even visited the Tilburg Fair, as that's what Tilburg is wellknown for, even if it's a little smaller than normally), we went to find our B&B for that night's stay. Seeing the normal house, we didn't really know what to expect. And An Apple and an Egg is not your typical Bed & Breakfast. Started with a matrass on the ground to offer a place to sleep for touring bands, it's now turned into 6 sort of box/bunk beds in a room full of band pictures, stickers and wrist bands. The fun couple Joy's en Co make you feel right at home with a fridge full of drinks and chocolate bars in your room. Going to a festival or visiting the Efteling, this is an extra-ordinary sleep experience. And in the morning you get greeted with a delicious breakfast. Staying here costs €25,- pp per night and €7,- for breakfast!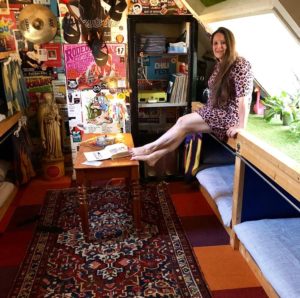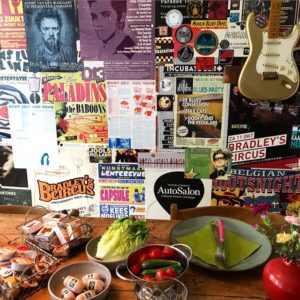 Joy's also had a little suprise for us, she sent us that evening to one of the oldest bars of
café Tilburg for a beer tasting. Every Thursday night you can try 5 special beers for €12,50. We just were a little afraid to mention we didn't drink beer, but did have a great night and i tried a real Tilburg's liquer for the first time, a Schobbelèr!
Also want to spend a day (and night) in Tilburg, look at Ticket to Tilburg for a calendar during your stay and more fun tips.
To do on a budget:
Rent electric step: Mercure Tilburg: €20,- for a whole day
Museum de Pont: free on Thursday evening (after corona crisis is over)
Picknick in Spoorpark: free expect for your own brought drinks and bites. Visit tower: €1,50
Streetart/graffiti route: free
Spoorzone: free
Beer tasting at De Troubadour: €12,50
To eat on a budget:
Grilled cheese deal at Anvers (vanaf 21 augustus): €2,- with purchase of a drink
Hotdogs bij Dwars Hotdogbar: under €10,-
Day meal at Roots Hostel (every Thursday evening): €7,50 incl. drink
Sleep on a budget:
Hostel Roots: from €22,50 pp
B&B an apple and an Egg (also on Facebook & Instagram): €25,- pp