Yep, je leest het goed, 20 euro voor heel augustus. Normaal is mijn weekbudget €20,- maar het leek mij een leuke uitdaging om het een keer als maandbudget te gebruiken. En aangezien september een duur maandje wordt, leek mij augustus de perfecte maand hiervoor.
En ja met 20 euro voor augustus bedoel ik ook echt voor alles maar 20 euro (buiten de vaste lasten), behalve benzinegeld…al heb ik nog een halve tank waar ik het mee probeer te redden. Maar voor de rest moet ik hier dus alles mee doen.
Nu heb ik natuurlijk supergeluk met mijn vrijwilligersbaantje waardoor ik elke week een groente & fruit pakket mag ophalen voor €0,50 dus hou ik nog €18,- over. Oneerlijk..nee niet helemaal want als ik nu nog werk had gehad (ik werk backstage bij concerten) dan had ik amper thuis gegeten en ook nog eens superveel leftovers mee naar huis genomen. Dus ik ben maar wat blij dat mijn vrijwilligerswerk dit een beetje opvangt. En heel blij met het vriendinnetje die mij hier op wees. Thanks, Lenneke! En als Foodblogger/IGfoodie krijg ik natuurlijk ook nog wel eens wat…dus fingers crossed dat het deze maand pakjesmaand is ;)! Ook krijg ik regelmatig een appje van mijn bovenbuuf, die iets over heeft uit haar Too good to go-pakket. Dus wie weet…hou ik straks zelfs nog geld over!
Ook heb ik nog best een volle diepvries en voorraadkast. Ik heb niet extra ingeslagen voor de challenge, maar door slim in te kopen heb ik eigenlijk altijd wel een fijne voorraad. Tijd om die eens op te maken, kan ik de diepvries ook eens ontdooien (en daardoor weer wat geld besparen op mijn elektriciteitsrekening). Hoe ik zo'n voorraad op bouw kun je lezen in mijn boek, Fab and Fit on a Budget. Mocht je het leuk vinden om ook te besparen op je boodschappen of mee te doen met de challenge en je hebt wat extra tips en tricks nodig, dan kun je hem bestellen op mijn site of via bol.com. En mocht je de uitdaging ook aan willen gaan, uiteraard mag dit ook met je eigen weekbudget (dus niet per se €20,-), gebruik dan de hastag #fabbudgetchallenge en dan zal ik je post reposten in mijn stories op Instagram.
Ik zou deze maand jullie op de hoogte houden d.m.v. blogjes What i eat in a week en hoeveel geld ik per week kwijt ben!
Are you in?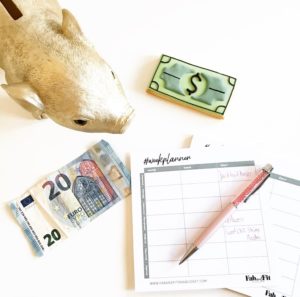 English version
Yep, that's right, just 20 euro (18,05 UK pounds, $23,49 USD) for the whole of August. Normally my weekbudget is €20,-, so i thought it would be a really fun challenge to make it my month budget this time. And as September is going to be pretty expensive, August seems like the perfect month for it.
And yest with 20 euro for August i mean, everything has to be done with only 20 euro (except for my fixed charges like mortage, insurance etc), except for gas money…although i still have half a tank on which i try to survive this month. But for the rest, everything else needs to done with that!
Ofcourse i'm super lucky to have my volunteersjob where i get to pick up a fruit & veggie package each week for only €0,50, which leaves me with €18,- left. Unfair…not really as if i still had my job (i work backstage at concerts) i would have hardly ate at home and would bring home loads of leftovers. So i'm so happy this volunteersjob takes that over a bit. And very happy a friend pointed it out to me. Thanks, Lenneke! And as a Foodblogger/IGfoodie i also get sent things…so fingers crossed it's package month this month ;)! And i also get regular apps from my upstair neighboor who has things leftover from her Too Good To Go package. So who knows…i might even have money leftover in the end!
And i also have a pretty full freezer and pantry. I didn't go for an extra haul for this challenge, but by buying smart, i actually always have a great supply. Time to finish it, so that i can defreeze the freezer (and save some money on my electrical bill). How i "build" a supply you can read in my book, Fab and Fit on a Budget. If you also want to save money on your groceries or want to join the challenge and need some extra tips and tricks, you can order it on my site or through Bol.com (the book is only available in Dutch). And if you want to join the challenge, this can also be with your own weekbudget (which might be different than €20,-), use hastag #fabbudgetchallenge and i will re-post in my stories on my Instagram.
I will keep you posted this month with blogs What i Eat in a week and how much money i spend that week.
Are you in?