Ingrediënten voor 1 persoon:
3 eieren
30 gram havermout
1/2 banaan
handje pecannoten of walnoten
1 à 2 geraspte wortelen
Handje rozijnen
1/1,5 theelepel kaneel
2 lepels roomkaas/zuivelspread (light)
Honing, agave of poedersuiker
Bereiding:
Voeg 1 heel ei en van de andere twee eieren alleen het eiwit samen met de havermout, de halve banaan, de pecannoten en kaneel in een blender en mix alles door elkaar. (de noten mogen nog wel wat grof gemalen zijn). Voeg na het mixen de geraspte wortels en rozijnen toe en roer deze goed door het beslag.
Maak het glazuur door met een handmixer de roomkaas met de honing of suiker op te kloppen.
Verwarm olie in een koekenpan en maak met het beslag kleine rondjes (zoals Amerikaanse pannenkoeken) en draai ze om zodra je "belletjes" ziet vormen in het beslag. Bak nog even en begin maar met stapelen.
Vervolgens een flinke schep glazuur op de pannenkoeken en decoreer eventueel met wortel.
Serveer met een heerlijk glas verse sinasappel-wortelsap!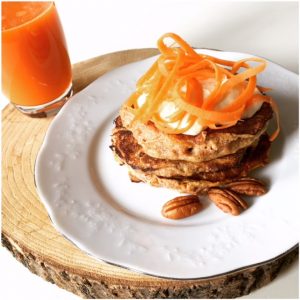 English version:
Ingrediënten voor 1 persoon:
3 eggs
30 gram oats
1/2 banana
a little hand pecan nuts or walnuts
1 à 2 grated carrots
a little hand of raisins
1/1,5 teaspoon cinnamon
2 spoons creamcheese (light)
Honey, agave or powder sugar
Directions:
Add 1 whole egg and of the other two eggs just the eggwhite together with the oats, half a banana, the nuts and cinnamon in a blender and mix it. (the nuts can grated in see-able pieces). After mixing add the grated carrots and raisins and mix this good through the batter.
Make the glaze by whiping the creamcheese with the honey or sugar with a handheld mixer.
Heat oil in a pan and make small rounds with the batter (like American pancakes) and turn the pancakes as soon as you see "bubbles" appear. Bake just a little more on the other side and start stacking.
Top with a big spoon of the glaze on the pancakes and decorate with some carrots (optional).
Serve with a glass of fresh orange-carrot juice!