Ingrediënten voor 1 persoon:
1 plakje bladerdeeg
1/1,5  lepel smeerbare geitenkaas
1 theelepel honing
Babybietjes Balsamico (John's Farm verkrijgbaar bij Albert Heijn)
1/2 rode ui
Eventueel een klein beetje suiker of honing
Een beetje tijm (gedroogd)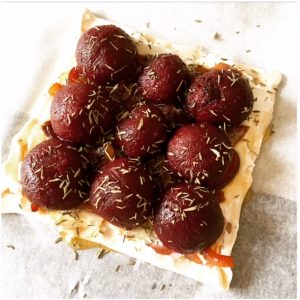 Bereiding:
Laat het plakje bladerdeeg ontdooien. Snij de halve rode ui in dunne halve ringen en doe in een koekenpan met een beetje olie, bak ze aan en voeg eventueel wat suiker of honing toe en een klein scheutje water. Draai het vuur zachter en bak tot ze zacht en gekarameliseerd zijn. Zet ze daarna aan de kant tot gebruik.
Als het plakje bladerdeeg ontdooid is, prik er met een vork wat gaatjes in en vouw eventueel de zijkant een klein beetje om. Besmeer met de geitenkaas en druppel de honing erover. Beleg met de gekarameliseerde ui. Snij de babybietjes door de helft (of in plakjes) en leg ze bovenop de uien. Bestrooi met een klein beetje tijm en bak in een voorverwarmde oven 10 tot 15 minuutjes op 200 graden. (baktijd varieert per oven).
English version (goatcheese beet pie)
Ingrediënten voor 1 persoon:
1 piece of puffed pastry (frozen)
1/1,5  spoon spreadable goatcheese
1 teaspoon honey
Baby beets Balsamico (John's Farm available at Albert Heijn)
1/2 red onion
Optional: a little bit of sugar or honey
A little bit of thym (dried)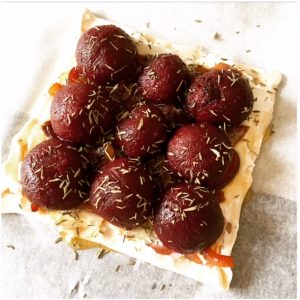 Directions:
Defrozed the puff pastry. Cut the red onion in thin half slices and put in a pan with a little bit of oil, bake and add some sugar or honey (optional) and a little bit of water. Turn the fire to low and bake untill soft and caramelized. Put aside till use.
When the piece of pastry has been defrozed, make little holes in it with a fork and fold the sides a little. Spread with the goatcheese and drip the honey over it. Top with the caramelized onion. Cut the baby beets in half or in slices and put them on top of the onion. Sprinkle a little thym over it and bake in a preheated oven on 200 degrees for 10 to 15 minutes. (baking time can be different depending on the oven).