Ingrediënten 1 persoon:
Kabeljauwfilet
1 zakje Queen Protein chips Sour cream & onion (of paprika) van Gymqueen.nl
1 bakje bloem
Spicy Diva kruiden van Gymqueen.nl
1 losgeklopt ei in een bakje
Olijfolie of Queen Coconut oil (ook van Gymqueen.nl)
Eventueel: 1000 Island Mama Mia saus van Gymqueen.nl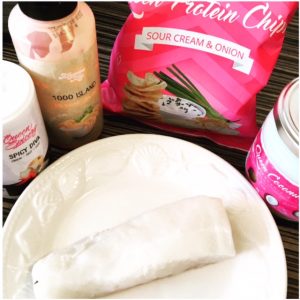 Bereiding:
Zet 3 bakjes of diepe borden klaar. Vul 1 bakje/bord met een paar lepels bloem met 1 of 1,5 theelepel Spicy Diva kruiden, meng dit goed door elkaar. Vul in bakje met het losgeklopte ei. Voor het laatste bakje, gooi een half zakje Queen Protein Chips in de hakmolen van je staafmixer (of keukenmachine) en hak tot grove kruimel. Doe dit kruim in het laatste bakje.
Haal de kabeljauwfilet eerst door het bloem-kruidenmengsel, vervolgens door het bakje met ei en als laatste door de Queen Protein chips kruimels. Druk dit laatste goed aan. Verhit de olie in de koekenpan en bak de kabeljauwfilet op laag vuur gaar, draai regelmatig om zodat alle kanten een mooi bruin kleurtje krijgen.
Serveer met de overgebleven chips en de 1000 Island Mama Mia saus en eventueel een salade.
Dinner fit for a Queen! En met code QueenEllen10 krijg je 10% korting op je bestelling bij GymQueen.nl!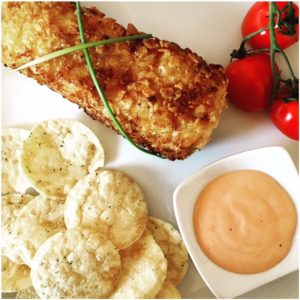 English version:
Ingredients 1 person:
Cod filet
1 bag Queen Protein chips Sour cream & onion (or bellpepper) of Gymqueen.nl
1 bowl flour
Spicy Diva spices of Gymqueen.nl
1 beaten egg in a bowl
Olive oil or Queen Coconut oil (also of Gymqueen.nl)
Optional: 1000 Island Mama Mia saus of Gymqueen.nl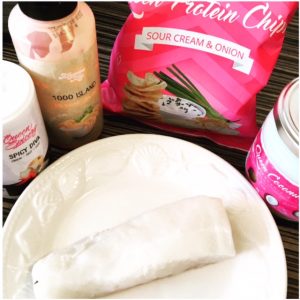 Direction:
Set aside three bowl or deep plates. Fill 1 bowl/plate with a few spoons flour and  1 of 1,5 tea spoon Spicy Diva spices, mix this well. Fill a bowl with a beaten egg. For the last bowl, throw half of a bag Queen Protein Chips in the chopper of your handheld blender (or kitchen machine) and chop till a not too small crumb. Place this crumb in the final bowl.
First put the cod through the flour spice mixture, than through the beaten egg and finally through the Queen Protein chips crumbs. Press the last one really firmly into the cod. Heat the oil in the pan and bake the cod on low untill done, turn regularly to give that nice golden brown color crispy skin.
Serve with the remaining chips and the 1000 Island Mama Mia sauce and a salad.
Dinner fit for a Queen! Use code QueenEllen10 for 10% discount on your order at Gymqueen.nl!