Wat als je bonen haat maar altijd al Chili con Carne wil proberen…nou dan laat je ze er toch uit en als je dan toch bezig bent, laat die carne ook maar zitten en vervang het met vega gehakt. Dus ging ik zelf maar een receptje bedenken. En tadaaa, Chili zonder alles ;)! Maar geloof mij, je mist het echt niet en is net zo verwarmend!
Ingrediënten voor 2 personen:
1/2 grote ui
1 teentje knoflook
1/2 paprika
100 gram vega gehakt
1 theelepel chilipoeder
1 theelepel komijn
1 theelepel cacao
1/2 bouillon blokje en 100 ml water
1 theelepel tomatenpuree
200 gram tomatenblokjes uit blik
4 eetlepels Chipotle saus (bijv. van La Morena, te krijgen bij Albert Heijn)
Bereiding:
Verwarm olie in een pan (liefst met dikke bodem). Snij de ui in stukjes en doe in de pan. Knijp een teentje knoflook erboven uit. Snij de paprika in blokjes en voeg toe. Voeg het vega gehakt toe en de kruiden (chilipoeder, komijn en cacao). Roer goed door. Verkruimel het bouillonblokje en strooi erover. Voeg 100 ml water toe en roer goed door. Voeg de tomatenpuree, tomatenblokjes en chipotle saus toe en laat op een heel laag vuur ongeveer een half uurtje pruttelen met de deksel op de pan.
Serveer met rijst en eventuele toppings zoals jalapenos, geraspte cheddar kaas, koriander en avocado!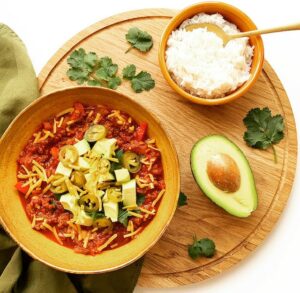 English version:
What if you hate beans but always wanted to try Chili con Carne…well you just leave them out and while you are at it, why not skip on the carne aswell and use vega minced meat instead! So i decided to make my own recipe. And tadaaa it's Chili sin everything ;)! But i promise you, it will warm you up just the same!
Ingredients for 2 persons:
1/2 big onion
1 clove of garlic
1/2 bellpepper
100 gram vega minced meat
1 teaspoon chili powder
1 teaspoon cumin
1 teaspoon cacao
1/2 bouillon cube and 100 ml water
1 teaspoon tomato paste
200 gram tomato cubes from a can
4 spoons Chipotle sauce (for example of La Morena, available at Albert Heijn)
Directions:
Heat some oil in a pan (preferable with a thick bottom). Cut the onion and add to the pan. Squeeze the garlic clove out over it. Cut the bell pepper and add. Add the vega minced meat and spices (chili powder, cumin and cacao). Stir well. Crumble up the broth cube and sprinkle over it. Add 100 ml water and stir well. Add the tomato paste, tomato cubes and chipotle sauce and let it shimmer on low for about 30 minutes with the lid on the pan.
Serve with rice and optional toppings like jalapenos, grated cheddar, coriander and avocado!