Ingrediënten 2 stuks:
130 gram kabeljauw
1/2 prei
50 ml witte wijn (geen zin om een hele fles aan te breken, ik gebruik voor koken altijd de kleine flesjes bij Albert Heijn van 187 ml voor €1,69)
100 gram crème fraîche
1/2 theelepel tijm
Snufje bloem
2 plakjes bladerdeeg (en eventueel een halve voor versiering)
Peper en zout
Eventueel een klein beetje (plantaardige) melk
Bereiding:
Verwarm de oven voor op 200 graden. Ontdooi de plakjes bladerdeeg. Snij de prei in dunne ringetjes. Verhit olie in pan en bak de prei hierin. Voeg de wijn toe en laat even smoren. Voeg de tijm toe. En vervolgens de crème fraîche. Roer goed door. Snij de kabeljauw in kleine stukjes, bestrooi met een klein beetje bloem en voeg heel even toe (het gaart verder in de ramekins). Bestrooi met peper en zout.
Smeer 2 ramekins in met olie. Doe het prei/vis mengsel in de ramekins en bedek met een plakje bladerdeeg. Maak een paar kleine inkepingen in het deeg. Besmeer eventueel met een beetje plantaardige melk. Bak in de oven op 200 graden in ongeveer 15 minuten gaar.
Leuk als voorgerechtje of hoofdgerecht met groente en aardappeltjes. (met kerst bijvoorbeeld).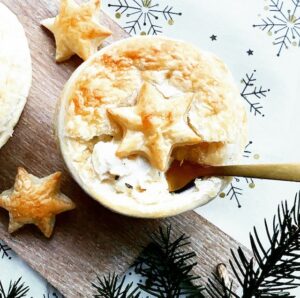 English version:
Ingredients 2 pieces:
130 gram cod filets
1/2 leek
50 ml white wine (don't feel like opening up a whole bottle, i always use small bottles of 187 ml for €1,69 at Albert Heijn)
100 gram crème fraîche
1/2 teaspoon thyme
Sprinkle of flour
2 sheets puff pastry (optional: half a sheet for decorations)
Salt & Pepper
Optional: a little (plantbased) milk
Directions:
Preheat the oven to 200 degrees celcius. Defrost the sheets of puff pastry. Slice the leek in thin slices. Heat some oil in a pan and bake the leek in it. Add the wine and let it shimmer. Add the thyme. And add the crème fraiche. Stir well. Cut the cod in small pieces, sprinkle with a little flour and add for just a short time (they will cook further in the ramekins). Sprinkle with some salt and pepper.
Grease two ramekins with oil. Put the leek/fish mixture in the ramekins and cover with a sheet of puff pastry. Make a few small holes in the pastry. Optional: spread some plantbased milk over it. Bak in the oven on 200 degrees celcius in about 15 minutes.
Fun as a starter or as a main with veggies and potatoes. (for example Christmas dinner!).