Zit je nog zo vol van gisteravond….anders ik wel? Kerst blijft toch ook altijd een eetfestijn. Maar zelfs dan hou je vast nog wat kliekjes over. En om die nou in de prullenbak te laten belanden is best jammer, toch? Dus dacht ik, misschien is het wel leuk om je wat tips te geven wat je met de restjes van het kerstdiner kan doen en wie weet heb je er zo nog de rest van de week plezier van.
Cranberry saus
Cranberry crumble voor ontbijt of als toetje:
Ingrediënten voor ongeveer 4 personen:
Cranberry saus
100 gram walnoten
2 el kokosolie of boter, gesmolten
50 gram meel
80 gram havermout
2 theelepels bakpoeder
1 el suiker of honing
Verwarm de oven voor op 180 graden. Vet een ovenschaal in. Doe de cranberrysaus in een ovenschaal. Hak voor crumble de walnoten fijn maar niet te fijn. Doe alle overige ingredienten samen met de walnoten in een schaal en roer goed door elkaar. Schep dit bovenop de cranberrysaus en bak ongeveer een half uurtje in de oven.
Cranberry saus hapjes:
Je kan de cranberrysaus ook invriezen en gebruiken voor hapjes met Oud & Nieuw. Een toastje met brie of paté met wat cranberrysaus is heerlijk. Brie in bladerdeeg met cranberrysaus is ook heerlijk. Hiervoor gebruik je ongeveer 3 of 4 bladerdeegplakjes. Zodra deze ontdooit zijn zorg je dat deze aan elkaar een geheel vorm wat om het stuk brie wat je wilt gebruiken past. Smeer de bladerdeeg in met de cranberrysaus en leg de brie erop in het midden, vouw de bladerdeeg eromheen zodat de hele brie bedekt is en goed afgedekt is. Prik er met de vork een paar gaatjes in en bak in de oven tot het bladerdeeg lekker knapperig is. Lekker om stukjes ervan te snijden of de bovenkant eraf te halen en lekker mee te dippen.
Smoothie:
Lekker met wat amandelmelk, een halve banaan en een klein beetje honing.
Stoofpeertjes:
Uiteraard kun je hier ook een heerlijke crumble mee maken door bovenstaand recept te gebruiken en de cranberrysaus te vervangen met de peertjes. Verder zijn ze ook gewoon heerlijk samen met wat kwark & cruesli als ontbijt of als een smoothie (amandelmelk, sap van de stoofpeertjes, stoofpeertjes, een handje havermout en snufje kaneel).
Kalkoen
Pasta met kalkoen
Stukjes kalkoen over…deze zijn heerlijk in een roomsaus over de pasta. Kook de pasta gaar. Bak wat Italiaanse ham knapperig in een koekenpan. Haal uit de pan en leg op een keukenpapiertje tot gebruik. Blus het vet in de pan of met een restje Prosecco of witte wijn, bak eventueel wat champignons/paddenstoelen aan en  roer er een flinke lepel crème fraîche of slagroom door zodat je een saus krijgt. Voeg vervolgens de kalkoen toe en verwarm goed door. Doe de pasta op een bord, doe de saus erover en als laatste de knapperige Italiaanse ham en eventueel nog wat rucola. Overigens ook lekker met overgebleven varkenshaas of kip.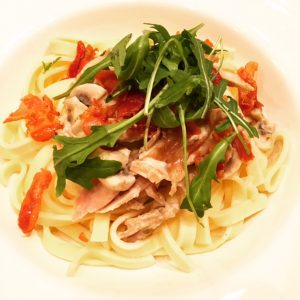 Broodje kalkoen
Nog wat hele kleine stukjes kalkoen over? Deze kun je nog wat fijner snijden en samen met wat kwark en mayonaise, een klein beetje citroensap en wat fijngehakte rode ui te mengen en wat peper & zout naar smaak tot een heerlijke salade voor op brood. Maar ook lekker op een toastje voor bijvoorbeeld Oud & Nieuw. Liever wat zoeter, vervang de rode ui met appel. Iets klassieker, maak het met wat gehakte walnoten en gedroogde cranberries.
Kalkoen & cranberry quesadilla
Leg op een tortilla wrap de stukjes kalkoen en schep de cranberry saus erover. Strooi vervolgens de kaas erover…lekkerder is een zwiterse kaas zoals bijvoorbeeld emmentaler of gruyere. Of als je nog wat brie of camembert over hebt is dit ook heerlijk. Dek af met een tortilla wrap en leg onder de contactgrill. In de pan kan ook maar dan is het omdraaien wel een uitdaging. Zorg in ieder geval dat de kaas goed gesmolten is.
Gebakken/gekookte aardappeltjes en/of groente

Frittata
Heerlijk voor de lunch en perfect om de laatste restjes aardappel maar ook andere groentes op te maken. Verwarm de oven voor op 200 graden. Vet een ovenschaal in. Voor 2 personen meng 2 eieren met 100 ml melk en eventueel nog 1 eetlepel roomkaas/ricotta en/of kruiden in een schaaltje en klop goed door elkaar. Doe de aardappels (eventueel in stukjes gesneden) in de ovenschaal samen met de overgebleven groenten en schenk het ei/melk mengsel over de groente. Bestrooi eventueel nog met wat kaas en bak in ongeveer 20 minuten gaar in de oven.
Quiche
De oplossing voor al je leftovers van groente tot vlees/vis. Verwarm de oven voor op 200 graden. Vet een quichevorm in, rol de bladerdeegblaadjes uit en bedek de vorm ermee. Prik er wat gaatjes in. Vul met de groente, vlees of vis, en ja zelfs aardappeltjes kunnen. Klop in een kommetje 1 of 2 eieren los met wat creme fraiche of slagroom en schenk dit over de vulling. Eventueel nog wat geraspte kaas erover en bak gaar in de oven.
Puree
Aardappel kaas koekjes
Voor 4 personen. 2 koppen aardappel puree, 2 eieren, geraspte kaas naar smaak, 6 lepels bloem (of iets meer als de puree heel romig is) en eventueel nog wat kruiden (italiaanse kruiden of tijm). Doe alle ingrediënten in een grote kom en roer goed door elkaar tot een stevige "deeg". Nog te nat, voeg dan wat bloem bij. Verhit wat boter of olie in een pan en schep mooi rondjes in de pan met het mengel en bak goudbruin aan beide kanten. Lekker als bijgerecht de dagen na kerst of met wat overbleven cranberrysaus of de kalkoensalade voor de lunch.
Kerstbrood

Wentelteefjes
Heerlijk als het brood een beetje droog is geworden doordat het te lang op de kersttafel heeft gestaan of na een paar dagen nog wat over hebt. Zo gemaakt en door de noten en krenten en eventueel het spijs in het brood extra lekker. Voor ongeveer 10 sneetjes: klop in een diep bord 2 eieren los met 250 ml melk en eventueel wat suiker (het brood is al zoet genoeg dus alleen als je een hele zoetekauw bent). Haal de sneetjes kerstbrood 1 voor 1 door het eimengels en leg op een bord. Stapel de sneetje en giet vervolgens de rest van het eimengsel er over. Laat ongeveer 5 minuutjes staan zodat het goed intrekt. Verwarm wat boter in een pan en bak de sneetje per stuk of per 2 mooi goudbruin. Ook lekker met die overgebleven cranberrysaus (eventueel warm).
Gerookte zalm of garnalen
Pasta met vis
Kook de pasta gaar. Bak de garnalen of zalm even in een koekenpan, schenk er vervolgens room bij, verwarm deze goed en voeg op het laatste moment wat gesneden prei of lenteui toe (deze moet nog een beetje knapperig blijven). Breng op smaak met zout en peper. Schep de pasta in een diep bord of kom en schenk de saus erover.
Wrap
Lekker voor de lunch. Beleg een wrap met wat roomkaas, rucola of andere sla en wat gerookte zalm of garnalen en wat plakjes avocado. Breng op smaak met wat peper en zout.
Happy Leftover days!
English version:
Are you still full from last night….i am! Christmas will always mean overeating. But even than you might be left with some leftovers. And to throw does away would really be a shame. So i thought you might like some inspirations how to use the leftovers of christmasdinner and who knows, you might make it to New Year's without having to go groccery shopping.
Cranberry sauce
Cranberry crumble for breakfast or dessert:
Ingredients for approximately 4 persons:
Cranberry sauce
100 gram walnuts
2 spoons coconutoil or butter, melted
50 gram flour
80 gram oats
2 teaspoons baking powder
1 spoon sugar or honey
Preheat the oven to 180 degrees. Grease an ovendish with a little oil. Put the cranberry sauce in an ovendish. For the crumble, chop the walnuts fine but not too fine and add all the ingredients together with the walnuts in a bowl and mix well.  Top the cranberry sauce with this mixture and bake in the oven for about half an hour.
Cranberry sauce bites:
You can freeze in the cranberry sauce and use for appetizers for New Year's Eve. Some toast with brie or pate with cranberrysauce is delicious. Bree in puff pastry dough and cranberry sauce is also amazing. You use about 3 or 4 puff pastry pieces for this. Defreeze these and stick them together to make one dough that can totally cover the piece of brie you want to use. Spread the cranberry sauce over the dough and top with the brie (put in the center of the dough), fold the dough over it to complety cover the brie. Make a few holes with a fork in the dough and bake in the oven till the dough is nice and crispy. Nice to slice up or take the top of and dip it in the melted brie.
Smoothie:
Nice with some almond milk, half an banana and a little bit of honey.
Poached pears:
Obvioulsy you can make another delicious crumble with these by using above recipe and replace the cranberry sauce with the pears.They are also just nice with some yoghurt and cruesli for breakfast or in a smoothie (almondmilk, juice of the poached pears, poached pears, a handfull of oats and a sprinkle cinnamon).
Turkey
Pasta with turkey
Having some pieces of leftover turkey…these are lovely in a creamsauce over some pasta. Cook the pasta al dente. In a frying pan bake some Italian ham cripsy. When cripsy take it out of the pan and let it drip on some papertowels till needed. Quench with a some leftover Prosecco or white wine, optional bake some mushrooms in the pan and stirr in a big spoon of creme fraiche or cream untill it forms a sauce. Add the turkey pieces and heat through. Plate the pasta, add the sauce and top with the cripsy Italian ham and optional a bit of rocket salad. Also delicious with leftover pork tenderlion or chicken.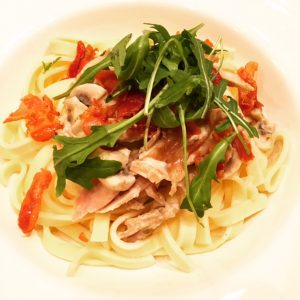 Turkey Sandwich
Having some very small piece turkey leftover? Chop them even finer and mix with some greek yoghurt, mayonaise, a little lemon juice and chopped red onion and some salt & peper to taste into a nice salad for on a sandwich. But also delicious on some toast as a bite on, for example, New Year's Eve. Like it a little more sweet, replace the onion with apple. Or more classic, add some chopped walnuts and dried cranberries.
Turkey & cranberry quesadilla
Top a tortilla wrap with the leftover turkey and top with the cranberry sauce. Sprinkle the cheese over it….best with Swiss cheese like Emmentaler or Gruyere. Or if you have some leftover brie or camembert, this will be pretty good too. Top with another tortilla wrap and put under a contact grill. You can also make it in a pan but flipping over can be a challenge. Just make sure the cheese is really nicely melted.  o
Baked/cooked potatos and/or veggies

Frittata
Delicious for lunch and perfect to use the last leftover potatos and other veggies. Preheat the oven to 200 degrees. Grease an ovendish with some oil. For 2 persons mix 2 eggs with 100 ml milk and optional 1 spoon creamcheese/ricotta and/or herbs in a bowl and mix very well. Put the potatos (if they are too big cut them in little pieces) together with the leftover veggies in the ovendish and pour the egg/milk mixture over the veggies. Optional top with some grated cheese and bake in the oven for about 20 minutes.
Quiche
The solutions for all your leftovers, veggies tot meat/fish. Preheat the oven to 200 degrees. Grease an quiche plate with some oil and roll out the puff pastry dough and cover the quiche plate with it. Make some holes wiht a fork in the dough. Fill with the veggies, meat or fish and yes, even potatos are possible. In a small bowl whisk 1 or 2 eggs with some creme fraice or cream and pour over the filling. Top with some grated cheese (optional). And bake in the oven till the pastry is done.
Potato mash
Potato cheese cookies
For 4 persons. 2 cups pototo mash, 2 eggs, grated cheese to taste, 6 spoons flour (or more if the mash is really creamy) and optional some herbs (Italian herbs or thyme). Put all the ingredients in a big bowl and stir/mix to a firm "dough". If it's too wet, add some flour. Heat some butter or oil in a pan and scoop some nice rounds into a pan with the mixture and bake untill golden brown on both sides. Delicious as side dish with dinner the days after christmas or with some leftover cranberry sauce or turkey salad for lunch.
Christmas bread

French toast
Delicious when your bread turned a little dry from being out on the christmas table to long or when you have some left a few days later. Easy to make and with the nuts, raisins and possible almond paste extra delicious than normal french toast. For approximately 10 pieces: in a deep plate or bowl whisk 2 eggs with 250 ml milk and optional some sugar (the bread is sweet enough so maybe just if you have sweet tooth). Put the slices bread 1 by 1 through the egg mixture and put on a plate. Stack the bread and pour over the rest of the egg mixture. Let it set for about 5 minutes till it absorbed most of it. Heat the butter in a pan and bake the slice per piece or 2 golden brown. Also nice with the leftover cranberry sauce (optional: warmed up).
Smoked salmon or shrimps
Pasta with fish
Boil the pasta. Bake the shrimp or salmon in a frying pan but not too long, add some cream, heat through and add in the last minute some leak or spring onion (it has to stay a bit crispy). Add pepper and salt to taste. Put the pasta in a deep plate or bowl and pour the sauce over it.
Wrap
Delicious for lunch. Spread some creamcheese on a wrap, add rocket salad or other lettuce and some smoked salmon or cooked shrimps and some slices avocado. Add some pepper and salt to taste.
Happy Leftover days!