Ingrediënten voor 1 persoon:
1 gelatine blaadje
2 eetlepels amandelmeel
2 eetlepels geraspte kokos
2 eetlepels havermout
Druppeltje vanille extract
1/2 theelepel agavesiroop
25 gram witte chocolade
6 eetlepels kwark
Cranberry saus (klik hier voor het recept)
Bereiding:
Week een blaadje gelatine in koud water. Maak een bodem door de amandelmeel, geraspte kokos, havermout te mengen met een paar druppeltjes vanille extract, de agave siroop en een beetje water. Leg een kookring op een bord en schep het mengsel erin. Druk goed aan. Zet tot gebruik in de koelkast. Smelt de witte chocolade au bain marie of in de magnetron. Verhit in een pannetje 2 flinke lepels kwark, voeg de gesmolten chocolade toe. Knijp de gelatine goed uit en voeg toe en zorg dat deze volledig opgenomen is. Haal van het vuur en schep de rest van de kwark erbij. Roer goed door. Haal de bodem uit de koelkast en schep hier de kwark op. Laat een paar uur (of nachtje) opstijven in de koelkast. Schep er voor het serveren de cranberry saus op en decoreer met een beetje geraspte witte chocolade. Lekker als kerstontbijt maar het kan ook voor een iets gezonder kersttoetje!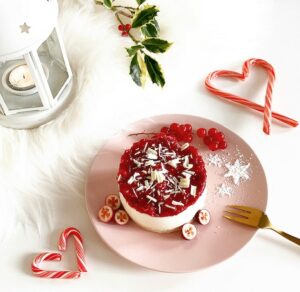 English version:
Ingredients for 1 person:
1 gelatin sheet
2 spoons almond flour
2 spoons grated coconut
2 spoons oatmeal
a few drops of vanilla extract
1/2 teaspoon agave syrup
25 gram white chocolate
6 spoons quark
Cranberry sauce (click here for the recipe)
Directions:
Soak a sheet of gelatin in cold water. Make a base by mixing almondflour, grated coconut, oatmeal with a few drops of vanilla extract and the agave syrup and a little water. Put a cooking ring on a plate and fill with the mixture. Press untill smooth. Put in the fridge till use. Melt the white chocolate au bain Marie or in the microwave. Heat two spoons of quark in a pan, add the melted chocolate. Squeeze the water out of the gelatin and add to the quark, make sure it completely dissolves. Take the pan of the heat and add the rest of the quark. Mix really well. Take the base out of the fridge and pour the quark on top. Let it set for a few hours (or overnight) in the fridge. Before serving add the cranberry sauce and decorate with some grated white chocolate. Great as Christmas breakfast or a healthier Christmas dessert!