2020 is een raar jaar en wellicht heb je net als mij te maken gehad met financiële tegenslagen of minder inkomen. Ondanks dat lukte het mij om toch rond te komen, wel met een paar (beetje veel) aanpassingen aan mijn budget, but hey, i made it! Hoe? Hieronder volgen een paar trucjes om ook 2021 stressvrij (in ieder geval qua financiën) door te komen en misschien zelfs nog te kunnen sparen voor die mooie vakantie…zodra we weer lekker mogen reizen.
Maak een financieel overzicht
Ik doe dit heel oldschool in een een notitieboek maar je kunt het natuurlijk ook in Excel maken. Schrijf je inkomsten per maand op en je maandelijkse vaste uitgave. Trek dat van elkaar af. Zo weet je wat je per maand te besteden hebt.
Schrijf ook eenmalige grote uitgaves op die elk jaar terug komen, zoals bijvoorbeeld je verzekeringen, keuring/onderhoudsbeurt van je auto of jaarabonnementen. Nu weet je wat je budget per maand is en hoeveel je per maand moet sparen voor de eenmalige grote uitgaves en kun je (spaar)potjes aan gaan maken.
Maak ook een overzicht per maand. Schrijf het bedrag wat je maandelijks te besteden hebt (inkomsten – uitgave) en tel hierbij eventuele extra inkomsten (zoals vakantiegeld, belastingteruggave e.d) bij op. Kijk per maand naar welke extra uitgave je kan verwachten, zoals bijvoorbeeld voor een verjaardag, etentje of geplande reparatie/aankoop. Nu kun je een budget maken wat je over houdt voor o.a. je boodschappen en wat je over kan maken naar je spaarpotjes. Zoals de Amerikaanse budget profs zeggen: give every dollar a purpose! In ons geval dus zorg ervoor dat elke euro ergens heen gaat, of dat nou naar je boodschappen budget gaat of naar je spaarpotje voor die geweldige reis!
Spaarpotjes
Tegenwoordig heeft bijna elke bank de mogelijkheid om spaarpotjes aan te maken op de spaarrekening. Superhandig want zo kun je dus gericht je geld wegzetten. Maak naast de potjes voor de grote eenmalige uitgave ook potjes voor je spaardoelen en een "just in case/onvoorziene kosten" potje. Nu je weet wat je per maand over houdt kun je voor elk potje een bepaald bedrag per maand gaan bepalen. Maak dit bedrag ook gelijk over naar deze potjes zodra je je salaris krijgt. Oh en zorg ook zeker voor een potje voor leuke dingen, hier kun je het geld wat je overhoudt of extra binnen krijgt naar overmaken, voor bijvoorbeeld een etentje, dat leuke jurkje of gewoon af en toe een heerlijke doos dure bonbons.
Naast digitale potjes heb ik zelf nog fysieke spaarpotjes. Ik pin meestal mijn boodschappenbudget en alles wat daarvan over is gaat in een spaarpot. Maar ook als je bijvoorbeeld iets verkoopt en hier cash betaald voor krijgt. Het vullen van deze spaarpotjes zijn extra leuk omdat je het potje echt steeds voller ziet worden en je kan het bijvoorbeeld aan het eind van het kwartaal of jaar gebruiken voor een leuk uitje of iets om jezelf mee te belonen!
Besparen op vaste lasten
Het eind van het jaar of begin van een nieuw jaar is een goed moment om eens goed te bekijken op welke vaste lasten je zou kunnen besparen. Denk bijvoorbeeld aan het overstappen van een zorgverzekering, energiebedrijf of bel eens naar je tv/internet/telefoon provider om te kijken of er iets veranderd kan worden aan je rekening. Soms lopen abonnementen gewoon door onder de oude voorwaarden terwijl je bijvoorbeeld met een nieuw contract minder betaald of meer extra's hebt.
Besparen op overige kosten
Als je bepaalde doelen hebt is het soms handig om te kijken wat je nou echt nodig hebt. Zou je kunnen besparen op je boodschappen of op kleding. Spreek met jezelf af dat je wat vaker per maand een Too Good to Go box besteld, bijvoorbeeld. Of shop kleding tweedehands of in je eigen kast en maak wat nieuwe combinaties met kleding die je al hebt…soms ben je zo gewend iets op een bepaalde manier te dragen, dat het leuk is om een keer te kijken op welke manier je het ook kan dragen. Decoratie voor in huis kun je vaak ook leuk scoren bij kringloopwinkels, online op marktplaats of op rommelmarkten. Soms doet een likje verf ook wonderen. Een spuitbus heb je al voor een paar euro! En heb je echt iets nieuws nodig, kijk dan of het ergens in de aanbieding is of er een kortingsbon online te vinden is.
Koop mijn boek 😉
Hahahah even schaamteloze zelfpromotie maar mocht je moeite hebben om te besparen op je boodschappen, dan is mijn boek vol met tips & tricks en meer dan 100 lekkere, gezonde (en een paar ongezonde) makkelijke recepten en weekplanner wel echt een aanrader! Niet alleen bespaar je geld, je bent ook nog eens duurzaam bezig omdat mijn recepten zo in elkaar zitten dat je met de ingrediënten meerdere gerechten kan maken, zodat je niks weg hoeft te gooien. Lijkt me een mooi voornemen voor 2021, toch? Bestel 'm hier!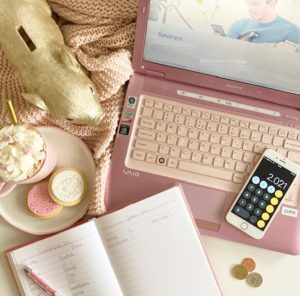 English version:
2020 is a weird year and you might had to deal with financial setbacks or less income, just like me. Despite that, i still managed, with a few (okay, a lot) of adjustments to my budget, but hey, i made it! How? Below you will find some tricks to make it through 2021 stress free (or atleast when it comes to your finances) and you might even be able to save some money to make that beautiful trip…as soon as we can travel again.
Make a financial overview
I do this very oldschool in a notebook but you can always make one in Excel. Write down you income per month and your monthly expenses. Subtract. Now you know what you can spend per month.
Also write down one-off big expenses which return each year, like for example your insurances, check/maintenance of your car or year subscriptions. Now that you know your monthly budget and how much you need to save for these one-off big expenses, you can make "piggy banks".
Also make an overview per month. Write down the amount you can spend monthly (income – expenses) and add possible extra income (like bonuses, tax returns or such). Take a look at the extra expenses you might have that month, like for example a birthday, dinner or planned repair/purchase. Now you can make a budget with the money that's left for a.o. your groceries and what you can put in your piggybanks/saving account. Like the American budget pro's say: give every dollar a purpose! Or in our case, make sure every euro goes somewhere, whether it is to your grocery buget or to a piggybank/saving account for that amazing trip you planned!
Piggy banks
Nowadays almost every bank has the possibility to make separate piggybanks in your saving account. Which is super usefull as this way you can target your money for a specific saving goal. Besides making piggy banks for those one-off big expenses, also make one for your saving goals and a "just in case/emergency" fund. Now that you know what you have leftover every month, you should transfer your money to these piggybanks as soon as you receive income. Oh and make sure you also make a piggybank for fun stuff, where your can transfer leftover money or extra income to, for example for a night out, that cute dress or just to treat yourself to some fancy chocolates every now and than.
Besides digital piggybanks, i have some physical piggybanks. I ussually take out the money in cash of my grocery budget and whatever i have left i put in that piggybank. But also when i sell something and get paid in cash it goes in there. Filling these piggybanks is extra fun, as you can see them get fuller and you can use it at the end of the quater or year for a fun day out or to reward yourself!
Save on your monthly expenses
The end of the year or the beginning of a new year is the perfect moment to find out if you can save on your montly expenses. For example switching your health insurance, energy company or call your tv/internet/phone provider to see if your bill can be changed. Some subscriptions continues automatically under the old conditions while a new contract might be cheaper or give you more extra's.
Save on other expenses
If you have certain goals it could sometimes be usefull to find out what you really need. You could save on groceries or clothes. Plan to order a Too Good to Go more often, for example. Or buy second hand clothes or "shop" in your own closet and make some new combinations with outfits…sometimes you are so used to wear things a certain way, that it's fun to try other ways to wear it. You can find the cutest decoration for your home at thrift stores, online on marktplaats/ebay or flea markets. Sometimes a little paint goes a long way. A paintspray is only a few euro! And if you really need something new, check if you can find it on sale or if there's a coupon for it online!
Buy my book 😉
Hahahah some shameless self promotion but if you are struggling to save on your groceries, my book full of tips & tricks and with more than 100 delicious, healthy (and a few unhealthy) easy recipes and a weekplanner is a musthave! Not only will you save money, you also score some sustainable points as my recipes are thought out in such way that you can use the ingredients to make multiple dishes, this way you won't have to throw anything away. Sounds like a perfect resolution for 2021, doesn't it? Order it here! (the book is in Dutch)