Ingrediënten voor 2 personen:
1 sjalotje
1 takje tijm (alleen de blaadjes)
200 gram champignons
100 ml witte wijn
200 ml water
1/2 bouillonblokje (ik gebruikte bospaddenstoelenbouillon)
1 eetlepel bloem
1 eetlepel grove mosterd
200 ml slagroom
Snufje zout
Bereiding:
Verhit boter in een pan met dikke bodem. Snij het sjalotje fijn. Voeg toe aan de pan. Rits de blaadjes van het takje tijm en voeg toe. Snij de champignons in dunne plakjes en voeg toe. Bak eventjes aan en voeg dan de wijn toe. Verkruimel het bouillonblokje erboven en voeg het water toe. Roer er een eetlepel bloem doorheen en de grove mosterd. Laat dit 15 minuten op heel laag vuur pruttelen. Voeg eventueel een beetje zout toe. Roer er vervolgens de slagroom door en verwarm goed door. Lekker met wat geroosterd ciabatta en wat geraspte harde kaas.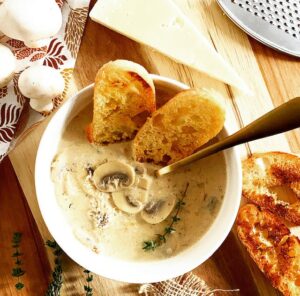 English version
Ingredients for 2 persons:
1 shallot
1 spring thyme (just the leafes)
200 gram mushrooms
100 ml white wine
200 ml water
1/2 bouillon cube (dried) (i used mushroom bouillon)
1 spoon flour
1 spoon mustard
200 ml cream
Sprinkle salt
Directions:
Heat some butter in a pan with a thick bottom. Cut the shallot finely. Add to the pan. Add the thyme. Cut the mushrooms in thin slices and add. Bake for a few minutes and than add the wine. Crumble the bouillon cube over it and add the water. Stir in the flour and the mustard. Let it shimmer for about 15 minutes on low. Add a little salt (optional). Stir in the cream and let it heat through. Nice with some roasted ciabatta bread and some grated cheese.