Worteltjes taart maar dan net iets minder healthy en onschuldig.
Ingrediënten:
150 gr lichtbruine basterdsuiker
50 gr fijne kristalsuiker
240 ml zonnebloemolie
Een flinke scheut Calvados (naar smaak)
3 eieren
Geraspte schil van 1 sinasappel
1 tl kaneelpoeder
1/2 tl gemberpoeder
230 gram zelfrijzend bakmeel
2 geraspte grote wortels
90 gram pecannoten, fijngehakt
Voor het glazuur:
200 gr roomkaas
1 tl citroensap
90 gr poedersuiker, gezeefd
Een paar druppels Calvados (optioneel)
Bereiding:
Verwarm de oven voor op 180 C graden. Vet een bakvorm in (20 cm) en bekleed eventueel met bakpapier.
Klop de basterdsuiker, kristalsuiker, olie, Calvados en eieren door elkaar. Roer er de sinasappelschil, kaneel en gember erdoor. Zeef het bakmeel erboven en vouw het erdoor. Voeg er als laatste de wortels en pecannoten door. Verdeel het mengsel over de bakvorm en bak in ongeveer 1 uur gaar. (tip: steek er een sateprikker in, komt deze er schoon uit dan is de taart gaar van binnen).
Mix vervolgens de ingrediënten voor het glazuur door elkaar en besmeer de taart hiermee.
Ik vindt het leuker om niet alleen glazuur aan de buitenkant te doen, maar ook als laag er tussen, vooral bij deze taart. Dus in plaats van de taart in 1 x te bakken maak ik meestal 2 (en in dit geval 3) dunnere taarten (verdeel het beslag over twee vormen). Dit vindt ik handiger dan de taart te snijden en zo weet ik zeker dat ik 2 even dikke lagen heb.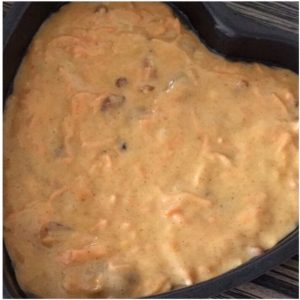 English version:
Carrot cake but a little less healthy and innocent.
Ingredients:
150 gr light brown sugar
50 gr fine granulated sugar
240 ml sunflower oil
A big splash Calvados (to your taste)
3 eggs
Orange zest of 1 orange
1 tl cinnamon
1/2 tl ginger spice
230 gram self-raising flour
2 grated big carrots
90 gram pecan nuts, finely chopped
For the icing:
200 gr creamcheese
1 tl lemon juice
90 gr icing sugar, sifted
A few drops druppels Calvados (optional)
Directions:
Preheat the oven to 180 C degrees. Grease a mold with some butter or oil (20 cm) and cover with some grease proof paper.
Mix the brown sugar, granulated suger, oil, Calvados and eggs. Stir in the orange zest, cinnamon and ginger. Sift the flour above it and fold it through the mixture. Add the carrots and pecan nuts. Pour the mixture in the mold and bake for about an hour. (tip: poke a skewer in the cake, if it comes out clean, your cake is ready).
Mix all the ingredients for the icing together till creamy and decorate your cake with it.
I prefer not only having icing on the outside but also a layer in between the cake, especially with this cake. So instead of baking the cake as a whole, i make 2 (and in this case, 3) thinner cakes (divide the batter over 2 or 3 molds). I prefer this instead of cutting the cake and this way the layers are coming out (most of the time) even.