Ingrediënten 1 à 2 personen:
3 plakjes bladerdeeg
Roomkaas light (bijv. la vache qui rit light of philadelphia light)
1/2 prei, gesneden
4 à 5 champignons, gesneden
1/2 rode ui, gesneden
spekblokjes (naar smaak)
Bereiding:
Verwarm de oven voor op 200 graden. Laat de plakjes bladerdeeg ontdooien. Leg ze in een driehoek (1 plakje aan de onderkant, 2 erboven) een beetje overlappend aan elkaar. Rol er vervolgens met een deegroller over zodat het 1 deeg vormt en snij hier een hartvorm uit. Prik met een vork gaatjes in het deeg (zodat het niet volledig gaat opbollen tijdens het bakken). Leg het hart op een bakplaat bedekt met bakpapier. Smeer het deeg in met de roomkaas. Beleg vervolgens met de prei, rode ui, champignons en spekblokjes. Bak in de voorverwarmde oven af in ongeveer 10 tot 15 minuten. (zodra het bladerdeeg lekker knapperig is).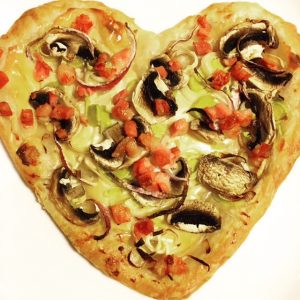 English version:
Ingredients 1 or 2 persons:
3 pieces puff pastry (square ones)
Cream cheese light (for example la vache qui rit light of philadelphia light)
1/2 leak, chopped
4 or 5 mushrooms, chopped
1/2 red onion, chopped
Bacon bites (to taste)
Direction:
Preheat the oven to 200 degrees. Defrost the puff pastry. Place them in a triangle (1 piece on the bottom, 2 on top) with an overlap so they stick together. Use a roller pin to make it into one dough and cut a heartshape out of it. Make some holes in it with a fork (so the pastry doesn't completely puff during baking). Put the heart on a baking tray covered with grease proof paper. Spread the creamcheese all over the dough. Top with the leak, red onion, mushrooms and bacon bites. Bake in the pre-heated oven for about 10 to 15 minutes (till the pastry is nice & crispy).