Ingredienten:
200 ml slagroom
30 gram suiker
50 ml advocaat (en nog een beetje extra voor decoratie)
1,5 blaadje gelatine
Bereiding:
Week de gelatine in een bakje koud water. Breng de slagroom met de Advocaat aan de kook. Voeg de suiker toe en roer goed door. Zet het vuur zachter. Knijp de gelatine goed uit en voeg toe. Blijf roeren tot deze volledig is opgenomen. Schenk in de puddingvormpjes (of glaasjes) en zet ongeveer 3 à 4 uur in de koelkast (of een nachtje) en serveer met nog wat advocaat en eventueel wat paaseitjes en macarons. Ook leuk samen met de Lemon Meringue pies in een potje (recept volgt) als een Grand Dessert met Pasen.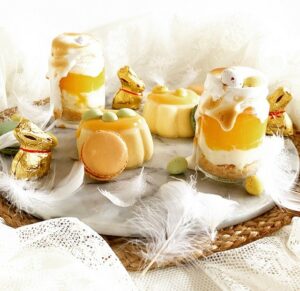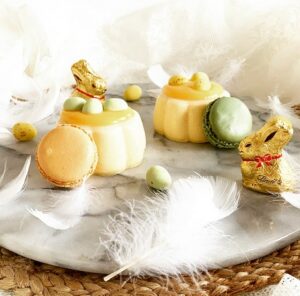 English version:
Ingredients:
200 ml cream
30 gram sugar
50 ml eggnog (and a little extra for decoration)
1,5 blaadje gelatin
Directions:
Soak the gelatin in a bowl with cold water. Bring the cream with the eggnog to a boil. Add the sugar and stir. Turn the heat to low, squeeze out the gelatin and add. Keep stirring till it's completely dissolved. Pour into pudding molds or in small glasses and let it set for about 3 to 4 hours (or overnight) and serve with a little eggnog on top and optional some Easter Eggs and macarons. Also cut together with the Lemon Meringue Pies in a jar (recipe follows) as a Grand Dessert at Easter.