Ingrediënten voor een taartje in een bakvorm van 16 cm (Hema):
Voor de bodem:
4 eetlepels havermout
4 eetlepels amandelmeel
1 eetlepel kokosrasp
1 theelepel honing
2 eetlepels Lemon Curd
Voor de vulling:
1,5 blaadje gelatine
250 gram kwark met citroen
Voor versiering:
Cornflakes
Chocolade
Chocolade eitjes (ik gebruikte de speckled eggs van de Hema)
Bereiding:
Leg de gelatine in een bakje met koud water. Meng al de ingrediënten voor de bodem door elkaar. Voeg een klein scheutje water toe en meng nog eens goed. Bedek de bodem van een met bakpapier bedekte bakvorm met het mengsel. Druk goed aan met de achterkant van een lepel of met je handen. Besmeer met de lemoncurd.
Verhit in een pannetje 2 eetlepels kwark. Knijp de gelatine uit en voeg toe. Roer tot deze is opgenomen. Haal van het vuur en voeg de rest van de kwark toe. Zet minimaal 2 uurtjes tot een nachtje in de koelkast om op te stijven. Voor de versiering. Smelt de chocolade au bain Marie of in de magnetron. Roer de cornflakes erdoor en maak een rand op de taart. Vul met de eitjes als een nestje en voeg eventueel nog wat kuikentjes toe! Lekker voor bij de Paasbrunch!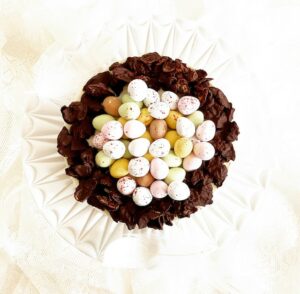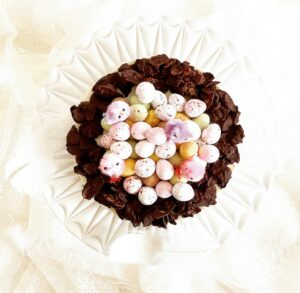 English version:
Ingredients for a cake in a mold of 16 cm (Hema):
For the base:
4 spoons oatmeal
4 spoons almond flour
1 spoon grated coconut
1 teaspoon honey
2 spoons Lemon Curd
For the filling:
1,5 sheet of gelatin
250 gram quark or greek yoghurt with lemon
For decoration:
Cornflakes
Chocolate
Chocolate eggs (i used the speckled eggs van de Hema)
Directions:
Put the gelatin in a bowl with cold water. Mix all the ingredients for the base together. Add a little bit of water and mix well. Cover the base of a mold topped with greasing paper with the mixture. Press down really well with the back of the spoon or with your hands. Spread the lemon curd on top. Heat two spoons of quark/greek yoghurt in a pan. Squeeze the water out of the gelatin and add to the pan. Stir untill it's completely dissolved. Take of the heat and add the rest of the quark/yoghurt. Put atleast two hours till a night in the fridge to set. For the decorations. Melt the chocolate au bain Marie or in the microwave. Add the cornflakes and make a border of it on the cake. Fill with chocolate eggs like a nest and (optional) add some decorative chicks. Nice to serve during Easter brunch!