Het is alweer dag 22 van de Fab Lent Challenge en het is nu een beetje gek maar misschien juist wel extra bewustwording in deze tijd dat niet iedereen het zo goed heeft in deze wereld. Hier in Nederland wordt volop gehamsterd en ergens begrijp ik het wel. Maar hopelijk wordt dit voedsel wel gewoon opgegeten en beland het uiteindelijk niet toch in de prullenbak omdat je teveel hebt gekocht en iemand anders mis grijpt in het schap.
Ik had in deze blog willen vertellen hoe ik deze challenge steeds leuker vond worden, er komen zoveel leuke dingen op mijn pad en ik leer zoveel over de leukste initiatieven die ook bezig zijn met het voorkomen van voedselverspilling. Helaas zijn veel van deze initiatieven even tijdelijk stop gezet maar ik zie ook dat ondernemers en dan vooral in de voedselbranch creatief worden en heel lief, veel van hun voorraad weg geeft om zo voedselverspilling tegen te gaan en de mensen die in deze tijd het iets minder hebben of juist geen tijd hebben om boodschappen te doen door drukke werkzaamheden in bijvoorbeeld het ziekenhuis, zo een hart onder de riem te steken.
Ik had 1,5 week geleden een superleuk gesprek om deze Fab lent challenge af te sluiten met een No Food Waste etentje bij een heel leuk nieuw tentje in Arnhem. FoodVia is nog niet zo lang open maar begint nu al een begrip te worden qua duurzaamheid en No Waste en dit alles zonder belerend te zijn. Het eettentje is overgenomen en daarmee is veel van het oude meubilair hergebruikt en de nieuwe meubels die er zijn, zijn duurzaam (zoals een heerlijke lange tafel gemaakt van oude spoortrein bielzen). Helaas is FoodVia nu dus noodgedwongen gesloten en als nieuwe ondernemer komt dat natuurlijk hard aan. Dus mocht alles straks weer back to normal zijn, zullen we dan net even wat vaker bij haar gaan ontbijten (€5 voor een ontbijtbuffet) of een koffietje doen? Of bij een plekje bij jou in de buurt wat net open was?
En ja, dat No food waste etentje moet ook even wachten…maar daar vinden we vast een ander moment voor, want voedselverspilling voorkomen is altijd belangrijk.
Ik zou ook deze maandag meelopen met de Stadskok. Martijn is dit initiatief begonnen met vier pijlers die ook dicht bij mijn eigen ideeën over voeding liggen en zo kwamen we in contact met elkaar. Hij is namelijk tegen voedselverspilling, promoot graag streekproducten, vindt dat gezonde voeding voor iedereen is en verbind graag mensen door middel van supergezellige etentjes in verschillende wijken in Arnhem onder de naam Buurttafels. Voor maar €4,- eet je mee en ontmoet je mensen uit je buurt en de etentjes zijn ook nog eens gemaakt met voedsel wat anders verspild zou worden. Iets wat we in deze tijd juist zouden kunnen gebruiken, samen komen, elkaar steunen en dat met een lekker eten maar voorlopig ook even niet mag. Maar Martijn kennende zal hij, zodra het weer mogelijk is, gelijk dit weer opstarten! Benieuwd? Kijk even op zijn site!
Uiteraard kocht ik vorige week weer wat Too Good To Go magic boxen, al ging dat even fout toen ik er eentje besteld had bij Odin. Helaas kreeg ik een uurtje van tevoren te horen dat deze gecancelled was. Super voor hun natuurlijk dat ze niks hoefde weg te gooien, maar niet zo handig voor mij want toen moest ik toch nog even snel naar de supermarkt anders had ik 's avonds niks te eten. Gelukkig kon ik de 2 pita broodjes gebruiken uit mijn vriezer en kocht ik nog los vega shoarma en sla voor een heerlijk broodje shoarma! En de dag erna kreeg ik echt een hele volle magic box bij EkoPlaza:
Hierbij de inhoud van de tweede week TGTG:
Box 1, Odin: gecancelled
Box 2, EkoPlaza, €4,99:
1 x kalkoenfilet
1 x pakje Italiaanse truffel salami
3 x pastinaak
1 x pompoen
1 x krop sla
1 x grote zak soepgroente
2 x 500 ml geitenmelk
Selderij
1 winterpeen
1 appel
12 mandarijnen
Zelf bijgekocht, Coop en Albert Heijn, €3,60:
1 pakje Vivera shoarma
1 zak IJsbergsla
1 blikje Cherry Coke Zero
6 eieren
Totaal kosten: € 8,59
En nog een heerlijk groot turks brood wat mijn bovenbuurvrouw in haar TGTG had en heel lief kwam brengen. Een helft ervan heb ik ingevroren.
Wat maakte ik hiermee:
Het weekend was ik bij mijn ouders dus heb ik daar de koelkast leeg gegeten ;)!
Maandag: vega shoarma met salade en pitabroodjes (uit de vriezer)
Dinsdag: Ontbijt/brunch: havermout (voorraad), snacks: uit de unwasted box (lees hieronder meer erover), Saté van een halve kalkoenfilet (andere helft ingevroren), salade en maple sriracha pastinaakfrietjes uit de airfryer
Woensdag: ontbijt is 2 groente sapjes gemaakt met de selderij, appel, wortel en mandarijnen uit de TGTG. lunch waren carrot pumpkin pancakes en 's avonds maakte ik een borrelplank met het turkse brood, heksnkaas en de Italiaanse salami.
Donderdag: Ontbijt is een nicecreamshake en 's avonds eet ik geroosterde groente uit de oven.
Vrijdag: een havermoutje als ontbijt en s'avonds eet ik Cashew Turkey met rijst en stukjes paprika die ik had ingevroren uit de TGTG box van de week hiervoor.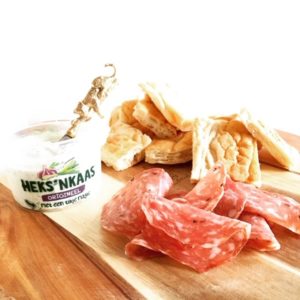 En die Cashewnoten…nou die kwamen uit weer een andere box. Namelijk de Unwasted Box waarin dus producten zitten die geproduceerd worden maar niet meer verkocht kunnen worden aan supermarkten. En deze kun je dus voor een flinke korting aanschaffen. Zo bespaar je op de Large box 7 euro en op Medium box 3 euro. En nee, zoals sommige volgers op Instagram al opmerkte toen ik 'm "unboxte", hij is niet gevuld met hele gezonde dingen. Zo had ik o.a. 3 hele grote zakken Lays chips, Buggles, nootjes en zoutjes maar ook een aantal pakken ontbijtgranen van Quaker. Maar dit vind ik dus een perfect initiatief voor bijvoorbeeld studenten die een vrijmibo houden, of als je een feestje geeft. Niet alleen bespaar je op de snacks die je toch al zou kopen, je gaat dus ook nog eens voedselverspilling tegen. Hoe mooi is dat…en de volgende dag kun je ontbijten met een bakje yoghurt en heerlijke ontbijtgranen of een bakje havermout voor je "balansdag". Oh en nu de chipsschappen in de supermarkt zo goed als leeg zijn, komt deze box wel extra goed uit. 😉
Van het weekend kocht ik nog een box bij de Spar voor €3,99. Hierin zat precies genoeg om het weekend mee door te komen, namelijk:
2 x een voorverpakte sandwich (eiersalade met bacon en falafel Humus), die ik zaterdagavond at
IJsbergsla, krieltjes en kipschnitzels, perfect voor zondagavond.
Ook zat er een witte chocomousse in die ik als toetje beide avonden at en een pak melk waar ik niet zo blij mee ben maar gebruik voor pannenkoekjes, havermoutjes en koffietjes mee maak. Oh en vergeet bijna de rosbief die ik gelijk ingevroren heb.
Ook deze week kocht ik weer wat boxen maar dan wordt deze blog wel heel lang dus dat wordt in part 3 ;)!
Voedsel gered: zie de TGTG inhoud en nog extra uit de box van de bovenbuurvrouw
Voedsel wasted: alleen de buitenste bladen van een krop sla
Bespaart op mijn weekbudget: €7,42
Nieuwe producten/iniatieven/samenwerkingen ontdekt: Stadskok, Unwasted Box
English version:
It's already day 22 of the Fab Lent Challenge and it's a bit weird now but maybe it gives extra awareness in these times that not everyone is as well off as we are in this world. Here in The Netherlands a lot of people are hoarding and yes, i do understand it. But i do hope that all of this food is being eaten and doesn't end of in the bin afterall because they bought too much and someone else is left with empty shelves in the store.
I was going to tell in this blog how much more fun this challenge is getting, i find so many fun things coming on my path and learn so many fun initiatives that are also fighting food waste. Unfortunately a lot of these initiatives are stopped for the moment but i also see entrepreneurs getting creative, especially in the food branch, and are so sweet, that they give away a lot of their stockpiles to people that can't afford to buy extra or don't have time to shop for groceries because they are too busy in for example the hospital to help people with the virus.
1,5 week ago i had a great conversation to end this Fab lent challenge with a No Food Waste dinner at this great new place in Arnhem. FoodVia hasn't been open for that long but already is starting to become known for being sustainable and No Waste and doing so without it being patronizing. When they took over the place, they re-used a lot of it's furniture and the new furniture are sustainable (like a great long table made out of old train tracks). Unfortunately FoodVia had to shut down aswell and for a new place this is extra hard. So when we get back to normal, lets go for breakfast (€5,- for a breakfast buffet) or coffee just a little bit more? Or do this at a new place that had just opened in your neighborhood or town.
This Monday i would also spend the day with the Stadskok. Martijn started this initiative with 4 main goals which are so close to my ideas of food and that's how we got in contact. He is against food waste, promotes local products, thinks healthy food should be for everyone and connect people by throwing diner parties in different neigborhoods in Arnhem under the name Buurttafels. For only €4,- you can have a meal and meet people from your neigborhood and the dinners are made with food that otherwise would be wasted. Something we could really use in a time like these, coming together, support eachother and share a delicious meal, but unfortunately also these dinners are cancelled for the time being. But in the short time i got to know Martijn, i know he will start them up as soon as he is allowed again. Curious? Check out his site!
Afcourse i did buy a few Too Good To Go magic boxen last week, although it didn't go as smoothly as planned when one of Odin got cancelled. Great for them that they had nothing to waste, but not as good for me as now i had to go to the supermarket quick or i didn't have any dinner that night. Luckly i had 2 pita breads in my freezer and i bought some vega shoarma for a nice shoarma bread! And the day after i got a really full magic box of EkoPlaza:
Hereby the contents of week 2 of TGTG:
Box 1, Odin: gecancelled
Box 2, EkoPlaza, €4,99:
1 x Turkey breast
1 x pacakage Italian truffle salami
3 x parsnip
1 x pumpkin
1 x lettuce
1 x big bag soup veggies
2 x 500 ml goat milk
Celery
1 big carrot
1 apple
12 tangerines
Bought myself, Coop and Albert Heijn, €3,60:
1 package Vivera shoarma
1 bag iceberg lettuce
1 can Cherry Coke Zero
6 eggs
Total costs: € 8,59
And my neighboor brought me a huge turkish bread (that she got in her TGTG). So sweet. Half of it i put in the freezer.
What i made with it:
I spend the weekend at my parents where i ate half of their fridge ;)!
Monday: vega shoarma with salad and pita (from the freezer)
Tuesday: Breakfast/brunch: oatmeal (in pantry), snacks: from the unwasted box (read more about it beneath this paragraph), Satay from half turkey filet (other half i put in the freezer), salad and maple sriracha parsnip fries from the airfryer
Wednesday: breakfast is 2 veggie juices made with celery, apple, carrot and tangerines from the TGTG. Lunch was carrot pumpkin pancakes and for dinner i made a snackplatter with Turkish bread, Heksnkaas and Italian salami.
Thursday: Breakfast is a nicecreamshake and for dinner is roasted veggies from the oven.
Friday: oatmeal as breakfast and for dinner i had Cashew Turkey with rice and bell pepper i put in the freezer from last weeks TGTG box.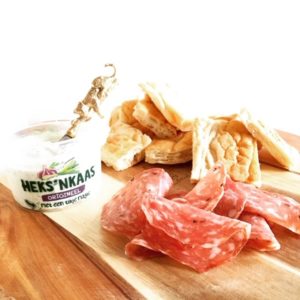 And those Cashew nuts…well they came from another box. Named the Unwasted Box which has products in it that are made but can't be sold to supermarkets. And that's why they sell it with a big reduction. You save €7 on a Large box and €3 on a Medium box. And no, the products aren't as healthy as some of my followers mentioned on Instagram when i unboxed it. I had for example 3 really big bags of Lays chips, Buggles, nuts and salted snacks but also a few boxes cruesli and oats from Quaker. But i do think this initiative is perfect for students having an end-of-the-week drink get together or when you have a birthday or throw a party. Not only do you save money on snacks you would have bought otherwise, you also help wasting food. How great is that…and the next day you can have a breakfast with a yoghurt and the cruesli or oats for a "balance day". Oh and now that the chips shelves at the supermarket are mostly empty due to hoarders (and not a priority for delivery), this Unwasted box is the perfect alternative to get your chips fix ;)!
For the weekend i bought another box at spar for €3,99. It had just enough in it to get me trough the weekend:
2 x prepacked sandwiches (eggsalad with bacon and a falafel humus), which i had for dinner on Saturdaynight.
Iceberg lettuce, baby potatoes and chickenschnitzels, perfect for sunday dinner.
Also it contained white chocolate mousse which i had for dessert both nights and a carton of milk which i'm not too happy with but use for pancakes, oatmeal and coffees. Oh and i almost forgot the roastbeef in slices that i put in the freezer straight away.
And this week i also bought some boxes, but i'm saving that for blog part 3 ;)!
Food saved: see contents of TGTG and some extra from the box of the neighbor
Food wasted: only the outer leafes of the lettuce
Saved on week budget: €7,42
New products/iniatives/colabs: Stadskok, Unwasted Box