Ingredienten:
1/2 pompoen
1/3 wortel
110 gram tarwebloem
1 el bakpoeder
1 ei
150 ml (plantaardige) melk
1 el kokosolie, gesmolten
2 (Mazafati) dadels, optioneel
Snufje zout
1 tl pumpkin pie spice
Voor de topping:
2 el suiker
1 el water
1/2 tl of flinke snuf chilipoeder
1 volle hand cashewnoten
Bereiding:
Rooster de halve pompoen in de oven op 200 graden in ongeveer 20 minuten gaar. Prik er met een vork in om te voelen of het vruchtvlees zacht genoeg is. Laat volledig afkoelen. Rasp de wortel fijn of gebruik het pulp wat achter is gebleven in je juicer na het maken van een wortelsapje. Als de pompoen is afgekoeld prak het dan (zonder schil) tot een puree en voeg de wortel toe. Voeg eventueel 2 in stukken gesneden dadels toe. Doe in een kom de bloem en bakpoeder bij elkaar. Voeg de melk, het ei, zout, pumpkin pie spices toe en meng goed door elkaar. Voeg de wortel/pompoen puree toe en meng goed tot een mooi beslag. Voeg als laatste de gesmolten kokosolie toe en meng dit goed door het beslag. Laat het beslag 20 minuten rusten.
Maak ondertussen de topping door in een koekenpan 2 el suiker met 1 el water te verhitten tot het gesmolten is. Voeg de chilipoeder toe en laat het karameliseren en roer dan de cashewnoten er door heen. Haal ze uit de pan en laat ze afkoelen op een stukje bakpapier. Let op: gesmolten suiker is erg heet en je kan je hier erg aan verbranden!
Bak de pannenkoeken in een koekenpan tot kleinere rondjes (American pancakes) en serveer met de topping en een beetje stroop of maple syrup.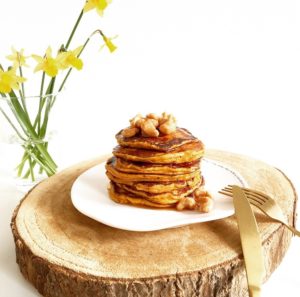 Ps: de sweet & spicy cashewnoten zijn ook gewoon lekker als snack
Ps2: geen cashewnoten, een topping van gebakken banaan en/of bacon is ook lekker op deze pannenkoeken.
Englisch version:
Ingredients:
1/2 pumpkin
1/3 a big carrot
110 gram wheat flour
1 spoon baking powder
1 egg
150 ml (plantfriendly) milk
1 spoon coconut oil, melted
2 (Mazafati) dates, optional
Sprinkle of salt
1 teaspoon pumpkin pie spice
For the topping:
2 spoons sugar
1 spoon water
1/2 teaspoon or a big sprinkle chili powder
1 full hand cashew nuts
Directions:
Roast the pumpkin half in the oven at 200 degrees celcius in about 20 minutes. Use a fork to feel if the pumpkin is soft enough. Let cool down completely. Grate a carrot or use the pulp that stayed in the juicer after making carrot juice. When the pumpkin has cooled make a puree out of it (remove the skin) and add the carrot. Optional: add the dates into small pieces. Put the flour and baking powder in a bowl. Add the milk, egg, salt and pumpkin pie spices and mix toghether. Add the carrot/pumpkin puree and mix to make a smooth batter. Add the melted cononut oil and mix through the batter. Let the batter sit for about 20 minutes.
In the meanwhile make the topping by heating 2 spoons of sugar with 1 spoon water till it's melted. Add the chili powder and let it caramelize and add the cashew nuts. Get them out of the pan and let it cool on a piece of no grease paper. Watch out: melted sugar is really hot and if in contact with your skin can burn you really bad.
Bake the pancakes in a pan in small rounds (American pancakes) and serve with the topping and a little (maple) syrup.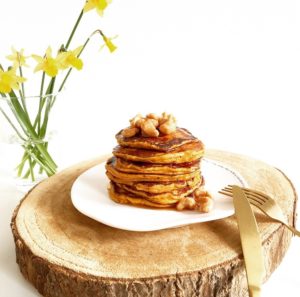 Ps: the sweet & spicy cashew nuts are also good as just a snack
Ps2: no cashew nuts, a topping of baked banana and/or bacon is also good on these pancakes.