Om heel eerlijk te zijn is dit misschien wel de makkelijkste Lent challenge die ik ooit heb gedaan. Het is ook iets waar ik heel erg achter sta en dus sowieso altijd al probeer te doen. Maar ik vind het zo leuk om er nu nog bewuster mee bezig te zijn en te zien welke leuke initiatieven er nog meer zijn. En wie weet inspireer ik ook nog eens anderen op deze manier.
Mijn challenge begon vorige week woensdag en ik had geen leuker begin kunnen bedenken. Ik ging namelijk naar Rotterdam voor een heerlijke high tea met een vriendinnetje bij Mr. Salad. En nog zonder iets te vragen kreeg ik een doggybag mee. Zo fijn als restaurants en eettentjes dit al uit zichzelf aanbieden want het blijft toch nog wel een dingetje in Nederland om erom te vragen. Oh en van die high tea bleef niet heel veel over hoor…lees hier mijn blog over Mister Salad. 's Avonds at ik bij een vriend die mij sowieso nooit zonder eten naar huis stuurt, dus de volgende dag had ik een heerlijke lunch.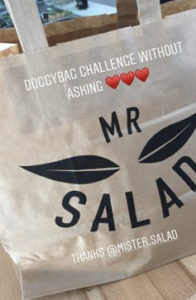 De rest van de dagen maakte ik gerechten met wat ik nog in huis had.
En op zaterdag kocht ik mijn eerste Magic Box van Too Good To Go, want geld én voedsel besparen sounds right up my alley! En natuurlijk kon het uitproberen van de Too Good to Go app niet ontbreken tijdens de #fablentchallenge. Vooraf was ik best wel een beetje sceptisch over wat ik in de Magic Boxen zou krijgen. Ik zag vooral heel veel brood en gebak voorbij komen in de stories van Too Good to Go op Instagram. Niet echt iets waar je heel creatief geld mee bespaart en om eerlijk te zijn, zijn dat nou net producten waar ik niet echt op zat te wachten met het oog op het (proberen te) krijgen van een bikini body. Maar je kan er pas echt iets over zeggen als je het hebt uitgeprobeerd. Dus kreeg ik een spoedcursus TGTG van de bovenbuuf. En aangezien de eerste box zo goed beviel, kocht ik hetzelfde weekend nog box 2 waarmee ik (bijna) de hele week wel van kon eten. En dacht misschien is het leuk voor jullie om te zien wat erin zat, hoeveel het kostte, wat ik er nog los bij moest kopen en wat ik ermee maakte…
Eerste week TGTG
Box 1, Spar, €3,99:
1 zak ijsberg sla
1 zak chinese roerbakgroente
2 kippenbouten gekruid
500 ml volle yoghurt
1 pak healthy people Kokoswater
Box 2, COOP, €4,99:
300 gram broccoli
2 chocolade koeken
Knijpfruit 4 zakjes van Zonnenature
1 liter chocolade vla
1 liter lactose vrije yoghurt
600 gram voorgekookte krieltjes
Melba toast
3 paprika's
2 boomstammetjes (varkensvlees)
Zelf bijgekocht, Albert Heijn, €5,14:
10 eieren
1 pakje bevroren ananas
1 blikje cola zero cinnamon
2 bananen
1 broodje
Totaal kosten: € 14,12
Wat maakte ik hiermee:
Zaterdag: 1 kippenbout uit de oven met sla (ijsbergsla van TGTG, ei en dressing van Heksnkaas)
Zondag: macaroni (met gehakt, tomatensaus en kaas uit de vriezer en nog wat roerbakgroente uit TGTG) en als toetje chocolade vla met 1 chocolade koekje verkruimeld er door.
Maandag:ontbijt was een bakje yoghurt met knijpfruit en muesli (voorraad), lunch: broccoli soep gemaakt met de broccoli en krieltjes van TGTG, een frittata met krieltjes en roerbakgroente van TGTG. Tussendoor: 1 klein schaaltje chocoladevla. Avondeten: Nasi met loempia's (beide met de rest van de roerbakgroente van TGTG) met een eitje, gebakken banaan en zelfgemaakte pindasaus.
Dinsdag: Smoothie (yoghurt, knijpfruit, 1/2 banaan en ananas), de lunch was overgebleven frittata en 's avonds at ik de rest van de krieltjes uit de airfryer en een boomstammetje. Ik gaf mijn vriendin een review van het boomstammetje en ze moest er zo om lachen dat ze zei dat ik deze even met jullie moest delen…dus hierbij: lekker = nee, vies = ook nee! Zelf ooit kopen = nee! Helaas nog 1 in de vriezer = ja! Vond het redelijk smaakloos…rare structuur en de kaas was er doorheen gerend…jammergenoeg! Maar goed, die in de vriezer eten we natuurlijk ook gewoon op want er is wel een diertje voor geslacht!
Woensdag: het ontbijt is een schaaltje yoghurt (TGTG) met Krusli. Lunch is een vegetarische curry met de yoghurt van TGTG (klik hier voor het recept) en s'avonds eet ik de rest van de fritatta met broccoli soep.
Donderdag: yoghurt (ja alweer!!!), sloppy Joe voor lunch en de overgebleven nasi voor avondeten.
Vrijdag: Smoothie, pannenkoeken en borrelhapjes (want over van een foto die ik moest maken voor een leuke give-away binnenkort).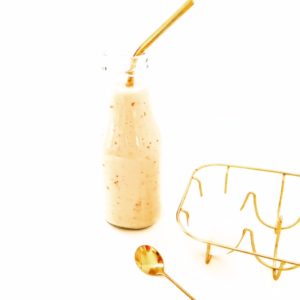 Okay, die 1,5 liter yoghurt was een beetje too much maar gelukkig kreeg ik een heerlijk pakketje van Krusli met de post. Krusli is een merk wat muesli maakt van "gered eten", dus wat eigenlijk weggegooid zou worden. Een geweldig initiatief en nog eens superlekker ook! Mijn saaie bakje yoghurt werd er een stuk lekkerder door!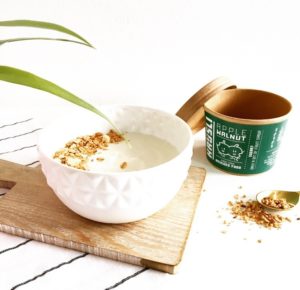 En gisteren had ik nog een superleuk gesprek met Annelies van FoodVia, een superleuk nieuw restaurantje in Arnhem, die heel erg bezig zijn om zo duurzaam mogelijk te zijn ennnn…zo min mogelijk voedsel te verspillen. Perfect dus om een leuk event mee te organiseren aan het einde van mijn No food waste challenge. Benieuwd? Zet dan alvast 9 april in je agenda. Meer informatie volgt heel snel!
Conclusie van deel 1 van mijn challenge:
Voedsel gered: best veel (zie mijn lijstje van Too Good To Go)
Voedsel wasted: 2 eetlepels Broccoli soep (sorry kreeg het echt niet meer op) en wat stukjes boon die ik tegenkwam in de roerbakgroente en echt haat!
Bespaart op mijn weekbudget: €5,98
Nieuwe producten/initiateven/samenwerkingen ontdekt: Mister Salad (doggybags), Krusli (rescued food), Too Good to Go (app) en FoodVia (duurzaam restaurantje in Arnhem).
Benieuwd naar nog meer leuke initiatieven, leftover recepten, No Waste/budget tips, en wat er in mijn volgende Too Good to Go magic boxen zit…hou dan mijn Instagram in de gaten of lees de volgende blog die snel volgt.
English version
To be honest, this might be the easiest Lent Challenge i have ever done. It's something i feel very strongly about and already try to do as much as possible. But i do enjoy get even more aware of it and find out what great initiatives there are out there. And who's knows, i might inspire others with it this way.
My challenge started last Wednesday and couldn't have thought of a better way. I had planned to go to Rotterdam that day to have a delicious high tea with a friend at Mr. Salad. And without even having to ask they gave me a doggybag to take home. I love when restaurants offer it on their own, as asking for it, is still a bit being looked upon in The Netherlands. Not that there were a lot of leftovers from this high tea…read here my blog about Mister Salad. That evening i had dinner at a friend who never sents me home without food, so that made a great lunch the next day.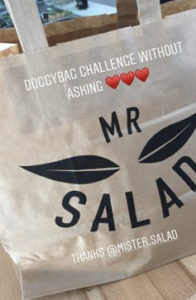 The rest of the days i cleaned out my freezer/fridge/pantry for meals.
And on Saturday i bought my first Magic Box of Too Good To Go as saving money and food sounds right up my alley! So trying the Too Good to Go app during my #fablentchallenge is a must do. I must admit, i was a bit sceptical about what was gonna be in the Magic Boxes. In the stories of Too good to go on Instagram i mainly saw a lot of bread and pastries. Not something you can creatively save money on and to be honest, not something i want in my box as i try to fit in a bikini this summer. But hey, you can't knock it till you try it. So i got a crash course TGTG of my upstair neighbor and as the first box was so good i decided to get another one in the same weekend and was able to eat almost the whole week with it. And i thought it might be fun to show you what was in it, how much it cost, what i needed to buy extra and what i made with it…
First week TGTG
Box 1, Spar, €3,99:
1 bag iceberg lettuce
1 bag chinese stirfry veggies
2 chicken legs, spiced
500 ml yoghurt
1 carton healhty people coconut water
Box 2, COOP, €4,99:
300 gram broccoli
2 chocolate cookies
4 litle bags fruit puree for kids of Zonnenature
1 liter chocolate custard
1 liter lactose free yoghurt
600 gram precooked baby potatoes
Melba toast
3 bellpeppers
2 pork meat things (called boomstammetjes in Dutch)
Bought full price (no TGTG), Albert Heijn, €5,14:
10 eggs
1 pack frozen pineapple
1 can cola zero cinnamon
2 bananas
1 bun
Total costs: € 13,86 (+ broodje)
What did i make with it:
Saturday: 1 chickenleg from the oven with salad (iceberg lettuce of TGTG, egg and dressing of Heksnkaas)
Sunday: macaroni (with mince meat, tomatosauce and cheese from the freezer and some stirfry veggies from TGTG) and as dessert chocolate custard and a crumbled up chocolate cookie.
Monday: breakfast was a bowl of yoghurt and fruit puree and granola (pantry), lunch: broccoli soup made with the broccoli and baby potatoes of TGTG, a frittata with the baby potatoes and stirfry of TGTG. Snack: 1 small bowl chocolate custard. Dinner: Nasi with eggrolls (both with the rest of the stirfry veggies of TGTG) with an egg, baked banana and homemade peanut sauce.
Tuesday: Smoothie (yoghurt, fruit puree, 1/2 banana and pineapple), lunch was leftover frittata and dinner was the rest of the baby potatoes from the airfryer and the pork meat. I gave my friend a review of the meat and she told me to share it with you guys. So here we go: good = no, disgusting = also no! Buy it myself = no! Hate having another one in the freezer = yes! It was tasteless…strang structure and the cheese was hardly detectable…which could have saved it! But oh well, ofcourse i'm gonna eat the one in the freezer as a pork died for it!
Wednesday: the breakfast is a bowl of yoghurt (TGTG) with Krusli. Lunch is a vegetarian curry with the yoghurt of TGTG (click here for the recipe) and for dinner is the last piece of the fritatta and a bowl of broccoli soup.
Thursday: Yoghurt (again!!!!), a Sloppy Joe and leftover nasi.
Friday: Smoothie, pancakes and dinner is a snackplatter that i had leftover after making a post with it for a nice giveaway that is coming up.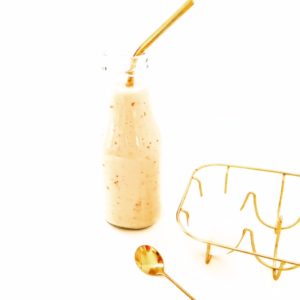 Okay, that 1,5 liter yoghurt was a bit too much but luckly i did get a delicious delivery from Krusli. Krusli is a brand that makes granola out of "rescued food", food that normally would be thrown away. A great initiative and so delicious. My boring bowl of yoghurt got so much tastier!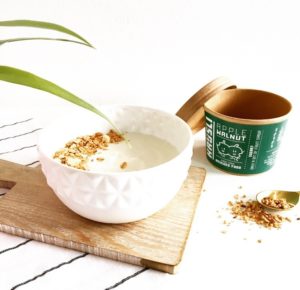 And yesterday i had such a fun conversation with Annelies of FoodVia, a great new little restaurant in Arnhem, which are very much into sustainability and…wasting a less food as possible. A perfect collab to organise an event at the end of my No food waste challenge. Curious? Save the date, April 9. More information will follow soon!
Part 1 of my challenge:
Food saved: pretty much (see my list of Too Good To Go)
Food wasted: 2 spoons Broccoli soup (sorry i was sooo full) and a few piece bean i found in my stirfry veggies and absolutely hate!
Saved on my weekbudget: €5,98
New products/initiatives/collabs discovered: Mister Salad (doggybags), Krusli (rescued food), Too Good to Go (app) and FoodVia (sustainable restaurant in Arnhem).
Curious about more initiative, leftover recipes, No Waste/budget tips, and what's gonna be in my next Too Good to Go magic boxen…follow me on Instagram or read my next blog that will follow soon.