Ingrediënten:
2 paprika's, geroosterd en ontveld
2 gekookte eieren
1 sjalotje, gesnipperd
3 tl rode curry pasta
snufje zout
200 ml yoghurt
Bereiding:
Rooster de paprika's in de oven tot het velletje een beetje zwart geblakerd is en de paprika's zacht. Haal uit de oven en laat afkoelen. Tip: het velletje laat eerder los als je ze in een plastic zakje doet. Ontvel de paprika's en pureer met een staafmixer tot een saus. Kook ondertussen 2 eieren. Snipper het sjalotje.
Bak het sjalotje in de pan glazig en voeg de paprikapuree en een snufje zout toe. Laat even koken en voeg dan de rode curry pasta toe. Laat dit even koken. Pel de eieren. Voeg de yoghurt toe en laat op een heel laag vuur even mee verwarmen (niet te lang want dan gaat de yoghurt schiften). Voeg tenslotte de eieren toe en serveer met rijst.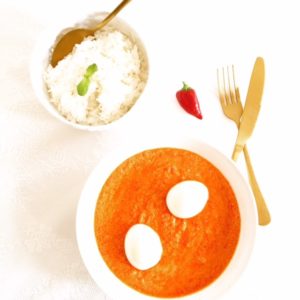 English version
Ingredients:
2 bell peppers, roasted and skin taken off
2 boiled eggs
1 shallot, diced finely
3 teaspoons red curry paste
sprinkle of salt
200 ml yoghurt
Directions:
Roast the bellpeppers in the oven till the skin is starting to blister and the peppers are soft. Get out of the oven and let it cool. Tip: if you put them in a plastic bag the skin comes of easier. Take the skin of and puree them to a sauce a kitchenmachine/handheld mixer. Boil 2 eggs. Dice the shallot.
Bak the shallot in a pan and add the bell pepper sauce and a sprinkle of salt. Let it cook for a bit and add the red curry paste. Let this cook for a bit. Peel the eggs. Add the yoghurt and let it warm up on low. (don't cook too long as the yoghurt might split). Add the eggs and serve with rice.