Dagje Rotterdam of woon je in Rotterdam en op zoek naar een plekje waar je gezond maar vooral heel lekker kan eten, dan MOET je gewoon naar Mister Salad. Ik was er al eens geweest met foodie Laura van Laura's Super Vood tijdens mijn boeklanceringstour en toen genoot ik van een heerlijke pokébowl en geweldige sapjes. Dus toen ik een weekje de nieuwste Peugeot 208 mocht lenen van Nefkens Peugeot en deze omtoverde tot FAB mobiel en alleen maar leuke plekjes en lieve foodies ging bezoeken, kon Mister Salad natuurlijk niet ontbreken in het lijstje van Fab places en al helemaal niet als je uitgenodigd wordt voor een High Tea.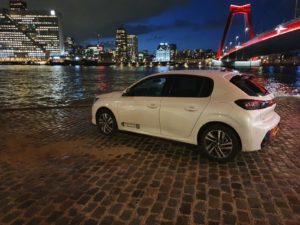 En deze High Tea wil je, want behalve dat het supergezellig is om samen met een vriendinnetje te doen en bij te kletsen met een lekker theetje, is deze high tea net iets anders dan je gewend bent. Je begint de high tea met een heerlijk vers soepje met brood en hummus, waarna deze gevolgd wordt door een mini pokébowl, beide even lekker en vers bereid. Maar dan komt de etagère waar je eigenlijk voor bent gekomen, want zeg nou eerlijk, het lekkerste van een high tea is toch wel het zoete gedeelte. Maar waar je je meestal "volpropt" met veel suiker en vette room, is dat bij Mister Salad niet het geval. Hier geniet je namelijk van een verantwoorde high tea zonder geraffineerde suikers, veel fruit en natuurlijke producten. Ga je daar wat aan missen…uh nee, want ik vond dit net zo lekker of misschien nog wel lekkerder dan een standaard high tea.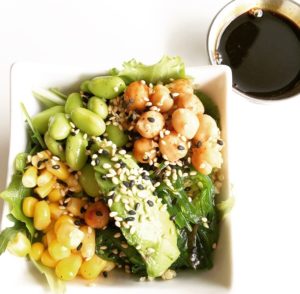 De etagère is onder ander gevuld met een fruitsalade, pannenkoeken, lekkere noten/vijgenballetjes, brownies, bananenbrood. En het lekkerste (vond ik) de carrot cake en de Powerbars. Dus ook als je geen tijd hebt om een hele high tea te doen, wip dan zeker even binnen voor een van deze twee! Ik beloof je, het is de moeite waard!
En helemaal geen tijd om even te gaan zitten of liever lekker op je eigen bank genieten van al het lekkers van Mister Salad, dat kan ook. Bij Mister Salad kun je namelijk ook afhalen (Goudsesingel 235a) of ze bezorgen het bij je thuis (uiteraard als je in Rotterdam woont voor dat laatste). Op maandag zijn ze gesloten maar de rest van de week kun je er terecht om 11.00 uur en op zondag om 12.00 uur. Wil je genieten van een high tea of High Choc, reserveer dan even van tevoren op hun site. Een high tea kost 22,95 per persoon, een high choc € 19,95 per persoon.
Waarom ik zo Mister Salad zo leuk vindt…behalve dat het eten super lekker is, zijn ze ook nog eens, net als mij, tegen Food Waste, dus kreeg ik zonder dat ik er zelf om hoefde te vragen een doggybag mee met het lekkerst wat over was van de high tea. Nu was dat niet zo veel hoor, maar zo heb ik thuis ook nog lekker kunnen na genieten. En Mister Salad himself, die mag er ook best wezen, vooral als je de twinkeling in zijn ogen ziet verschijnen als je het over eten hebt. Those are the best people!
English version
Day trip Rotterdam or do you live in Rotterdam and looking for a place to eat healthy but mostly delicious, than Mister Salad is the place to go. I went there before with foodie Laura of Laura's Super Vood during my book launch tour and had an amazing Poké bowl and delicious juices. So when Nefkens Peugeot gave me a week to try out the new Peugeot 208 and made it into my FAB mobile and visited only fun places and sweet foodies, Mister Salad was obviously on my list of Fab places and especially when you get invited for a high tea.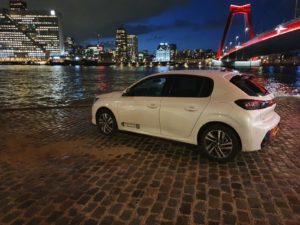 And this is one High Tea you want, as not only is it fun to catch up with a friend over good tea, this high tea is a little different that normally. You start the high tea with a delicious homemade soup with bread and hummus, followed by a mini poke bowl, both delicous and freshly made. But than the plateau you actually came for comes around, as be honest, the best part of a high tea is the sweet part. But where you ussually stuff yourself with lots of sugar and fatning cream, Mister Salad's high tea is far from that. Here you enjoy a healthy high tea with refined sugar, lots of fruit and natural products. Do you miss out on the good stuff…uh no, as this is just as good, maybe even better than a normal High Tea.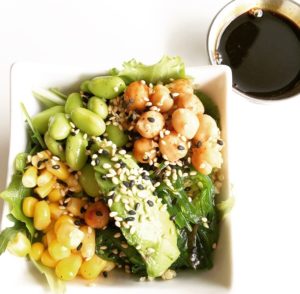 The plateau is filled with (amongs other) a fruitsalad, pancakes, delicious nut/fig balls, brownies, bananabread. And my favorites, the carrot cake and powerbars. So even if you don't have time for a long high tea, pop in for one of these two! I promise you, it's worth it!
And if you don't have any time to take a seat or rather enjoy all the deliciousness of Mister Salad on your couch at home, you can do that aswell. At Mister Salad you can do take out (Goudsesingel 235a) or they deliver to your home. (obviously only if you live in Rotterdam). On Monday they are closed but the rest of the week you can come in at 11.00 and on Sundays at 12.00 hours. Want to enjoy a high tea or High Choc, make a reservation on their site in advance. A high tea costs 22,95 per person, a high choc € 19,95 per person.
Why i like Mister Salad as much…besides delicious food, they are, just like me, against Food Waste, so i got even without asking a doggy bag to take home with all the goodies that were left from the high tea. Not that that was a lot, but this way i got to enjoy some later on. And Mister Salad himself, he is also pretty yummie, especially when you see the twinkle in his eye when he starts talking about food. Those are the best people!