Met nog maar 11 maanden te gaan (HELP!!!!) voor ik 40 wordt, dacht ik dat het wel tijd werd om te laten weten hoe het er voor staat met m'n Fab@40 challenge.
Dus ik heb m'n lijstje erbij gepakt en ben blij dat ik aardig op koers lig om deze challenge te halen:
een boobjob (& het fab@40 fund): inmiddels heb ik een verwijsbrief van de huisarts gescoord en is de afspraak bij de Velthuis kliniek voor een consult gemaakt. Mooie bijkomstigheid is dat het waarschijnlijk helemaal of in ieder geval gedeeltelijk vergoedt gaat worden. Wat wel heel fijn zou zijn, want het Fab@40 fund is ondertussen redelijk geplunderd voor het reisje Curaçao van vorige maand…whoops. Oh en voor de duidelijkheid: ze worden KLEINER!!! (hahahah, moet het er iets te vaak bij zeggen als ik het iemand vertel).
stoppen met jojo-en & maatje 38: zou het nu dan echt gelukt zijn. Sinds m'n vakantie heb ik nog geen 1 vreetbui gehad en dat terwijl alle triggers er waren. Maar 10 dagen met twee dames, die zonder er moeite voor te doen, gezond eten en leven heeft wel iets veranderd in m'n hoofdje. Het heeft me vooral een spiegel voor gehouden en dat was best even nodig. Een zak Haribo maakt dingen echt niet beter (wel lekkerder soms) maar erna voel ik me meestal nog rotter. Dat ik nu al bijna 4 kg na 3 weken kwijt ben door "gewoon" te doen, is wel een motivatie om ook geen troep in huis te halen. En wie weet lukt dat maatje 38 nog wel voor december, al zet ik er geen druk achter, want dat is waarschijnlijk ook waardoor ik elke keer terug val!
M'n haar laten groeien: tja, hier hoef ik weinig voor te doen, dus echt een uitdaging is het niet!
Op zoek naar de perfecte dagcrème: nog steeds op zoek dus tips zijn zeer welkom!!! Vooral nu de winter er aan komt.
Vaker mezelf trakteren op een beauty behandeling: ook iets waar ik mezelf nog steeds aan moet herinneren, dus binnenkort maar weer even wat boeken.
Vaker dingen doen die ik leuk vindt: ook hier moet ik mezelf nog wel toe zetten, al heb ik inmiddels wel wat vaker ja tegen dingen gezegd die ik normaal niet zo snel in m'n uppie zou doen, dus er zit verbetering in.
Vaker denken: Fuck it:  wordt aan gewerkt! 😉
Bringing sexy back: ook daar ben ik sinds m'n vakantie (ja, Curacao heeft me goed gedaan) een stuk beter in geworden. Er zijn iets meer jurkjes in m'n kast erbij gekomen en als ik nu de deur uit ga is dat of in sportkleding richting de sportschool of ook echt een beetje leuk aangekleed. En dat valt blijkbaar op want krijg steeds vaker een compliment hierover. En de hakken, die komen ook steeds vaker uit de kast.
Enjoy the journey & make it a fit and fabulous one! Tot nu toe lukt dat ook aardig! 

En na het vieren van m'n 39ste verjaardag op een tropisch eiland wat mij wel heel erg beviel, heb ik er nog een doel bij gekregen. En besloten dat ik ook m'n 40ste verjaardag onder een palmboom wil vieren. Dus dat wordt nog sparen maar hopelijk kan ik jullie volgend jaar een foto in bikini sturen vanaf Hawaii! En eentje waar ik me niet voor schaam, maar waarop je kan zien dat ik eindelijk na 20 jaar lekker in m'n vel zit.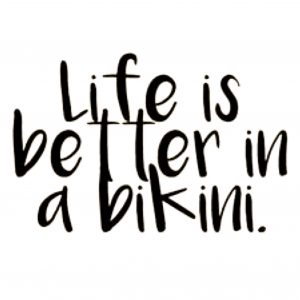 English version:
Only 11 months to go (HELP!!!!) before i turn 40, so i thought it was time to find out how well it's going with my Fab@40 challenge.
So i looked at the list and am happy to report that i'm doing pretty well to achieve this challenge:
a boobjob (& the fab@40 fund): i've been to my doctor to get a referral and made an appointment with the Velthuis kliniek for a consult. And got some good news, my insurrance is probability paying for it, or atleast part of it. Which would be great, as i kinda emptied out the fab@40 fund for my trip to Curacao last month…whoops. Oh and just to be clear: the will be REDUCED!!! (hahahah, have to tell this a lot to people when i tell them about the boobjob, as somehow everybody thinks i'm going for even larger :0!!!).
stop jojo-ing & size 7 (US), 38 (europe): will it finally stick. Since i got back from my vacation i haven't had one binge episode eventhough all the triggers were there. But 10 days with two girls, who without realizing, eat & live healthy has changed my mindset. They showed me how things could be and that was just what i needed. A bag of Haribo doesn't make things better (a bit tastier sometimes) but ussually i feel even worse afterwards. That i almost lost 4 kg in 3 weeks by just acting "normal" is a motivation not to buy any junkfood. And who knows, i might reach my goalsize before December, although i'm not pushing myself too, as that's probability why i relapse each time!
Grow my hair: not something i can really control, so not really a challenge either!
Finding the perfect moisturizer: still haven't found on, so tips are very welcome!!! Especially now that winter is coming.
Treat myself to beauty treatment more often: something i still have to remind myself of, so i better book an appointment for a treatment soon.
Do more things i like: i still have to push myself to do this, but i have said yes to some events i would normally not feel comfortable doing alone…so improvement is there.
Just think: Fuck it: working on it! 😉
Bringing sexy back: and even this i got better at during and after my vacation (yes, Curacao really did me good). I bought a few more dresses and when i now leave the house it is either in workout gear if i'm headed to the gym or looking like i made an effort. And appearantly it shows, as i get a lot of compliments lately. Oh and i replace sneakers more & more with my heels.
Enjoy the journey & make it a fit and fabulous one! Not doing to bad with that either!!!

And as celebrating my 39th birthday on a tropical island turned out even better than i could have thought, i have another goal. I decided i want to celebrate my 40st birthday also underneath a palmtree. So i better start saving so i can hopefully sent you a picture of me in a bikini from Hawaii! And one i don't have to feel ashamed off but one that finally shows that after 20 years of not feeling comfortable in my skin, i finally do.