In plaats van appelflappen, pompoenflappen? Is dat lekker? Ik probeerde het uit en het resultaat was echt verrassend goed.
Ingrediënten voor 1 persoon:
1 plakje bladerdeeg
2 eetlepels pompoenpuree
10 gram rozijnen
10 gram pecannoten, grof gekruimeld
1 eetlepel Maple syrup
1 theelepel Pumpkin Pie kruiden (klik hier voor het recept)
Bereiding:
Laat het plakje bladerdeeg ontdooien. Doe de pompoenpuree (dit maak je door een pompoen in de oven te roosteren tot hij zacht is en het vruchtvlees eruit te scheppen) in een kom en voeg de andere ingrediënten toe. Mix goed. Schep het pompoenmengsel in het midden van het bladerdeeg en vouw het bladerdeeg dicht als een flapje. Zorg dat naden goed dicht zitten, eventueel kun je dit aandrukken met een vork. Bak in een voorverwarmde oven op 200 graden in 20 tot 30 minuten gaar & knapperig. Bestrooi met nog wat Pumpkin Pie Spice kruiden en enjoy!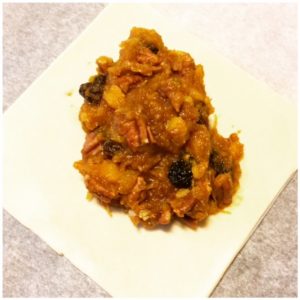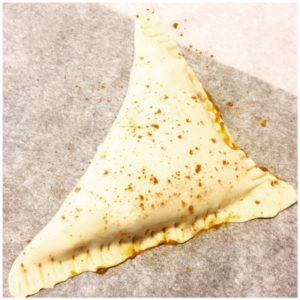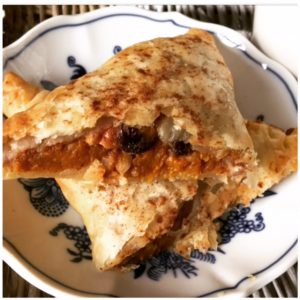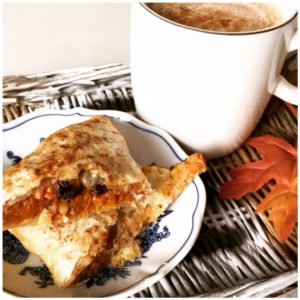 English version:
Instead of apple turnovers, pumpkin turnovers? How is that going to taste? Well i tried and the result was suprisingly good.
Ingredients for 1 person:
1 square puff pastry
2 spoons pumpkin puree
10 grams raisins
10 grams pecans, roughly crumbled
1 spoon Maple syrup
1 teaspoon Pumpkin Pie spices (click here for the recipe)
Direction:
Defrozed the square puff pastry. Scoop the pumpkin puree (which you can make by roasting a pumpkin in the oven untill soft and scoop out the pulp) into a bowl and add the other ingredients. Mix well. Scoop the pumpkin mixture in the middle of the puff pastry and fold the puff pastry into a triangle. Make sure the seams are tight, you can press them with a fork if necessary. Bake in a preheated oven at 200 degrees in 20 to 30 minutes untill the dough is done and crispy. Sprinkle withe a little Pumpkin Pie Spice and enjoy!