Ingrediënten:
1/4 of 1/2 blok Tempeh (afhankelijk van de grote van je blok tempeh, kleine budget tip: bij de toko zijn ze groter en goedkoper dan in de supermarkt en ik vries de rest in)
1 eetlepel olie
1 eetlepel mosterd
2 theelepels maple syrup
200 gram pompoenblokjes
Snufje chilipoeder
25 gram quinoa
handje rucola
handje cranberries (gedroogde)
handje walnoten
handje geroosterde pompoenpitten
Schijfjes appel
Bereiding:
Verwarm de oven voor op 200 graden. Snij de tempeh in blokjes. Meng de olie, mosterd en maple syrup. Gebruik de helft om de tempeh hierin te marineren. De andere helft is voor de dressing. Beleg een bakplaat met de ene helft de tempeh blokjes en de andere helft de pompoen blokjes. Schenk een klein beetje olie over de pompoen blokjes en strooi er eventueel een snufje chilipoeder over. Bak ongeveer 20 tot 30 minuten in de oven gaar.
Kook ondertussen de quinoa in water (verhouding is 1:1). Rooster de pompoenpitten in een pannetje, eventueel met een snufje zeezout.
Maak de bowl door rucola, quinoa als eerste laag te gebruiken, dan de pompoen en tempeh en vervolgens toppen met de appel, cranberries, walnoten en pompoenpitten.
Eventueel zou je nog wat blauwe kaas of feta kunnen toeveoegen.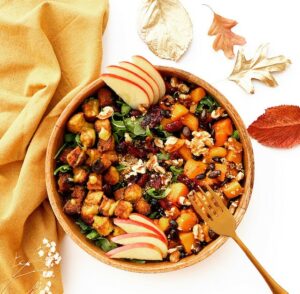 English version:
Ingredients:
1/4 or 1/2 piece of Tempeh (depending on the size of your piece of tempeh, small budget tip: at the Asian supermarket they are bigger and cheaper than in the supermarket and i freeze the leftovers)
1 spoon oil
1 spoon mustard
2 teaspoons maple syrup
200 gram pumpkin, diced
Sprinkle chili powder
25 gram quinoa
handfull rocket lettuce
handfull cranberries (dried)
handfull walnuts
handfull roasted pumpkin seeds
Slices of apple
Directions:
Preheat the oven to 200 degrees celcius. Cut the tempeh in cubes. Mix the oil, mustard and maple syrup. Use half of this to marinate the tempeh. The other half you can use as dressing. Put the tempeh and pumpkin on a baking dish. Sprinkle a little oil over the pumpkin and optional a little chilipowder. Bake
in 20 to 30 minutes in the oven.
In the meanwhile boil the quinoa in water (1:1). Roast the pumpkin seeds in a pan with (optional) a little seasalt.
Make the bowl by using the rocket lettuce and quinoa as first layer, than the pumpkin and tempeh and top with the apple, cranberries, walnuts and pumpkin seeds.
Optional: add some blue cheese or feta.