In het pakketje wat ik van de Albert Heijn kreeg voor de 5xglutenvrij challenge zat amandelmeel en een broodmix dus ik kreeg gelijk het idee om een heerlijk glutenvrij paasbrood te maken. Van het amandelmeel maken we het spijs. Begin hier een weekje van tevoren mee dan kan het goed rijpen en wordt de smaak nog lekkerder. Voor het brood volgen we de verpakking maar voegen hier nog wel wat amandelen en cranberries aan toe.
Ingredienten spijs:
100 gr. amandelmeel
100 gr. honing (agavesiroop kan ook)
2 eetlepels citroensap
Ingredienten brood:
Broodmix Meergranen (vrij van Gluten, Albert Heijn merk)
Zonnebloemolie (50 gram), staat op het pak vermeld
Gedroogde gist (7 gram), staat op het pak vermeld
Extra:
100 gram amandelen
100 gram cranberries
Bereiding:
Volg stap 1 zoals op het pak vermeld staat. Vouw na het mixen de 100 gram amandelen en 100 gram cranberries door het beslag.
Leg 1/3 van het beslag in een bakvorm bekleed met bakpapier en maak hier een ovaal vorm van. Haal het spijs uit de koelkast en vorm er een lang rol van (net zo lang als het brood). Leg dit op het brood en bedek met het overige beslag.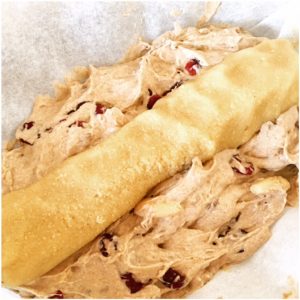 Dek af en laat het 50 minuten rijzen op een warme plaats.
Snij het brood halve centimeter aan de bovenzijde in en bak ca. 60 minuten af in het midden van een voorwarmde oven. Laat het brood helemaal afkoelen voordat je het snijdt (anders loopt het spijs eruit).
English version:
In the package of Albert Heijn for the 5xglutenfree challenge i found some almond flour and a breadmix, so i instantly decided to make a delicious glutenfree Easterloaf. With the almond flour i made the almond paste. Start one week before with this, so it can age and the taste becomes more intense.
For the bread, we follow the package of the breadmix but we add some almonds & cranberries.
Ingredients almond paste:
100 gr. almond flour
100 gr. honey (to make it vegan, you can use agave sirop)
2 spoons lemon juice
Ingredients bread:
Breadmix Multigrain (Vrij van Gluten, Albert Heijn brand)
Sunflower oil (50 gram), mentioned on the package
Dried yeast (7 gram), mentioned on the package
Extra:
100 gram almonds
100 gram cranberries
Directions:
Follow step 1 as mentioned on the package. Fold in the 100 grams almonds and 100 gram cranberries after mixing.
Put 1/3 of the dough in a backing molt covered in backing paper and form a ovale shape. Take the almond paste out of the fridge an make it into a long roll (just as long as the bread). Put it on the bread and cover with the rest of the dough.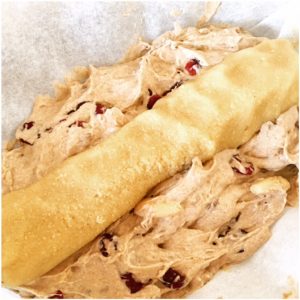 Cover and let it rise 50 minutes on a warm place.
Cut in the bread 0,5 cm on top and bake in a preheated oven on 200 degrees for about 60 minutes. Let the loaf cool down completely before slicing as you don't want the almond paste to run out of it.