Dit recept van Estée Strooker is een leuke afwisseling voor de gebruikelijke fruitsalade tijdens een paasbrunch of als een zomers ontbijt. Uiteraard kun je zelf met het fruit variëren.
Ingredienten voor 4 personen:
4 el chiazaad
1/2 mango
1 kiwi
6 aardbeien
12 kersen
12 witte druiven zonder pit
2 el honing
2 el geschaafde amandelen
1 el sesamzaad (en nog een beetje extra ter decoratie)
2 el havermout
4 rijstvellen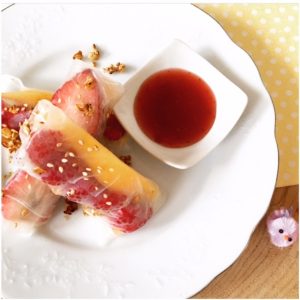 Bereiding:
Wel het chiazaad in een scheutje lauw water tot de zaadjes glazig worden en opzwellen. Schil de mango en kiwi en snij in plakjes. Verwijder de kroontjes van de aardbeien en snij in plakjes. Ontpit de kersen en snij deze en de druiven doormidden.
Karamelliseer voor de crumble de honing in een koekenpan en voeg de amandelen, het sesamzaad en de havermout toe. Roer het geheel goed door elkaar, breng op smaak met een beetje zout en haal de crumble uit de pan.
Houd de rijstvellen 10 seconden onder koud stromend water tot ze zacht worden. Leg ze op een bord of aanrecht en verdeel in het midden het fruit, de crumble en chiazaad. Vouw de zijkanten naar binnen en vouw daarna de onderkant over de vulling heen. Rol elk rijstvel op tot een strakke rol en bestrooi met sesamzaad.
Ik serveerde de fruit loempia's met de aardbeiensaus van Gymqueen* als dip!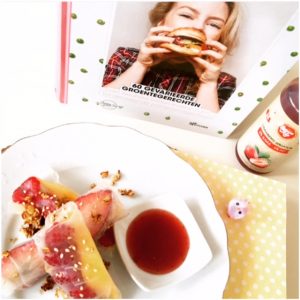 * benieuwd naar de 0% sugar, 0% fat aardbeiensaus van GymQueen, bestel nu met 10% korting met code QueenEllen10
English version:
This recipe of Estée Strooker is a fun variation for the ussual fruit salad during the Easter brunch or a summer breakfast. Oh and feel free to use different fruit.
Ingredients for 4 persons:
4 spoons chiaseed
1/2 mango
1 kiwi
6 strawberries
12 cherries
12 white grapes without seeds
2 spoons honey
2 spoons almonds (thin sliced)
1 spoon sesame seeds (and a few more for extra decoration)
2 spoons oats
4 rice sheets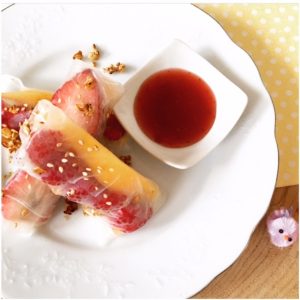 Direction:
Soak the chiaseed in a little lukewarm water till they become glacy & swollen. Peel the mango & kiwi and slice. Remover the stamps of the strawberries and slice. Stone the cherries and slice this in the middle and the grapes aswell.
For the crumble, caramelize the honey in a pan and add the almonds, sesame seed and oats. Stirr & mix well and add a little salt. And get the crumble out of the pan.
Put the rice sheets under the stream of cold water untill they soften. Put them on a plate and divide the fruit, crumble and chiaseed in the middle of the sheet. Fold the sides to the insede and fold the bottom & top over the filling. Roll each sheet into a roll and serve with sesame seeds.
I served the fruit rolls with the strawberry sauce of Gymqueen* as a dip!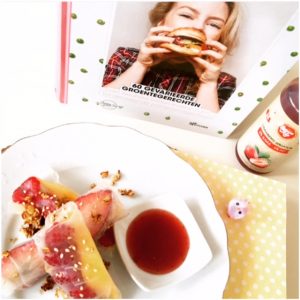 *order this delicious 0% sugar, 0% fat strawberry sauce with 10% discount with code QueenEllen10 at Gymqueen.nl