Crispy Mummies
Ingrediënten:
75 gram gepofte rijst
75 gram marshmallows
25 gram roomboter
Snufje zout
35 gram witte chocolade en extra voor decoratie
8 suikeroogjes (dr. Oetker)
Bereiding:
Bekleed een langwerpig bakje met bakpapier. Zet een kom klaar met daarin de gepofte rijst. Smelt de boter in een pan en voeg de marshmallows toe en 35 gram witte chocolade (ongeveer 1/3 reep). Roer goed door elkaar tot alles gesmolten is. Haal van het vuur en schenk over de gepofte rijst. Roer goed door zodat elke rijstkorrel bedekt is. Schenk in het bakje en druk goed aan met de achterkant van een lepel. Zet in de koelkast. Smelt 1/3 reep witte chocolade au bain marie (of in de magnetron). Smeer een klein druppeltje chocolade achterop de suikeroogjes en verdeel de oogjes over de rice crispy's zodat je er vier lange mummies uit kan snijden. (zie foto). Schenk de witte chocolade in streepjes over de rice crispy's. Zet even terug in de koelkast totdat de witte chocolade is opgestijfd. Snij in vier stukken.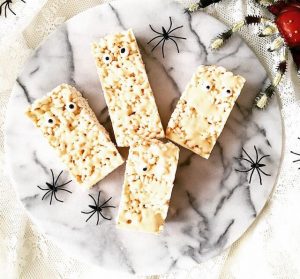 Brain goes nuts
Ingrediënten:
50 gram roze chocolade (ik gebruikte de Red Velvet reep van Handsoff my chocolate)
15 hele walnoten
Rode kleurstof, optioneel
Vampiergebitjes (gevonden bij de Lidl)
Bereiding:
Zet een bord klaar met bakpapier erop. Smelt de chocolade au bain marie (of in de magnetron). Haal de walnoten 1 voor 1 door de gesmolten chocolade met een vork. Laat de chocolade er goed vanaf druipen zodat je de vorm van de walnoot goed blijft zien. Leg op het bord met bakpapier. Als alle walnoten bedekt zijn met chocolade, zet het bord in de koelkast om de chocolade te laten opstijven. Eventueel kun je met een sateprikker met een klein beetje rode kleurstof wat dunne lijntjes over de "hersenen" maken, voordat je het in de koelkast zet. Serveer met/in de gebitjes.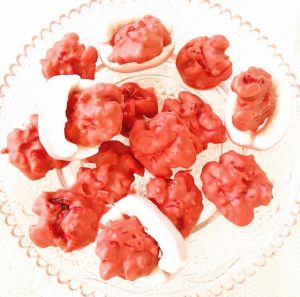 Shallow graves
Ingrediënten:
200 gram chocolade (melk of puur)
2 eiwitten
snufje zout
150 ml slagroom
10 halve Oreo's, zonder vulling
Gummiwormen
Andere decoratie, zoals spinnen, botten e.d.
Bereiding:
Smelt de chocolade au bain marie (of in de magnetron). Klop ondertussen de eiwitten stijf met een snufje zout in een vetvrije kom. Klop daarna de slagroom stijf. Schep deze twee luchtig door elkaar in 1 kom. Schep een eetlepel van dit mengsel door de gesmolten chocolade en roer goed door. Schenk vervolgens de chocolade over het eiwit/slagroom mengsel en schep het zo luchtig mogelijk door. Verdeel over 3 bekertjes. Zet een paar uur in de koelkast om op te laten stijven.
Verkruimel de oreo's in een keukenmachine tot "aarde". (als je de andere helft met de witte vulling bewaart kun je deze gebruiken voor het volgende recept). Verdeel de aarde over de chocomouse en decoreer met de gummiewormen en andere decoratie.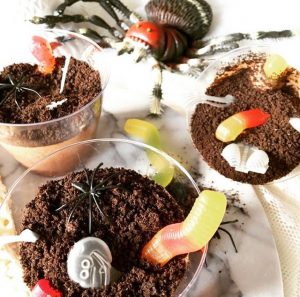 Eyero's
Ingrediënten:
10 halve Oreo's met de witte vulling
10 rode, gele of groene smarties
Rode kleurstof
Bereiding:
Gebruik een sateprikker en maak lijntjes rode "adertjes" op de witte vulling van de oreo. Druk de smarties in het midden en serveer.

Jelloween
Ingrediënten:
1 pakje rode Jello
Oogballen (snoep)
Bereiding:
Bereid de pudding volgens de bereidingswijze genoemd op het pakje. Leg de oogballen met de pupillen naar beneden in de vorm die je gaat gebruiken. Schenk de pudding over de oogballen en laat het minstens 5 uur tot een nachtje opstijven in de koelkast. Serveer op een mooie schaal.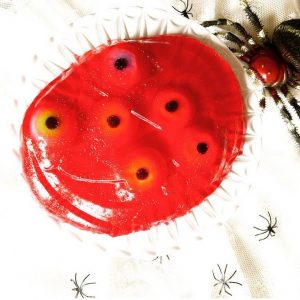 English translation
Crispy Mummies
Ingredients:
75 gram puffed rice
75 gram marshmallows
25 gram butter
Sprinkle salt
35 gram white chocolate and extra for decoration
8 sugar eyes (dr. Oetker)
Directions:
Put some non grease paper in a oblong container. Put the puffed rice in a bowl. Melt the butter in a pan and add the marshmallows and 35 gram white chocolate. Mix till everything is melted. Take the pan of the stove and pour it over the puffed rice. Mix till every rice piece is covered with it. Pour into the container and press it well with the back of a spoon. Put in the fridge.
Melt 1/3 bar white chocolate au bain marie (or in the microwave). Put a little drop of white chocolate at the back of the sugar eyes and divide the eyes over the rice crispy's in such way that you can cut it into 4 mummies. (see photo). Pour the white chocolate over the rice crispies in stripes. Put back into the fridge untill the white chocolate has set. Cut in 4 pieces.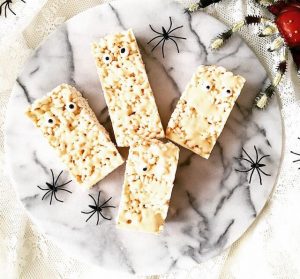 Brain goes nuts
Ingredients:
50 gram pink chocolate (i used Red Velvet of Handsoff my chocolate)
15 whole walnuts
Red coloring, optional
Vampire teeth candy (found it at Lidl)
Direction:
Prepare a plate with non grease paper. Melt the chocolate au bain marie (or in the microwave). Put the walnuts 1 by 1 through the melted chocolate with a fork. Let it drip well so you can see the shape of the walnut. Put on the plate. When all the walnuts are covered, put the plate in the fridge to let the chocolate set. Optional: draw little lines with a skewer dipped in the red coloring on the "brains", before you put it in the fridge. Serve with/in the teeth.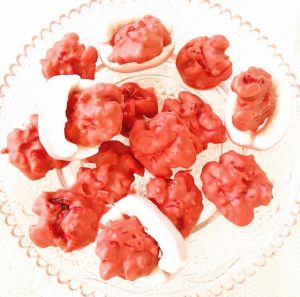 Shallow graves
Ingredients:
200 gram chocolate (milk or dark)
2 egg whites
sprinkle salt
150 ml whipped cream (unwhipped)
10 half Oreo's, without filling
Gummiworms
Other decoration, like spiders, bones e.o.
Direction:
Melt the chocolate au bain marie (or in the microwave). Whip the eggwhites into stiff peaks with a little sprinkle salt in a grease free bowl. Whip the cream after that. Scoop the two of them together in a light airy way. Pour a spoon of this mixture into the melted chocolate and mix well. Pour the chocolate into the bowl with the eggwhite/cream mixture and whip together in a light way. Keep it fluffy. Pour into cups. Put in the fridge for a few hours to let it set.
Crumble to Oreo's in a kitchenmachine to "earth". (if you keep the other half with the white stuffing you can use it for the next recipe). Divide the earth over the cups chocolate mousse and decorate with the worms and other decoration.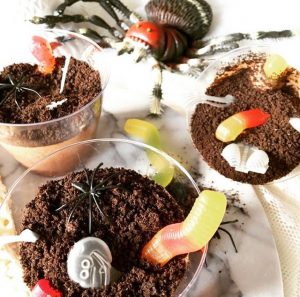 Eyero's
Ingredients:
10 half Oreo's with the white filling
10 red, yellow or green m&m's
Red coloring
Direction:
Use a skewer to make lines of red "veins" on the white filling of the Oreo. Press the m&m's in the middle and serve.

Jelloween
Ingredients:
1 package red Jello
Eyeballs (candy)
Direction:
Prepare the Jello as it says on the package. Put the eyeballs with the pupils down in the baking form you are going to use. Pour the jello over the eyeballs and let it set for at least 5 hours to a night in the frigde. Serve on a nice plate.