Kaneelbroodjes maar dan met een Sinterklaas twist
Ingrediënten broodjes:
1 blik croissant deeg
40 gram pepernoten
20 gram gezouten roomboter
Speculaaskruiden, naar smaak
Suiker, naar smaak
Ingrediënten Royal icing:
50 gram poedersuiker
1 eiwit
scheutje water
Bereiding:
Verwarm de oven voor op 200 graden. Rol het deeg uit en zorg dat je de naden goed aandrukt. Smelt de boter en besmeer het deeg ermee. Bestrooi met speculaaskruiden en suiker. Verkruimel de pepernoten in een keukenmachine en strooi dit over het deeg. Rol het deeg op en snij er 6 rolletjes van. Bak in de voorverwarmde oven in ongeveer 10 tot 15 minuten goudbruin.
Maak ondertussen de Royal Icing (let op, niet geschikt voor zwangere vrouwen) door het suiker met het eiwit en een scheutje water met een mixer te mengen. Wil je de icing dikker zodat je het met een spuitzak kan decoreren, voeg dan 100 gram poedersuiker toe.
Laat de speculaasbroodjes een beetje afkoelen en schenk de icing erover.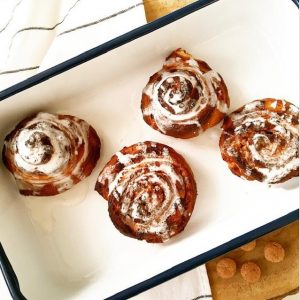 Cinnamon buns but with a Dutch Holiday twist
Ingredients buns:
1 can croissant dough
40 gram pepernoten (dutch gingerbread like cookies)
20 gram salted butter
Gingerbread spices, to taste
Sugar, to taste
Ingredients Royal icing:
50 gram icing sugar
1 eggwhite
little bit of water
Direction:
Preheat the oven to 200 degrees celcius. Roll out the dough and make sure you press the seams together. Melt the butter and spread over the dough. Sprinkle gingerbread spices and sugar over it. Make the gingerbread cookies into crumbs in a kitchenmachine. Sprinkle over the dough. Roll the dough into a big roll and cut in 6 small rolls. Bake in the preheated oven for about 10 to 15 minutes untill golden brown.
Meanwhile make the Royal Icing (note: not suitable for pregnant women). Mix the sugar with the eggwhite and a little bit of water with a mixer. If you want thicker icing for piping, add 100 gram icingsugar.
Let the speculaas buns cool down a bit and pour the icing over it.