Donderdagmiddag…ping ping…Anne. Of ik zin had om de volgende dag mee te gaan op een bloggersreisje naar de kerstmarkt in Bochum. Nu zou ik normaal 100 reden bedenken waarom ik niet zou kunnen, ik ben nogal van het plannen en had al wat dingen staan voor die dag. Maar dit is Anne, en als Anne iets organiseert dan zeg je gewoon geen nee (dan weet je dat vast, mocht je ooit een uitnodiging krijgen ;)!!!) en dan zeker niet als het een uitje is naar een van je guilty pleasures, kerstmarkten.
En zo zat ik de volgende dag al vroeg in de trein richting Eindhoven, waar we werden opgepikt in een busje en naar Bochum reden. Het was nog een behoorlijke rit, maar dat gaf genoeg tijd de andere bloggers die mee waren te leren kennen.
Met een stralende blauwe lucht kwamen we in Bochum aan. Dit beloofde een prachtige en gezellig dag te worden. First stop, lunch bij Nährstoff-Reich Superfood Bistro, oh wat een heerlijk plekje is dit, zeg. De kaart is vega(n), maar geloof me, ook als niet vega(n) smul je hier van de heerlijke bowls en smoothies. En ze zijn niet alleen heerlijk maar ook nog eens prachtig, als foodieblogger natuurlijk heel fijn voor dat Instawaardige plaatje.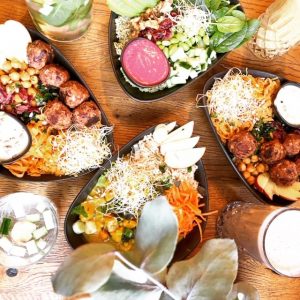 En daarna was het de kerstmarkt op. We werden welkom geheten door Lisa van Bochum Marketing die ons vertelde over de stad en de kerstmarkt. Nu ben ik alleen nog maar in Düsseldorf en een klein (gezellig) marktje in Kleve geweest, en had geen idee wat ik van Bochum moest verwachten. Maar wow, wat heeft Bochum mij verrast. De kerstmarkt met wel 205 kraampjes vulde de hele stad met gezelligheid of wel Deutsche Gemütlichkeit. Want eerlijk is eerlijk, niemand doet kerstmarkten beter dan onze Oosterburen. En hier hebben ze verschillende thema's, zo is er een middeleeuws gedeelte, waar de oude tijden worden herleefd, met mensen in klederdracht en oud-duitse spelletjes. Ook is er een sprookjes deel, waar in elke kribben een sprookje wordt uitgebeeld en is er een plein met hele grote sculpturen van licht. En dan zijn er nog allemaal verschillende gezellig plekjes om even een pauze te houden met een lekker drankje, zoals deze mooie carrousel.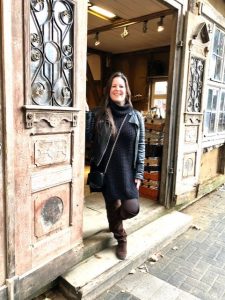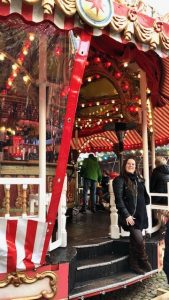 Maar het hoogtepunt is toch wel elke dag om 17.00 uur op de Dr. Ruer-Platz. Neem een heerlijk glaasje Gluhwein of, in mijn geval, warme chocolade met slagroom en geniet van alle mooie lichtjes…en een echte vliegende slee met Rudolph en zijn vrienden en natuurlijk, de kerstman! Wat was dit onwijs leuk zeg, bijna magisch en dit maakt de markt in Bochum nog net even iets leuker dan alle andere markten die ik heb bezocht. Ja, Bochum heeft zeker mijn kersthart gestolen!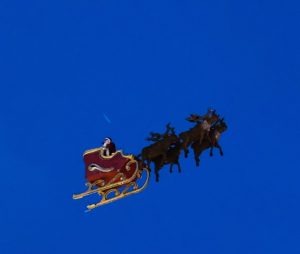 En dit uitje is ook nog eens budget friendly, want de markt is gratis te bezoeken en op de markt zelf staan heerlijke eetkraampjes met natuurlijk de echte duitse worsten, pretzels, flamkuchen en nog meer lekkers dat duur uit eten niet meer nodig is. Met minder dan 20 euro per persoon kun je je buikje de hele dag goed vullen.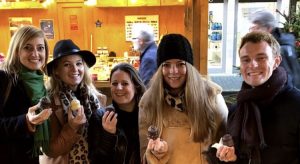 v.l.n.r. Anne (IG: anne_travel_foodie), Anne (IG: favoriete_plekje), ik (IG: fabandfitonabudget), Liz (IG: globalizious) en Sven (IG: travelling.dutchman).
Handige info:
De kerstmarkt is elke dag tot 23 december te bezoeken.
Parkeren kan onder de kerstmarkt zelf: Massenbergstrasse CITY parking (navigatie: Massenbergstrasse 6)
Met de trein naar Bochum kan ook: vanuit Arnhem kost dit zo'n € 40,- retour.
Meer info over de markt zelf vindt je op: www.bochumer-weihnacht.de of www.bochum-tourismus.de
De heerlijke lunch hadden we bij: Nährstoff-Reich, trankgasse 3 in Bochum (www.naehrstoff-reich.de)
English version:
Last Thursday…ping ping…Anne. If i felt like going on a bloggerstrip the next day to a Christmas market in Bochum. Normally i would think of 100 reasons not to, i like planning things and already had things to do. But this Anne we are talking about, and if Anne organises an event, you go (just so you know, if she ever invites you!) and you definetely don't say no, if the event is one of your guilty pleasures is, Christmas markets.
And so it happend that i was sitting on a train to Eindhoven the next day, were we got picked up to drive to Bochum in a little bus. It was kind of a drive, but that was okay, enough time to get to know the other bloggers.
We arrived in Bochum with blue skies. This promised to become a beautiful day. First stop, lunch at Nährstoff-Reich Superfood Bistro, oh such a cute place! The menu is vega(n), but believe me, even if you are not vega(n), you will love their delicious bowls and smoothies. And they are not only delicious, but also gorgeous, which is nice for a foodieblogger, for that Insta worthy picture.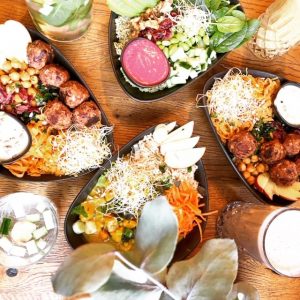 After that it was Christmas market time. Lisa from Bochum Marketing made us feel welcome and told us about the city and the market. I've only been to Dusseldorf and a small (cozy) market in Kleve, so i had no idea what to expect from Bochum. But wow, Bochum really surprised me. The Christmas market with 623 (!) stalls fills the whole city center with a warm feeling aka Deutsche Gemütlichkeit. Because we got to be honest, no one knows how to do Christmas markets better than Germany. And they have different themes here. There's a Medieval part where old times are relived with people in traditional medieval clothes and old German games. There's a fairytale part, which has little houses that all tell a different fairytale and there's a square with big sculptures of light. And than there are all this cute place to have a little break and a drink, like this beautiful merry-go-round.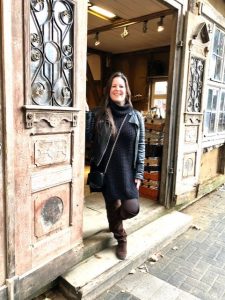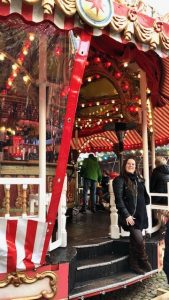 But the highlight is every day at 17.00 hours at the Dr. Ruer-Platz. Get a delicious glass of Gluhwein or, in my case, hot chocolate with cream and enjoy all the beautiful lights….and a real flying sleight with Rudolph and his friends and ofcourse, Santa! This was so much fun, almost magical, and the makes the Bochum christmas market just a touch better that all the other markets i visited. Yes, Bochum definetly stole my Christmas heart.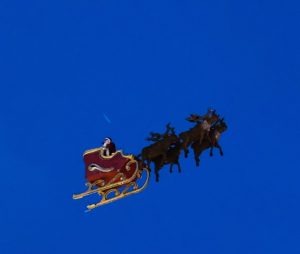 And this day out is even budget friendly, the market has free entrance and there are so many food stall with the real german sausages, pretzels, flamkuchen and other delicious food, that going out for an expensive dinner is not necessary. With less than 20 euro per person you can fill up your belly the whole day.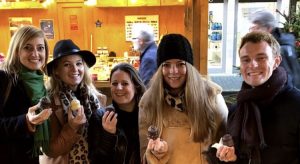 v.l.n.r. Anne (IG: anne_travel_foodie), Anne (IG: favoriete_plekje), ik (IG: fabandfitonabudget), Liz (IG: globalizious) en Sven (IG: travelling.dutchman).
Important info:
You can visit the market every day untill December, 23.
Parking is under the main market itself: Massenbergstrasse CITY parking (navigation: Massenbergstrasse 6)
You can take the train to Bochum: from Arnhem it will cost you about € 40,- for a roundticket.
You can find more info over the market on: www.bochumer-weihnacht.de of www.bochum-tourismus.de
We had the delicous lunch at: Nährstoff-Reich, trankgasse 3 in Bochum (www.naehrstoff-reich.de)