Ingrediënten voor 2 personen (of lekkere leftovers* ;)!):
500 gram mix voor hutspot (uien & wortel)
350 gram zoete aardappel
500 gram riblappen
2 uien
1 teentje knoflook
Sap van 2 mandarijnen
1 laurierblaadje
1/2 blokje runderbouillon en 100 ml water
1 eetlepel appelstroop
4 mini taai taai popjes
1 theelepel speculaaskruiden
2 kruidnagels
Zout & Peper
Extra benodigdheden: crockpot/slowcooker. Je kan het ook in een stoofpan maken, dan is de bereidingstijd het dubbele op laag vuur en moet je goed in de gaten houden dat er genoeg vocht in de pan zit.
Bereiding:
Zet de Crockpot/slowcooker op high. Schenk een beetje olie in de crockpot. Snij de uien in plakjes en leg deze op de bodem. Pers een teentje knoflook hierover uit. Snij de riblappen in stukjes en leg op de uien. Voeg het runderbouillonblokje toe en het water. Verkruimel de taai taai popjes en doe deze in de crockpot. Voeg vervolgens de appelstroop, kruidnagels, laurierblaadje, speculaaskruiden en het sap van de mandarijnen toe. Voeg nog een klein beetje zout & peper toe en doe de deksel in de pan. Laat tenminste 5 uur garen. Roer tussendoor even door en kijk of er nog genoeg vocht in de crockpot zit.
In het laatste half uur, snij de zoete aardappel in stukjes. Doe in een pan samen met de hutspot mix en voeg water toe. Kook gaar in ongeveer 20 minuten. Giet af, bewaar een beetje kookvocht en doe dat terug in de pan en stamp tot een stamppot. Voeg eventueel wat zout toe en/of wat room.
Serveer met de hachee met de hutspot en geniet van een heerlijk avondje!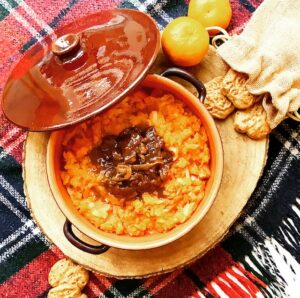 *De hachee is de volgende dag nog lekkerder en heerlijk voor een frietje stoofvlees!
English version:
Ingredients for 2 persons (or some delicious leftovers* ;)!):
500 gram mix for Hutspot (onions & carrots)
350 gram sweet potato
500 gram chuck roast (beef for a stew)
2 onions
1 clove of garlic
Juice of 2 tangerines
1 bay leaf
1/2 cube beef broth (in powder form) and 100 ml water
1 spoon apple syrup (spread)
4 mini taai taai popjes (dutch holiday treat)
1 teaspoon speculaas spices (like gingerbread)
2 cloves
Salt & Pepper
Extra needed: crockpot/slowcooker. You can use a stew pan, but than you have to double the time and you have to keep an eye on it if there's still enough water in the pan.
Directions:
Put the Crockpot/slowcooker on high. Put some oil in the crockpot. Cut the onion in slices and put on the bottom of the crockpot. Squeeze the clove of garlic over it. Cut the meat in pieces and lay on top of the onion. Add the broth powder and water. Crumble the cookies and add to the crockpot. Add the apple syrup, cloves, bay leaf, speculaas spices and the juice of mandarine. Add a little bit of salt and pepper and put the lid on the crockpot. Let it cook for at least 5 hours. Stir every once in a while and see if there's enough liquid.
In the last half an hour, cut the sweet potato in pieces. Add in a pan with the hutspot mix and add water. Cook in about 20 minutes till done. Pour the water out but keep a bit of the cooking fluid and add it back in the pan and mash it all into..well, a mash. Add a little salt and/or cream to taste.
Serve with the hachee (meat) and enjoy your lovely Sinterklaas Eve!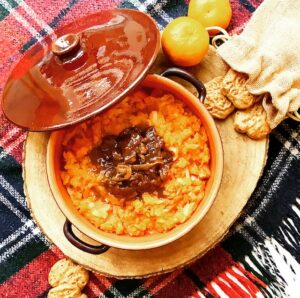 *The hachee (meat) is even better the next day and perfect for Frietje Stoofvlees (Dutch Dish: Fries and Stewed meat)!