Soms ben ik ook gewoon lui en aangezien bakken niet helemaal mijn ding is, en ik nog een pak Pepernotendeegmix vond in mijn voorraadkast, dacht ik, laten we daar eens wat anders mee doen. Het lekkerste is het spijs een paar dagen van tevoren te maken (en als het lukt, zelfs een paar weken) om het te laten rijpen.
Ingrediënten voor 2 stuks:
Mix voor pepernoten of speculaas
Sap van 1 mandarijntje
50 gram Amandelmeel
50 gram Agave siroop
1 lepel Citroensap
Amandelschaafsel
Bereiding:
Maak het spijs door het amandelmeel, de agave en citroensap door elkaar te mengen. Zet het in de koelkast tot gebruik.
Verwarm de oven voor op 200 graden of volg de instructies op het pak. Maak het deeg zoals aangegeven op de verpakking. Voeg het sap van de mandarijn toe en kneed het goed door. Vet 2 kleine taart schaaltjes in met olie. Rol het deeg uit en vul de vormpjes hiermee, maar zorg dat er genoeg ruimte is voor de vulling. Verdeel de vulling over de twee vormpjes. Zet ongeveer 10 tot 15 minuten in de voorwarmde oven. Haal uit de oven en strooi de amandelschaafsel erover en zet nog even terug in de oven zodat deze verkleurd. (ongeveer 5 minuutjes). Haal uit de oven en laat de taartjes volledig afkoelen voor je ze uit de vormpjes haalt. Lekker bij een warme kop thee, koffie of natuurlijk chocolademelk met slagroom.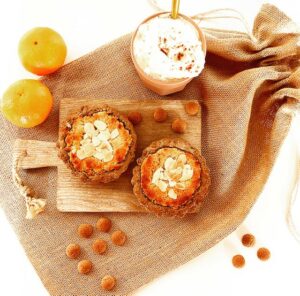 Deeg over, maak er een grote lap van, smeer de bovenkant in met geklopt ei en strooi er wat amandelschaafsel, bak in de oven en je hebt Speculaasbrokken!
English version:
Sometimes i'm too lazy and baking just isn't really my thing, and found some gingerbread dough (well pepernoten dough, but pretty similiar to taste) in my pantry, and thought i would make some different with it. The best way to make the filling is a few days ahead (and if it's possible a few weeks ahead) to let it ripe.
Ingredients for 2 pieces:
Mix for Gingerbread dough (speculaas or pepernoten dough)
Juice of 1 tangerine
50 gram almond flour
50 gram Agave syrup
1 spoon lemon juice
Almond slivers
Directions:
Make the filling by mixing the almond flour, agave syrup and lemon juice. Put in the the fridge till use.
Preheat the oven to 200 degrees celcius or as noted on the package. Make the dough as instructed on the package. Add the tangerine juice and mix well. Grease two mini pie molds. Roll out the dough and fill the pie molds with it. Make sure you have enough room for the filling. Divide the filling over it. Put in the preheated oven for about 10 to 15 minutes. Take out of the oven and sprinkle the almond slivers on top. Put back into the oven till they get a golden/brown color. (approx. 5 minutes). Take out of the oven and let the pies cool down completely before taking them out of the mold. Nice with a warm cup of tea, coffee or some hot chocolate with whipped cream.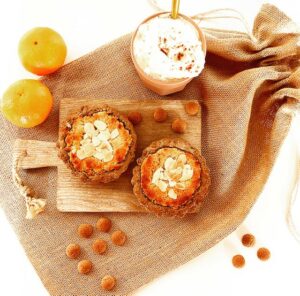 Have some dough left. Roll it out to a thick slice. Spread a little egg (beaten) over it and sprinkle almond slivers over it. Bake and this is what we call in Holland: Speculaas brokken!