Ovenschotels doen het nooit zo goed op foto's. Maar hoe kan het toch dat het meest lelijke eten, soms zo onwijs lekker kunnen zijn. Deze vega Zuurkool schotel is zo'n voorbeeld.
Ingrediënten voor een klein ovenschaaltje:
1/2 pakje zuurkool (260 gram) voor €0,59 bij AH
Handje gedroogde cranberries
1/2 pakje vega shoarma (85 gram ongeveer) voor €2,09 bij AH (eigen merk)
1 zoete aardappel
Geraspte cheddar kaas, naar smaak
Snufje zout
Bereiding:
Verwarm de oven voor op 200 graden. Schil en snij de zoete aardappel in stukjes en kook gaar in een pan met een beetje zout. Zodra de stukjes zacht genoeg zijn (prik even met je vork erin), giet af en pureer met een stamppot stamper fijn.
Verspreid de zuurkool over de bodem van een ingevet ovenschaaltje. Strooi er wat cranberries overheen. Voor de tweede laag verdeel de vega shoarma over de zuurkool. Verdeel er vervolgens de zoete aardappel puree overheen en maak af met Cheddar kaas. Zet ongeveer 15 minuten in de voorverwarmde oven.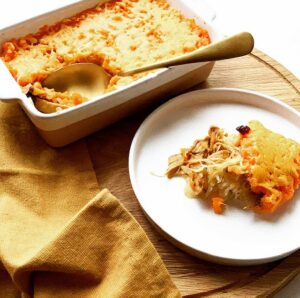 English version:
Casseroles never photograph very well. But it always cease to amaze me that the most ugly looking food, can be so damn delicious sometimes. This vegetarian Sauerkraut Casserole is such an example.
Ingredients for a small oven dish:
1/2 package sauerkraut (260 gram) for €0,59 at AH
Handful dried cranberries
1/2 package vega shoarma (85 gram approximately) for €2,09 at AH (AH Brand)
1 sweet potato
Shredded cheddar cheese, to taste
Sprinkle salt
Direction:
Preheat the oven to 200 degrees celcius. Peel and cut the sweet potato and cook in a pan with water and a little salt. When the pieces are soft enough (use a fork to check), pour out the water and use a smasher to make it into puree.
Spread the sauerkraut over the bottom of a greased ovendish. Sprinkle some cranberries on top. For the second layer, divide the vegetarian shoarma on top of the sauerkraut. Than spread the sweet potato puree on top and finish with the Cheddar cheese. Put in the preheated oven for about 15 minutes.