Week 4 en 2 daagjes, en…zou ik het gehaald hebben?
Boodschappen week 4 + 2 dagen:
Brie
Banaan
Brood, wit, heel ("brood van gisteren" van AH)
Totaal kosten: € 1,80 (-€0,15 statiegeld)
Maandag:
Ontbijt: Smoothie met spinazie, aardbeien, gembersap, Moonbalance poeder, lijnzaad, sojamelk en agavesiroop
Lunch: Ei sandwich met wasabi mayonaise en furikake (Aziatische spice mix)
Diner: Bietenburger op brioche broodje met gekarameliseerde rode ui en bbq saus
Snack: –
Drinken: Oolong thee
Dinsdag:
Ontbijt: Havermout met banaan, cruesli en chocolade
Lunch: Panini met brie, honing en walnoten
Diner: Spinazie/artisjok/brie flapje uit de oven met couscous met cranberies en dadels
Snack: –
Drinken: Oolong thee en na een onrustig avondje in de straat een Baileys
Woensdag:
Ontbijt: Tarte tatin
Lunch: Elvis Sandwich (pindasaus (bij gebrek aan pindakaas), banaan, honing)
Diner: Ravioli met eend en gekarameliseerde rode ui
Snack: Chocolade
Drinken: Caramel latte, thee en water
Donderdag:
Ontbijt: Smoothie spinazie, banaan, aardbeien, sojamelk, smoothiebooster en agave
Lunch: Bacon & Ei sandwich met brown sauce
Diner: Gevulde kalkoen met deconstructed sweet potato casserole
Snacks: Chocolade
Drinken: Thee en water
Vrijdag:
Ontbijt: Zachtgekookt eitje met "soldaatjes"
Lunch: Tosti met brie
Diner: Plaattaart met artisjok, brie, gekarameliseerde rode ui en bacon
Snacks: Chocolade
Drinken: Thee en water
Zaterdag:
Ontbijt: Toast, 2 sneetjes met honing en kersenjam
Lunch: Gebakken ei sandwich
Diner: Kip met rijst en satesaus
Snacks: Homemade popcorn
Drinken: Thee, Kombucha
Zondag:
Ontbijt: Pumpkin Spice wentelteefjes
Snacks: 2 macarons en 4 stukjes chocolade
Diner: Biefstuk met pompoenpuree
Drinken: Thee, water, Chai Latte en Baileys Caramel Seasalt
Maandag:
Ontbijt: Havermout met een speculaas shotje (van Personal Protein), cruesli en chocolade
Lunch: Sandwich ei en een sneetje met chocolade pasta (gekregen pot van Mister Kitchen)
Diner: Couscous met blokjes geroosterde zoete aardappel, dadels, cranberries en bietenballetjes
Snacks: 2 stukjes chocolade
Drinken: water, Oolong thee
Dinsdag:
Ontbijt: Smoothie met spinazie, aardbeien, sojamelk, forever beautiful poeder, lijnzaad en agave
Lunch: Sandwich gebakken ei
Diner: Ravioli met parmaham, artisjok,gekarameliseerde rode ui en walnoten
Snacks: 2 stukjes chocolade
Drinken: water en thee
En???
Yes i made it! En ook echt tot op de cent dankzij statiegeld, het "brood van gisteren" van Albert Heijn en heel veeeeeel creativiteit.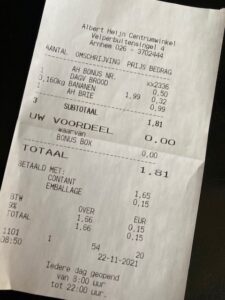 Heb ik heel misschien 2 chocolademousse toetjes geruild voor 2 wc rollen…uhm…hahaha ja dus! Halverwege de challenge kreeg ik het benauwd dat ik niet genoeg wc papier zou hebben. En nu heb ik nog wel tissues maar was meer dat ik dacht: wat als ik bezoek krijg. Dus ruilde ik 2 van de gekregen toetjes MAAR…uiteindelijk bleek het helemaal niet nodig. Zie hieronder het bewijs!

En verder…nope geen cheats behalve dat ik erachter kwam dat ik nog wat flesjes met statiegeld had, dus kon ik wat extra's kopen. Mijn diepvries is een stuk leger (behalve dan dankzij de cadeaukaarten van de Postcode lotterij van een lieve volger en mijn ouders, nu gevuld met vegaproducten), een paar voorraadpotten zijn leeg en ook wat "gekke" producten die er al een tijdje lagen. Maar ga nog wel even door met het leegmaken van die voorraadkast want had nog wel wat ideetjes voor bijvoorbeeld de bruine linzen die misschien al meer dan een jaar in een pot zit. Tipje: heb je "gekke" ingrediënten die je bijvoorbeeld over hebt na een recept dat je hebt gemaakt en je weet niet wat je er mee kan, check Pinterest of google en zoek op het ingredient + recept/recipe!
Oh en ben bijna 2 kilo kwijt…best fijne bijkomstigheid! Nu nog proberen deze eraf te houden met al die feestdagen (maar eerlijk, in principe zijn dit maar ongeveer 5 dagen en dit jaar probeer ik niet al teveel zooi te kopen…maar goed, ik heb nog geen pepernoot gehad dus die gaan we natuurlijk wel even scoren!
Wat ik het meest gemist heb…heel gek, groente en fruit! En gewoon zelf kunnen kiezen wat je wilt eten als je ergens zin in hebt. Overigens mag ik niet klagen want heb echt wel hele lekkere dingen gegeten en probeerde in ieder geval elke dag ergens groente of fruit doorheen te gooien. Op de laatste zaterdag na dan. En dat tekort begin ik nu ook wel een beetje te merken dus morgen gooien we wat extra vitamientjes in het winkelmandje!
Wil je nu ook leren hoe je minder geld uit geeft aan je boodschappen. Mijn boek is te bestellen via mijn site www.fabandfitonabudget.com of via Bol.com. Perfect als Sinterklaas/Kerst cadeau of als fijne start van het nieuwe jaar!
English version
Week 4 and 2 days and…did i make it?
Groceries week 4 + 2 days:
Brie
Banana
Bread (white, whole "yesterday's bread" of Albert Heijn)
Total costs: € 1,80 (-€0,65 recycling money)
Monday:
Breakfast: Smoothie with spinach, strawberries, gingerjuice, soy milk, moonbalance powder, flaxseed and agave syrup
Lunch: Egg sandwich with wasabi mayonnaise and furikake (Asian Spice mix)
Diner: Beetburger on a brioche bun with caramelized red onions and bbq sauce
Snack:
Drinks: Oolong tea
Tuesday:
Breakfast: Oats with banana, granola and chocolate
Lunch: Panini with brie, honey and walnuts
Diner: Spinach/artischoke/brie "empanada" from the oven with couscous with cranberies and dates
Snack: –
Drinks: Oolong tea and after a very tense evening in my street, a Baileys
Wednesday:
Breakfast: Tarte tatin
Lunch: Elvis Sandwich (peanut sauce (as i didn't have any peanutbutter anymore), banana, honey
Diner: Ravioli with duck and caramelized red onion
Snack: Chocolate
Drinks: Caramel latte, tea and water
Thursday:
Breakfast: Smoothie spinach, banana, strawberries, soymilk, smoothiebooster and agave z
Lunch: Bacon & Egg sandwich with brown sauce
Diner: Stuffed Turkey with deconstructed sweet potato casserole
Snacks: Chocolate
Drinks: Tea and water
Friday:
Breakfast: Soft boiled egg with "soldiers"
Lunch: Grilled cheese with brie
Diner: Plate bake with puff pastry, artichoke, brie, caramelized red onion and bacon
Snacks: Chocolate
Drinks: Tea and water
Saturday:
Breakfast: Toast, 2 slices with honey and cherry jam
Lunch: Baked egg sandwich
Diner: Chicken with rice and peanutsauce
Snacks: Homemade popcorn
Drinks: Tea, Kombucha
Sunday:
Breakfast: Pumpkin Spice French toast
Snacks: 2 macarons and 4 pieces chocolate
Diner: Steak with pumpkin puree
Drinks: Tea, water, Chai Latte and Baileys Caramel Seasalt
Monday:
Breakfast: oats withspeculaas shot (of Personal Protein), granola and chocolate
Lunch: Sandwich egg and a slice of chocolate spread (foodmail of Mister Kitchen)
Diner: Couscous with roasted sweet potato, dates, cranberries and beet balls
Snacks: 2 pieces chocolate
Drinks: water, Oolong tea
Tuesday:
Breakfast: Smoothie with spinach, strawberries, soymilk, forever beautiful powder, flaxseed and agave
Lunch: Sandwich baked egg
Diner: Ravioli with parmaham, artichoke, caramelized red onion and walnuts
Snacks: 2 pieces of chocolate
Drinks: water and tea
And???
Yes i made it! And it really came down to the last cent thanks to the money i got recycling bottles, the "bread of Yesterday" of Albert Heijn and lots just lots of creativity.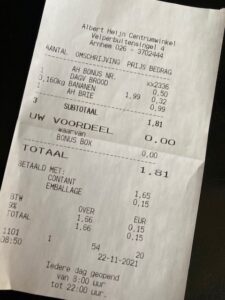 Did i trade two chocolate mousse desserts for 2 rolls of paper towels…maybe..uhm…hahah yup! Halfway the challenge i was panicking that i might not have enough toilet paper. And well i don't mind using tissues but it was more like: what if i have company coming over. So i traded 2 of my given desserts BUT…in the end i didn't even need it. See the evidence below!

Oh and lost almost 2 kilos…which is a pretty nice incidental! Now i just have to try to keep it off with all those holidays coming up (but to be honest, in reality it's only about 5 days and this year i will try not to buy too much crape…but i did not have one single pepernoot (dutch holiday treat), so ofcourse i'm going to score those first!
And further…nope no cheats except that i found out i had some bottles that were good for recycling money, so i could buy some extra stuff. My freezer is a lot emptier (except thanks to the giftcards of the loterie that i got from a sweet follower and my parents, it's now filled with vega products), a few jars are empty in my pantry and a few "weird" products have been used as these were just sitting there for months without use. But i will continue to empty my pantry as i do have some other ideas for example for the brown lentils i have for about a year now in a jar. Tip: if you have "weird" ingredients after cooking a recipe for example, and you don't know what else to make with it, check Pinterest or Google and search for the ingredient + recipe!
What i missed the most…oddly, fruits and veggies! And not being able to choose what i wanted to eat when i felt like it. But i can't really complain, as i ate some delicious dish and tried to atleast put fruits and/or veggies on the menu daily. Except for that last Saturday. And i'm feeling that lack so tomorrow i will throw some extra vitamines in my shopping basket!
Do you also want to learn how to spend less money on your groceries. You can order my book through my site www.fabandfitonabudget.com or through Bol.com. Perfect for a Holiday gift or as fresh start for the new year!