Ingrediënten:
Eendenborstfilet
2 eetlepels maple syrup
1 theelepel Chilipeper
Bereiding:
Verwarm de oven voor op 200 graden. Snij het vel/vet met een mesje in, in een soort ruitvorm. Bestrooi met een snufje zout & pepper. Bak de eendenborstfilet met het vel naar beneden in een pan op middelhoog vuur. Zodra het vet eruit loopt en het vel lekker knapperig wordt, draai om en bak nog heel even aan in de pan. Haal uit de pan en leg in een ovenschaal met het vel naar boven. Mix de maple syrup met de chilipeper en smeer het vel hier mee in. Zet in de oven voor ongeveer 5 minuten. Haal uit de oven en smeer over met de rest van het maple syrup mengsel en zet nog heel even terug in de oven. Laat even rusten (onder aluminiumfolie) voor je het aansnijdt.
Lekker met zoete aardappel puree (schil en kook de aardappelen, stamp tot puree met een aardappelstamper, voeg een scheutje room of een beetje boter toe en roer goed door. Breng op smaak met peper en zout of als je van een beetje spicy houdt, chiliflakes).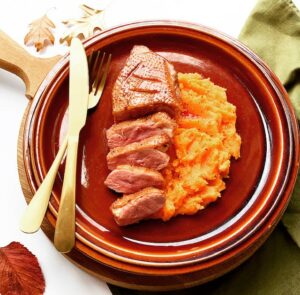 English version:
Ingredients:
Duck breast filet
2 spoons maple syrup
1 teaspoon Chilipepper
Directions:
Preheat the oven to 200 degrees celcius. Slice a few slits (like a diamond pattern) into the skin. Sprinkle with some salt & pepper. Bake the duck filet with the skin down in a pan on middle high heat. Let the fat render out a bit and let the skin get nice and crispy. Turn around and bake just for a short while in the pan. Take out of the pan and put it in an ovendish skin up. Mix the maple syrup with the chilipepper and based the skin with it. Put in the oven for about 5 minutes. Take out of the oven and based with the rest of the maple syrup mixture and put it back in the oven for a little while. Let it rest (under foil) before cutting.
Nice with some sweet potato mash (peel and cook potatos, mash to a puree with a potato masher, add a little cream or butter and mix well. Season with salt and pepper or if you like it a little spicy with some chiliflakes).