Okay, natuurlijk zijn dit niet de echte Empanadas zoals je deze uit Zuid-Amerika kent, maar een snelle manier met bladerdeeg, maar flapje klinkt raar in het Engels maar uiteraard mag je het ook Jackfruit flapje noemen…wat je wilt, als je ze maar probeert, want ze zijn echt superlekker ;)!
Ingrediënten 4 Empanadas:
4 plakjes bladerdeeg (Koopmans Origineel is Vegan)
Half blik Jackfruit
1/2 rode ui
2 eetlepels bbq saus (ik gebruikte die van Calvé = Vegan)
Snufje chilipoeder
1/2 Kakifruit
Klein beetje havermelk, optioneel
Bereiding:
Verwarm de oven voor op 200 graden. Ontdooi vier plakjes bladerdeeg. Snij de rode ui fijn. Verhit een pan met olie en voeg een half blikje Jackfruit en de rode ui toe. Bestrooi met de chilipoeder. Voeg de BBQ saus toe en roer goed door. Bak nog eventje (2 tot 3 minuutjes). Snij de kakifruit in blokjes en voeg toe aan het Jackfruit en verdeel het mengsel over de vier plakjes bladerdeeg. Vouw dicht en bestrijk eventueel met een klein beetje havermelk voor glans. Bak in de oven in ongeveer 15 minuten gaar.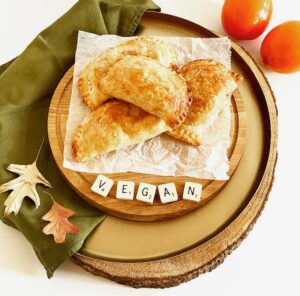 English version:
Okay, these are ofcourse not the real Empanadas like known in South America, but a quick version with puff pastry, but flap sounded a bit weird in English but feel free to call them Jackfruit flaps…whatever you want, just as long as you try them, as they are soooo good;)!
Ingredients 4 Empanadas:
4 sheets puff pastry (Koopmans Origineel is Vegan)
Half a can Jackfruit
1/2 red onion
2 spoons bbq sauc (i used Calvé = Vegan)
Sprinkle chili powder
1/2 Kaki fruit
Little bit of oatmilk, optional
Directions:
Preheat the oven to 200 degrees celcius. Defrost 4 sheets of puff pastry. Cut the red onion in small pieces. Heat some oil in a pan and add half a can Jackfruit and the red onion. Sprinkle with the chili powder. Add the BBQ sauce and stire well. Bake a little longer (2 to 3 minutes). Cut the jackfruit in small cubes and add to the Jackfruit and divide over the four sheets of puff pastry. Fold close and spread some oatmilk over it for a nice brown shiny pastry (optional). Bake in the oven in about 15 minutes crispy.