Who's in? Nu weet ik dat Stacktember en Stoptober net achter de rug zijn en je misschien in die maanden al mee hebben gedaan aan een Budget Challenge, maar uhm…wist je dat juist september de beste maand is om op koopjes & cadeautjes jacht te gaan. Alle luxe producten zijn dan in de aanbieding, in de hoop dat mensen nog wat geld over hebben na de vakantie. Dus handig om te onthouden voor volgend jaar! 😉 En ja ik weet dat Black Friday in November valt, maar eerlijk, in Nederland is dit niet echt voordeliger, vaak zijn producten in het begin van de maand wat duurder geworden, zodat het lijkt alsof je opeens iets super voordeligs te pakken hebt…yup…zo werkt dat dus bij de grote ketens, sorry to burst your bubble!
Ik vind november altijd een fijne maand om even rustig aan te doen, net voor, wat vaak de duurste maand van het jaar wordt genoemd. Even een maandje zo min mogelijk uitgeven, mijn voorraadkast "leeg" eten en ruimte maken in de koelkast en vriezer voor de feestmaand.
En nu vraag je je vast af, wat zijn de regels? Er zijn geen regels, als in, die maak je helemaal zelf. Geef je jezelf een strak budget, of geef je even niks uit aan luxe producten, of ga je deze maand even niks laten bezorgen door Thuisbezorgd.nl of Zalando. Kijk je net als mij even wat vaker wat je kunt maken met de ingrediënten die je al in huis hebt voor je boodschappen gaat doen. Of bestel je vaker een Too Good To Go box. Het enige doel/regel is, dat je zo min mogelijk geld uit geeft en zo wat extra kunt uitgeven aan het kerstdiner of cadeautje onder de boom of in de zak. Of gewoon even om te beseffen dat je best met wat minder kunt. En met alle verhogingen die ons te wachten staan in het nieuwe jaar is het misschien ook fijn om er achter te komen waar je op kan besparen.
Uiteraard is dat bij mij eigenlijk altijd op de boodschappen..ik bedoel, ik heb er zelf een boek over geschreven. Is dit ook jouw grootste kostenpost en wil je weten hoe je hierop kunt besparen, maar nog wel lekker en gevarieerd kunt eten, koop dan nu het nog "mag" mijn boek: Fab and Fit on a Budget. Ook leuk om als cadeautje te geven of het nieuwe jaar goed mee te beginnen. Niet alleen is het gericht op besparen maar ook een heel duurzaam cadeau, aangezien ik je leer wat je met de restjes kunt doen of hoe je ingrediënten op meerdere manieren kan gebruiken om voedselverspilling tegen te gaan. Geef je het cadeau, dan kan ik het altijd voor je inpakken en een persoonlijke boodschap bij doen. Laat dat dan weten in de bestelnotities (en of het een sinterklaas of kerst of een gewoon cadeautje is).
Ik ga proberen om van 20 euro rond te komen (m.u.v. mijn wimpers want daar heb ik al geld voor opzij gezet in mijn Treat Yourself spaarpotje en eventueel €20 voor benzine geld). Nu heb ik een redelijk goed gevulde diepvries, koelkast en voorraadkast dus in principe heb ik alleen nog zuivel en vers producten, zoals groente en fruit nodig en natuurlijk eitjes (want die zijn lekker multi inzetbaar!). Uiteraard zal ik updates geven over wat ik dan eet en uitgeef per week in What i spend & eat in a week blogs de hele maand November.
Doe je mee met de challenge, tag mij dan in je foto's of stories en ik zal deze delen in mijn stories. En uiteraard deel ik deze hele maand fijne budget tips op mijn Instagram!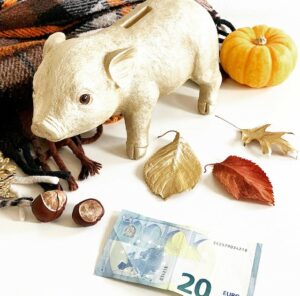 English version
Who's in? I know Stacktember and Stoptober just happened and you might have done a Budget Challenge in one of those months, but uhm…did you know that September is THE best month to go on a sale & gift hunt. All luxery products will be on sale, hoping that people will still have some money leftover after the summer holidays. So good to know for next year! 😉 And yes, i know that Black Friday is in November, but honestly, in The Netherlands it's a little bit of a scame, prices are going up in the beginning of the month, so that it looks like you are having an amazing discount…yup…this is how it works with the big chain companies, sorry to burst your bubble!
I always love November to take it a little easier, just before, what they call the most expensive month of the year. Just one month to spend a little less, eat as much from my stock and make room in my fridge and freezer for the Holidays.
And now you might wonder, what are the rules? Well there are no rules, not really, as you make them yourself. Will you give yourself a tight budget, or not spend any money on luxury products, or no take-out or online shopping. Or will you check out your pantry a little more before shopping to see what you can make with the products which you already have, just like me. Or will you order a Too Good To Go box a little more often. The only goal/rule is, to spend as little money as possible, so you have some extra in December for Christmas diner or presents underneath the tree. Or just to realize that you really don't need that much stuff. And with all the raises (gas, groceries) that are happening next year, it might be a good thing to find out what you can save on.
For me, ofcourse, it's always on grocceries… i mean i even wrote a book about it. Is this also where you spend the most money on and doe you want to know how to save money, but do want to eat delicious and various things, buy my book while you are still "allowed": Fab and Fit on a Budget. Also nice to give as a gift or to start the new year with. As it's not only about saving money but also to save food from getting wasted, as i will teach you how to use leftovers or how to use ingredients in different ways. Do you want to give it as a gift to someone, i can always wrap it for you and add a personal message. Let me know in the order notes (and if it's for Sinterklaas or Christmas or a birthday or just because).
I will try to spend only 20 euro in the whole month (with the exception of getting my lashes done as i have a special piggy bank for that and a optional €20 for gass). Now my freezer, fridge and pantry are pretty stocked up, so i basically only need dairy and fresh products like fruit and veggies and ofcourse eggs (as they are so versatile!). Ofcourse i will give you updates on what i eat and spend per week in my What i spend & eat in a week blogs this whole November.
Are you up for the challenge, tag me in your photos and i will share it in my stories. And ofcourse i will share some nice budget tips on my Instagram the whole month aswell!