Ingrediënten voor 2 personen:
4 plakjes bladerdeeg
10 pitloze dadels
1 volle lepel kaneel
1 volle lepel kokosbloesemsuiker
1 lepel boter (gesmolten)
Roomkaas light (ik gebruikte philadelphia light)
Agave siroop
Bereiding:
Ontdooi 4 plakjes bladerdeeg. Laat ongeveer 10 dadels even weken in heet water zodat ze zachter worden. Smeer een ovenschaal in met wat boter of olijfolie.
Snij de plakjes in 3 repen. Plak deze repen aan elkaar (zie foto's). (handig om eerst wat bloem op het werkblad te strooien)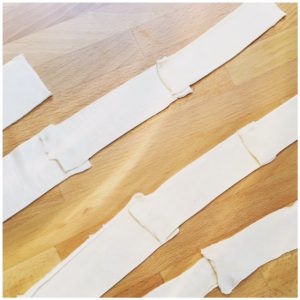 Verhit een grote lepel boter in een pannetje. Meng ondertussen de kokosbloesemsuiker en kaneel in een bakje en hak de dadels in kleine stukjes.
Smeer de repen in met boter met een kwastje. Bestrooi royaal met de kokosbloesemsuiker en kaneel mix en verdeel de stukjes dadels over 1 gedeelte aan het uiteinde van de repen. Begin de repen op te rollen beginnende met het stuk waar de stukjes dadels op liggen. Maak er mooie rolletjes van en zet deze naast elkaar (maar met genoeg ruimte om uit te gaan zetten in de oven) in de ovenschaal. Bestrooi eventueel nog met wat kokosbloesemsuiker en zet in een voorverwarmde oven op 200 graden ongeveer 45 minuten in de oven.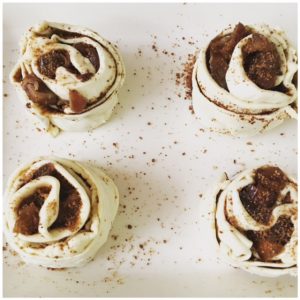 Voor het glazuur. Mix 1,5 lepel roomkaas met 1 lepel agave in een kom met een mixer. Haal de kaneelbroodjes uit de oven en laat even afkoelen. Schenk vervolgens het glazuur over de rolletjes.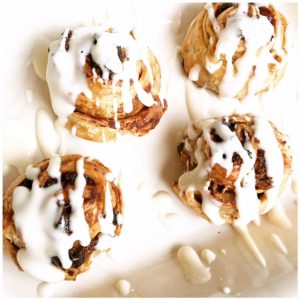 English version:
Ingredients for 2 persons:
4 pieces puff pastry
10 seedless dates
1 full spoon cinnamon
1 full spoor coconutblossom sugar
1 spoon butter (melted)
Creamcheese light (i used Philadelphia light)
Agave syrup
Direction:
Defrozed 4 pieces of puff party. Soak 10 (or more) dates in hot water to softe them. Oil a ovendish with some butter or olive oil.
Cut the party in 3 slices. Put the slices together (see photo's). (put some flour on the surface first to make it easier to roll later on).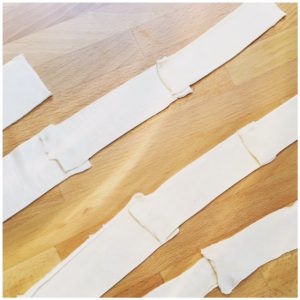 Heat a big spoor of butter in a pan. Mix the coconut blussom sugar and cinnamon in a bowl and cut the dates in tiny pieces.
Spread some butter on the party with a brush. Sprinkle the coconut blossom sugar and cinnamon mix on the pastry and divide the pieces of dates on one side of the pastry. Start rolling the party starting with the part with the dates on it. Make nice rolls and put them in the oven dish but leave a little room as they might grow a little while baking. Sprinkle with a little more coconutblossom sugar (optional) and put in a pre-heated oven on 200 degrees  for about 45 minutes.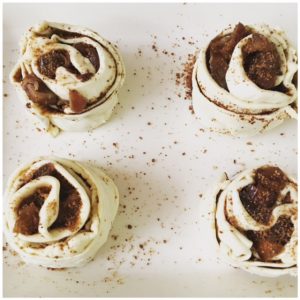 For the glazen. Mix 1,5 spoon of creamcheese with one spoon agave syrup in a bowl with a mixer. Take the cinnamon buns out out of the oven, let it cool for a while. Pour the glaze over the rolls.