Ingrediënten 1 persoon:
80 gram rijst naar keuze (ik gebruikte jasmijn rijst)
1 handje cashewnoten
1/2 pakje vegan "kip"stukjes (ongeveer 100 gram)
1/4 van een kleine ui, in blokjes
1/3 gele paprika, in blokjes gesneden
1/3 rode paprika, in blokjes gesneden
2 theelepels kerriepoeder
100 ml Kokosmelk
2 schijven ananas, in stukjes gesneden
Bereiding:
Rooster de cashewnoten even in een droge koekenpan en doe ze in een bakje tot gebruik. Kook de rijst. Bestrooi de kipstukjes met 1 theelepel kerriepoeder en bak samen met de ui in wat (kokos)olie. Voeg de paprika en ananas toe en roer goed door. Voeg vervolgens de kokosmelk toe en de andere theelepel kerriepoeder zodat de saus mooi geel wordt. Breng op smaak met zout en peper en verwarm goed door. Serveer over de rijst en strooi de cashewnoten erover.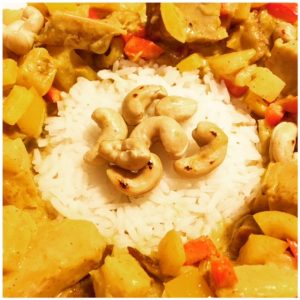 English version:
Ingredients 1 person:
80 gram rice (i used Jasmin rice)
1 handfull cashew nuts
1/2 packages vegan "chicken" pieces (approximately 100 gram)
1/4 of a small onion, in small cubes
1/3 yellow bell pepper, in small cubes
1/3 red bell pepper, in small cubes
2 teaspoons curry powder
100 ml coconut milk
2 pineapple rings, in pieces
Direction:
Roast the nuts in a dry pan and put in a bowl untill use. Boil the rice. Sprinkle the "chicken"pieces with 1 teaspoon curry powder and bake in a pan with the onion in a little (coconut) oil. Add the bellpepper and pineapple and stire really well. Add the coconut milk and the other teaspoon curry powder to make the sauce a nice yellow color. Season with salt and pepper and heat really well. Serve over the rice and sprinkle the cashew nuts over it.