Ik werd door Albert Heijn uitgedaagd voor de #kleurrijkestamppotchallenge deze maand. Nu heb ik echt een hekel aan stamppotten, vroeger lustte ik alleen hutspot maar zelfs dat niet echt heel graag. Dus ja, dit is echt een uitdaging. Dus van mij niet een standaard potje maar iets meer met een tropisch tintje.
Ingredienten voor 1 persoon:
1 kleine zoete aardappel
200 gram pompoen, in blokjes
1 bakbanaan
2 tot 3 el kokosmelk (ligt eraan hoe romig je het wilt hebben)
1 of 2 tl sriracha saus (ligt eraan hoe spicy je het gerecht wilt hebben)
Peper & zout
Bereiding:
Doe de pompoen in een ingevet ovenschaaltje met wat (olijf)olie en rooster in een voorverwarmde oven op 200 graden in ongeveer een half uurtje gaar. Schil de zoete aardappel en kook deze in een ruime pan met water tot gaar. Afhankelijk van hoe rijp de bakbanaan is, kook je de een halve bakbanaan in stukken op het laatst mee met de zoete aardappel (is hij nog heel hard dan direct vanaf het begin). Giet het water uit de pan en voeg de pompoen toe. Voeg de kokosmelk en sriracha toe. Stamp alles tot een stamppot. Bak in de koekenpan de rest van de bakbanaan goudbruin en serveer met de stamppot.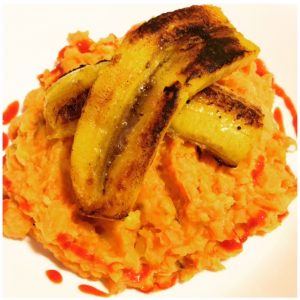 English version:
Albert Heijn challenged me to make a traditional Dutch dish called stamppot (which is potatos & veggies mashed together) for the #kleurrijkestamppotchallenge this month. If there's one thing i hate it is Stamppot, when i was young the only one i ate was Hutspot (carrot, onion & potato) but even that didn't really do it for me. So yep, this is a real challenge. So don't expect a typical mash from me, i decided to make one with a tropical flavour.
Ingredients for 1 person:
1 small sweet potato
200 gram pumpkin, in pieces
1 plantain
2 to 3 spoons coconut milk (depending on how creamy you like the dish)
1 or 2 teaspoons sriracha sauce (depending on how spicy you like the dish)
Pepper & salt
Direction:
Put the pumpkin in a greased ovendish with some (olive) oil and roast on a preheated oven on 200 degrees until done in about half an hour. Peel the sweet potato and cook in a large pan with water until done. Depending on how ripe the plantain is, add half of it in pieces at the last moment to the sweet potato. (if it's not that ripe cook it together with the sweet potato from the start). Pour the water out of the pan and add the pumpkin. Add the coconut milk and sriracha. Mash it all together. Bake the other half of the plantain golden brown in a pan and serve with the mash.