Yup, ik weet het, het dingen in potjes serveren is zoooo 2018 maar voor een klein toetje of als je geen zin hebt om een hele taart te maken blijft dit schattig genoeg om te maken!
Ingrediënten voor 2 kleine potjes:
2 roomboter koekjes
2 eetlepels mascarpone
2 theelepels citroensap
4 eetlepels lemon curd
1 eiwit
20 ml water
76 gram suiker
snufje zout
Extra benodigdheden:
(suiker)thermometer
Mixer
Eventueel een brandertje
Bereiding:
Verkruimel de koekjes en verdeel over de potjes. Roer de mascarpone los met de citroensap en vanille suiker. Schep boven op de koekkruimels. Schep daar vervolgens de lemon curd boven op. Maak Italiaanse Meringue door een kom goed te ontvetten (ik gebruik citroensap ervoor). Voeg de eiwit toe en een snufje zout. Hou een beetje suiker (ongeveer 1/4) over. Zet het pannetje met de rest van de suiker en water op het vuur met de thermometer erin. Begin je eiwit te kloppen als je suiker siroop 113 graden celcius is. Voeg de overige suiker toe. Haal de suikersiroop van het vuur met 118 graden celcius en voeg al kloppend in kleine beetjes toe. Blijf kloppen tot de meringue afgekoeld is. Top de potjes met de meringue en brand eventueel met een brandertjes goudbruin. Top voor de Pasen eventueel met Paaseitjes. Ook leuk samen met de Paas Panna Cotta (zie recept) als Grand Dessert tijdens een Paas Brunch!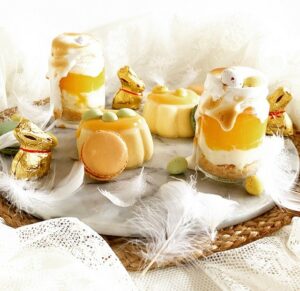 English version:
Yes i know, the jar thing is sooo 2018, but still, for a little dessert or not wanting to make a whole pie, it's still cute enough to make!
Ingredients for 2 small jars:
2 butter cookies
2 spoons mascarpone
2 teaspoons lemon juice
4 spoons lemon curd
1 eggwhite
20 ml water
76 gram sugar
sprinkle of salt
Extra needed:
(sugar)thermometer
Mixer
Optional a burner
Directions:
Crumble the cookies and divide over the jars. Stir the mascarpone togheter with the lemon juice and vanilla sugar. Pour on top of the cookie crumble. Top with the lemon curd. Make Italian Meringue by making a bowl grease free (i use lemon juice for it). Add the eggwhite and a sprinkle of salt. Keep a little sugar (1/4) for later. Put a pan with the sugar and water on the stove with the thermometer in it. Start beating your eggwhites when the sugar reaches 113 degrees celcius. Add the rest of the sugar. Take the sugar sirop of the heat when it reaches 118 degrees celcius and pour while mixing little bit by little bit into the eggwhite. Keep mixing untill the meringue cools down. Top the jars with the meringue and burn gold brown with a little burner. Top with some Easter Eggs if your are serving these for Easter. Also nice to serve with te Easter Panna Cotta (see recipe) as Grand Dessert for Easter Brunch!